Hallelujah! Brick House Pizza Company has finally opened in Streetsville. We've been waiting eagerly since they posted the sign "Saucy presents Brick House Pizza. Get ready Streetsville." Saucy's flavour-packed food had us at hello, since the moment the restaurant opened in November 2000. They are delivering big flavours again with artisanal, wood-fired, take-out pizza from Brick House Pizza Company. You can smell the wood burning in the brick oven from the parking lot. They don't offer delivery yet, but olive that it is so easy to park right in front and pick up yourself.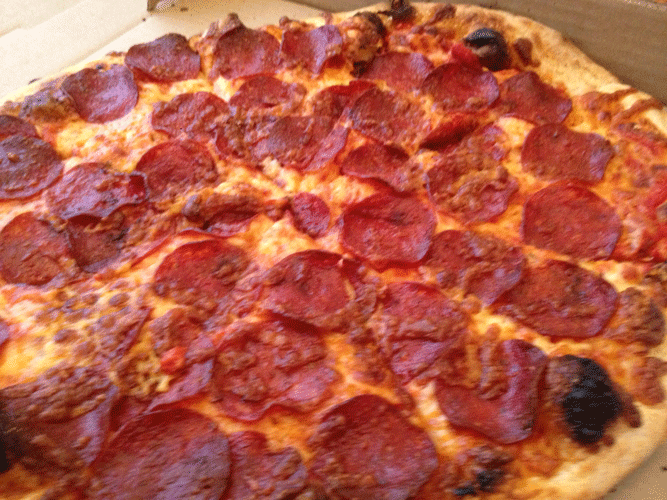 The wood-fired crust on the Mama Roni that my son ordered was brushed with an herb-flecked tomato sauce made from puréed San Marzanno tomatoes (grown in the volcanic soil of Mount Vesuvio in Napoli, Italy – the birthplace of pizza), then covered with plenty of Mozzarella cheese and scattered with lots of crispy, spicy, dry cured pepperoni. It was pepperoni pizza done the way it should be.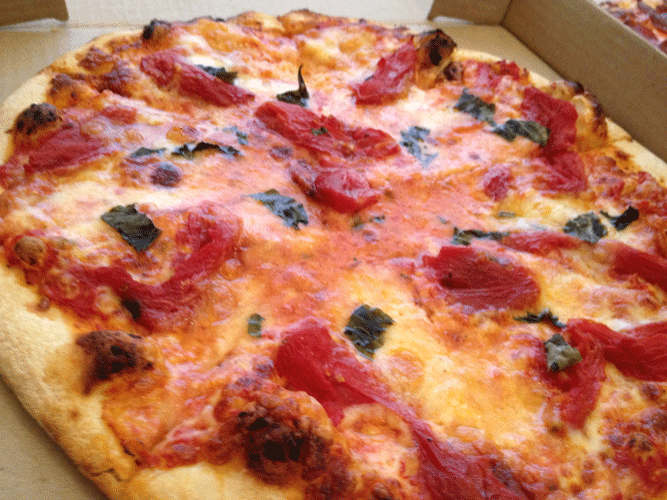 I have been pining for a good pizza Margherita ever since I enviously watched Julia Roberts fall head over heals into a steamy affair with the Margherita pizza she ate in Napoli, Italy, in the movie Eat, Pray, Love. Brick House Pizza's version satisfied my urge with a thin and chewy crust spread with olive oil and chunks of stewed San Marzanno tomatoes.  It was perfumed with strips of fresh basil, topped with gooey Mozzarella cheese and dotted with melted globs of Bocconcini cheese (fresh mozzarella balls).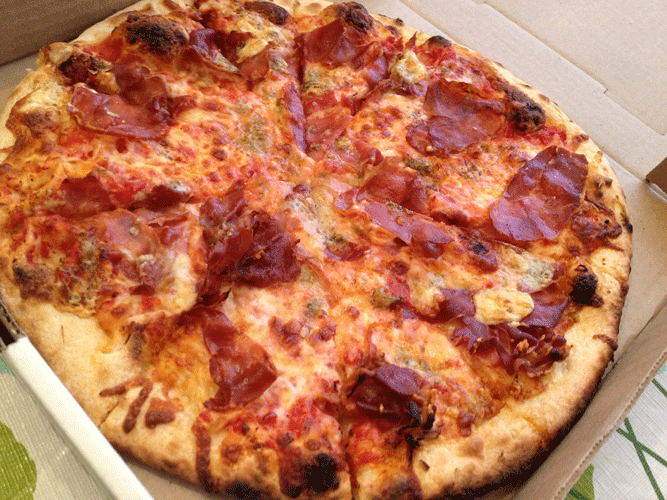 Olived my husband's own creation the best. Our teeth crunched salty prosciutto then sunk down through oozing mozzarella into sweet tomato sauce and chewy crust. The highlight was the tang of the creamy blue cheese as it hit our tongues (just the right amount of dabs here and there without overpowering you). My husband asked "How can I ever go back to chain store pizza when I can have this?" And thus begins our love affair with Brick House Pizza.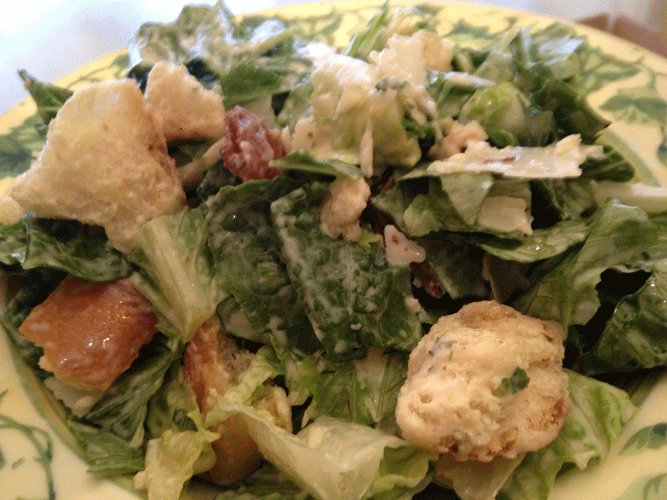 Not only is the pizza delicious but olive that they offer good, freshly made salad. The Caesar salad was full of crisp romaine leaves dressed in creamy vinaigrette with a kick of garlic and sprinkled with airy croutons, bits of shaved parmesan and chunks of real bacon that is cooked in the wood burning oven. One Caesar salad could feed 2-3 people if you are eating it with pizza.
I don't know how I will find the strength to pull myself away from the pizza to try the rest of the menu but the sandwiches sound mouthwatering. Check out the link to their site below to see all of the alluring items offered on the menu.
Brick House Pizza Company (located right next door to Saucy)
111 Queen Street South
Streetsville, Ontario 905-858-FIRE (3473)
Read More