Oh, does Olive have a couple of great tips for you to make your next milestone celebration extra special without breaking the budget! My father didn't want a fuss over his birthday, so we gathered family around him and ordered Chinese take outs. But how can you pay tribute to 85 years of a life well-lived without doing something extraordinary?
Tip #1: Streetsville's Desserts by Michelle, a personalized catering and dessert service for the GTA West area, is a great source for well-priced, delicious cakes. With over 20 varieties of cakes, tortes, tarts, and individual desserts to choose from, you will find something to suit every occasion.
My friends have been raving about Michelle's wonderful desserts for years. The Éclairs, they tell me, are amazing, and so is the Pavlova – crunchy and sweet with gorgeous berries all over it. Madeleine cookies are a staple.  Another favourite is the English Toffee Cake. Michelle wowed the guests at a friend's birthday party when she served chocolate spoons with bacon as an hors d'oeuvre; they were really good! Click here to check out Michelle's website and photo gallery.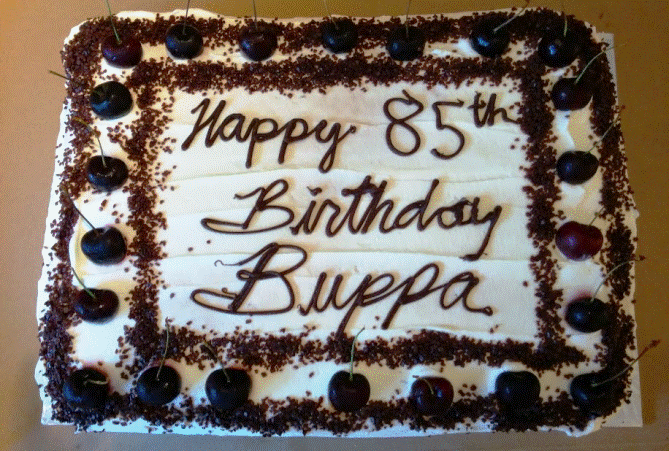 I ordered a Black Forest Cake, my Dad's favourite. Over the years, we have served him a variety of Black Forest cakes from other suppliers – all of which were, in my humble opinion, quite ho hum. Michelle's version was absolutely lovely. Luxurious but light and fresh, using real ingredients; not overly sweet. Dark chocolate cake – so moist it was almost fudgy – was layered with a tasty red cherry filling and plenty of freshly whipped real cream. It was garnished with dark chocolate and the most divinely juicy, fresh, local dark cherries.
It was the best Black Forest Cake I have ever tasted this side of the Black Forest (I did eat one in Germany once). Everyone loved it. It was delivered right to our door in a white box tied with a pretty orange ribbon. For a very reasonable price, we each enjoyed a generous piece and had plenty of leftovers. Michelle is my go-to-girl for celebration cakes (especially Black Forest!) from this point on.
What do you give the person who has everything? Consider a beautiful DVD slideshow featuring photos and video of life's most memorable moments. Let your pictures and video tell his, her, or their unique story and it will last forever. And here comes Tip #2: Mississauga's Mike Cederberg, owner and founder of Soft Touch Video, does a fabulous job of converting your photos, film, and video memories to DVD to preserve them, while bringing them to life in a moving and professional presentation – and his prices are fantastic!
Mike has created two DVDs for our family and a number for friends and all turned out great. They are the perfect way to mark a milestone celebration (birthday, anniversary, Bar Mitzvah, graduation), journal a special vacation, or create a lasting memorial tribute of a loved one.
I asked our family to record personal messages for my Dad on video (what he means to us, how he inspired us, or a favourite memory of time spent together, etc.). Mike compiled them, interspersed video with family photos, added creative visual effects and music, and burned a DVD copy for each of us. We played the DVD at the party. The surprise messages from family residing across the continent and overseas who we don't get to see often were particularly moving. It touched us all and left my Dad, though emotional, beaming from ear to ear. I am so glad we did this for my Dad.
Be sure to click on this link and watch the beautiful slideshow Mike did as a loving tribute to his Mom. https://www.youtube.com/watch?v=vNOFQx5ZRlc

And here is a link to the slideshow Mike created of a trip he and his wife, Mona, took in 1989. http://vimeo.com/47627333
So, keep these two tips tucked away for the next time your family celebrates a milestone.
Read More