Barrie's The Farmhouse puts a fresh, hip spin on family dining with a focus on farm-to-table, locally sourced food. Here's a quick glimpse of a great night we enjoyed while dining there with family this fall.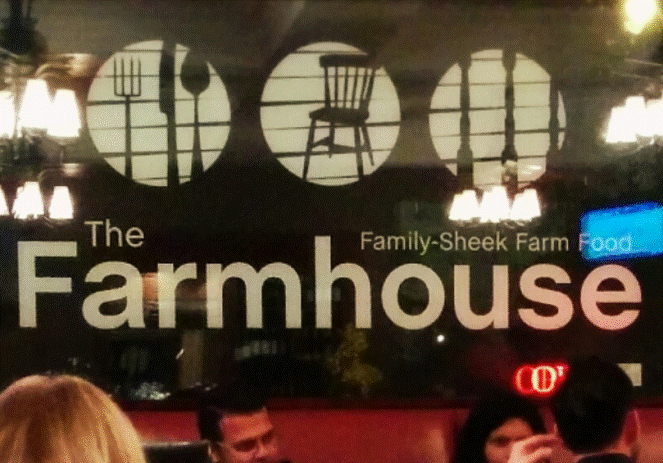 Good variety of starters to choose from, like freshly-shucked PEI oysters or french onion soup brimming with cheese.
Entrées come with two sides from a choice of eleven, including: roast garlic mash, baked potato with three cheese bacon butter, mac'n'cheese, daily soup, daily grain, three types of salads, and baked beans.
Side salads, like romaine salad with house-smoked bacon and parmesan vinaigrette, are served in charming mason jars.
Feltis Farm fries are served in mini deep fryer baskets.
The side daily vegetable that night was a delicious combo of pretty beets and fresh kale sautéed in thyme butter. The daily salad had beets in it too. A healthy dose of fresh vegetables – olive it!
The crispy trout with maple lemon butter was so darn good: crisp exterior with a touch of sweetness; rich and moist inside. Others at our table enjoyed the garlic rosemary braised lamb shank, the farmhouse signature roast beef with thyme peppercorn goodness, and the flaxseed-crusted seared tuna with wasabi mayo.
Lots of other creative, farm-to-table-fresh dishes on the menu, including weekend breakfast. Located in a historical building with outdoor patios overlooking the waterfront. A great reason to hop off the 400 on your way up north.
The Farmhouse
268 Bradford Street
Barrie, ON, L4N 3B8  
Telephone:
705-737-0522  
Twitter:
https://twitter.com/farmhousebarrie
Facebook:
https://www.facebook.com/pages/The-Farmhouse/162551217235154?fref=ts
Read More