Baby, it's cold outside! Cozy up next to the Copper Kettle's crackling fire and toast the holidays in this charming pub, decked in festive greenery.
The authentically renovated Copper Kettle is situated in a historical building, nestled in the quaint, wee village of Glen Williams. In warmer months, sit on the outdoor patio. If it gets nippy, there's a large, outdoor fireplace to warm you up.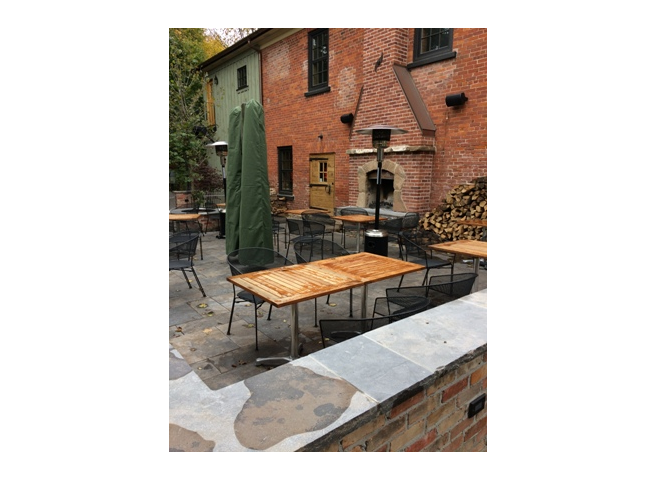 What's even better? The Copper Kettle's new ownership is serious about serving well-prepared, fresh food, using locally-sourced ingredients wherever possible. They even make their own honey and maple syrup on their farm. There are plenty of healthy or indulgent, classic pub food options to choose from on their menu, as well as daily specials. I've heard everything on the menu is delicious.
My dad and I enjoyed a lovely lunch at the Copper Kettle in the fall. His choice: Steak and Egg daily special with really flavourful, tender steak and grilled tomatoes.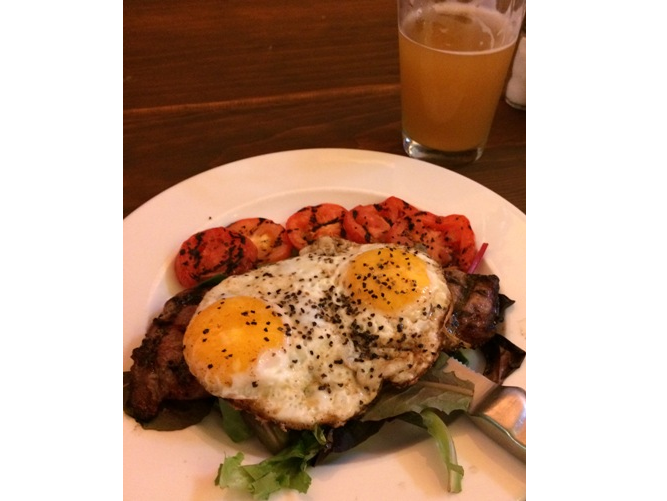 The open-faced Black Bean & Chickpea Burger is sumptuous: sliced baguette, layered with grilled vegetables and marinated tomatoes, slathered with mashed avocado, adorned with a generous pillow of black beans and chickpeas, topped with soft chèvre (fresh goat cheese), garnished with baby greens, and drizzled with balsamic reduction. Oh, happy Olive!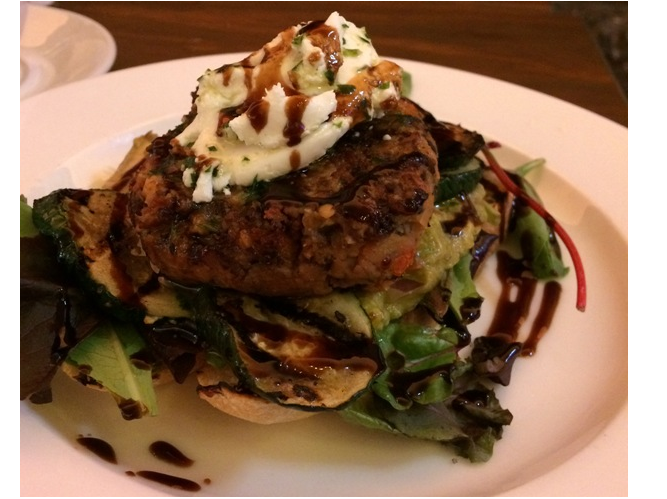 Be sure to order a house made tart if there is one on the dessert menu: the crust is fantastic. The French Apple Tart has an almond filling and is garnished with a fan of thinly sliced apples and a light dusting of sugar that caramelizes into a very thin crust, a little like the crust on a crème brûlée. Oh…là…là!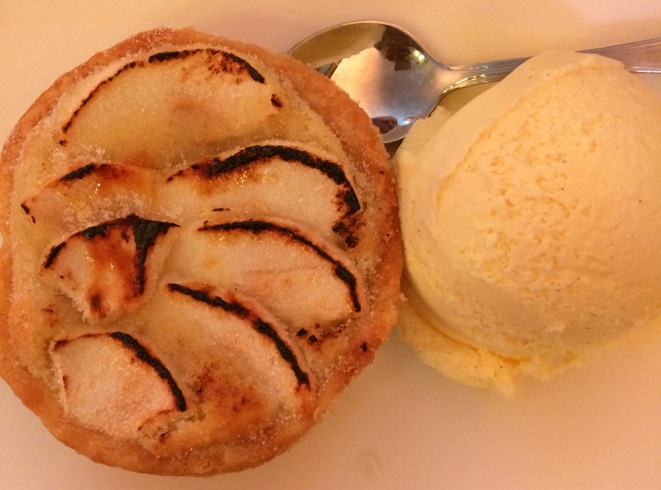 Come for a glass of local craft beer, cider or wine and a plate to share. The Charcuterie Board looked perfect for sharing: cured meats, daily cheese, honey roasted pecans, walnuts and house made pickled garnish with warm bread. If you are vegetarian, try the Bread Board with toasted breads, house made hummus, olive tapenade, and baba ghanoush.
Sunday night specials include Roast Dinner. There is live music on Saturdays from 9:00pm to 11:30pm and Sunday evenings from 5:00pm to 8:00pm.
I gathered up some friends one Sunday night in December and returned. The duo who were performing were delightfully entertaining. The Mushrooms platter is healthy yet heavenly: a warm salad of oven roasted mixed mushrooms and tomatoes, decadent dollops of soft chèvre, wilted spinach and basil, and balsamic drizzle. I asked for some grilled baguette on the side and called it dinner.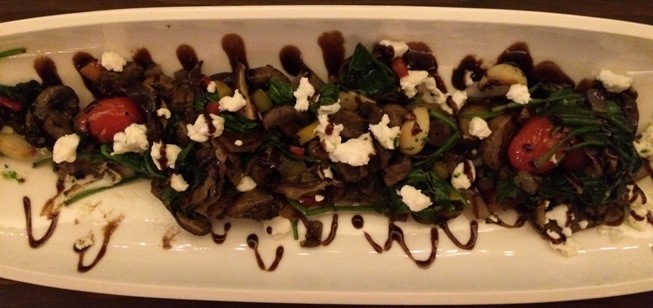 My friends loved the Black Bean & Chickpea Burger and a daily special wrap sandwich.
It was such a cheerful night amongst the Christmas greenery, twinkling lights, and rich, spicy fragrance of the fire. When we opened the door to leave, big, white snowflakes danced down from the dark night sky – the first snowfall of the season. Fade in Charlie Brown Christmas music…♪♫♪♫.
Have yourself a merry little Christmas! Love, Olive xx.
Copper Kettle
517 Main Street
Glen Williams, Ontario
L7G 3S9
905-877-5551
Read More