My backyard garden seems a little withered these days. I don't know if it was the heavy rain we had, or lack of tender loving care while we were away, or my total lack of a green thumb. The lettuce was great when it was young,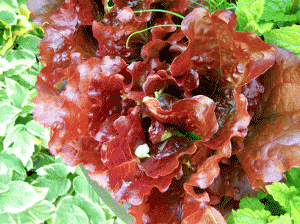 but the last head of lettuce seems so faded that I have decided to leave it as bunny food. I pulled out the beets too early and was disappointed to find they weren't ready and maybe never would be. The pea vine has now died at the top and whatever peas that were too small to pick before we left are still hanging on, but are stunted and too tiny to eat.
Learning to garden is like learning to cook; practice makes perfect. We already have some ideas about how we can improve for next year. It's exciting to plant a variety of tiny plants and watch them flourish under your care. My son learned to grow his own food, deepening his appreciation of real food. We will be planting a backyard vegetable garden every summer from now on; a habit I hope he will continue as an adult.
It was well worth the effort. The best part was watching my son swoon over the sweet peas he plucked straight from the vine, after I encouraged him to raid my garden. Between the two of us, none of the peas ever made it to the pot.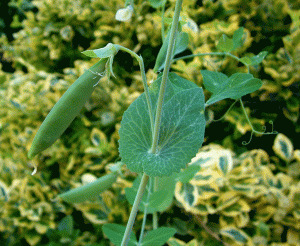 The first tomatoes we picked, moments before we ate them, were dripping with sunshine. The fresh mint has been added to everything from olive-oil-dressed boiled potatoes, to a Southeast Asian salad, and jugs of cold water. Hopefully, we will continue to enjoy our tomatoes and herbs throughout the summer.
The kale grew hearty and strong (I think it overcrowded the poor little beets). We harvested all the kale last week and enjoyed it at dinner. I was never a kale fan until I learned to oven roast it. Addictive as popcorn, it makes a wonderful, light and healthy snack that both adults and kids love.
Olive my Oven-Roasted Kale so much that we serve it every week for dinner. If you need your oven for more than one recipe, you can make the kale first and then hold it at room temperature on your table while cooking the rest of your dinner.  But be forewarned, the kale will likely be gobbled down as soon as it hits the table. In fact….we gobbled it down before I remembered to take the photo. Sorry!
Olive's Oven-Roasted Kale Chips

1 bunch of kale
2 tablespoons olive oil, divided in two equal parts
Kosher salt to taste
Preheat oven to 375°. Line two rimmed baking sheets with parchment paper.
Remove the stems and centre ribs from the kale by folding each leaf in half along the centre rib line and grasping both sides of the leaf with one hand and the end of the stem with the other; then gently pull the stem away from the leaf as far as it will go, not worrying if the kale tears into smaller pieces. Wash the kale carefully and dry thoroughly.
Divide the kale evenly between the two baking sheets. Drizzle liberally with the olive oil and generously sprinkle the salt over top. Toss to thoroughly coat each leaf with olive oil. Spread out in a single layer on each baking sheet.
Place

one tray on each oven rack

and roast the kale leaves for 5 minutes. Remove from the oven and stir; then rotate the position of the trays. Continue roasting until the kale is crisp and dark green (not brown), about

5 minutes longer (but check at about 4 minutes).



Transfer to a serving platter and hold at room temperature until you are ready to serve. Try to resist polishing off the whole bowl yourself when nobody is looking.
Read More