If you can't make it out to Canada's Largest Ribfest this weekend (August 30th to September 2nd in Burlington's Spencer Smith Park), here's a recipe you can enjoy in your own backyard. Sure to put the smile back on any last-day-of-summer sad face, my Kansas City-style Barbeque Ribs are a great way to end summer vacation.
There are a few easy steps involved but most of the work is done ahead of time, making these ribs perfect for special occasions. My ribs are steam-baked in homemade barbeque sauce and a slow oven the day before, chilled in the fridge overnight, and then finished on the grill for 15 minutes to impart a smoky flavour and a caramelized crust. The end result: tender ribs in a lip-smackin', finger-lickin' homemade sauce that is dead-on delicious. And you don't have to worry about a grill for hours.
My barbeque sauce recipe is Kansas City-style: tangy, sweet and a bit spicy – just the way olive it! Make the barbeque sauce at least one day ahead – the flavours deepen overnight. I make a big batch and freeze it in smaller portions. The acidity of the vinegar in the sauce will be mellowed by the richness of the meat – both setting each other off perfectly, I think – so don't judge the sauce until you taste it on the finished ribs.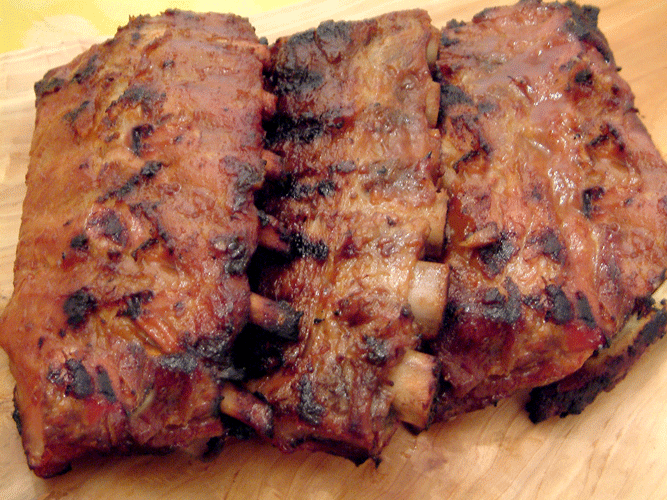 Olive's Big Batch Kansas City-style Barbeque Sauce
Makes about 7 ½ cups
Delicious on ribs or chicken. Make one day in advance.
Ingredients:
2 tablespoons butter or vegetable oil
4 cloves garlic, finely minced
1 cup water
3 cups tomato ketchup
1 cup apple cider vinegar
⅔ cup Worcestershire sauce
½ cup prepared yellow mustard
1 cup brown sugar, lightly packed
1 cup honey
½ cup hoisin sauce
2 teaspoons hot pepper sauce (Tabasco)
2 teaspoons salt
Directions:
In a large heavy saucepan, melt butter over medium-low heat; add garlic and sauté, stirring constantly, for 1 minute.
Remove the pan from the heat, so the garlic doesn't burn; add the remaining ingredients to the pot and stir thoroughly with a whisk.
Set the pot back over medium heat and bring to a boil, stirring frequently; immediately reduce heat to medium-low and simmer for 45 minutes, stirring occasionally with a wooden spoon.
Store overnight in the refrigerator to allow the flavours to deepen, or freeze for longer storage. Freeze in 2 cup portions. One 2-cup portion is enough for 2 racks of ribs.
The method I use to cook the ribs (that I learned from a Trish Magwood Party Dish recipe – Sticky Barbeque Ribs) infuses the meat with barbeque sauce. The key is to seal the ribs very tightly in foil and then slow roast them in the oven for two hours until they are fully cooked – you will be rewarded with tender ribs that just need finishing on the grill.
Another key to success is to chill the ribs to firm the meat before grilling them – so after I bake my ribs in the oven, I chill them in the fridge overnight and then put them on the grill cold (straight from the fridge) to finish them. I learned this tip from a cooking show long ago; it has always worked, I didn't ask why….but then I thought my readers deserved to know the science behind it. So, I went to The Food Lab and asked part-scientist/part-chef Kenji López-Alt (Chief Creative Officer, Serious Eats) for his expert opinion and am grateful to have received his prompt answer which he has allowed me to share with you:
"…chilling increases the viscosity of internal juices which makes them a little firmer so they don't fall apart. It also lets you char the exterior without drying them out."
Kenji Lopez-Alt's weekly column The Food Lab on Seriouseats.com explores the science of home cooking. Click here to read his column, follow him on Twitter or Facebook or send him an e-mail. Thank you Mr. López-Alt!
Ribs should be cooked until they come cleanly off the bone when you bite in but are not falling off the bone when you pick them up to eat them. If you follow my recipe, that's how your ribs will turn out.
Olive's Kansas City-style Barbeque Ribs
Serves 4 (half rack portions)
A great make-ahead dish for a summer barbeque party. Prepare these ribs one day prior to grilling them.
Ingredients:
2 racks baby back pork ribs (back membrane removed – ask your butcher or do yourself)
2 cups Olive's Big Batch Kansas City-style Barbeque Sauce
4 17"-square pieces of heavy-duty aluminum foil
Directions:
Preheat oven to 275ºF. Cut each rib rack in half.
Measure ½ cup of barbeque sauce into a separate container to brush on the raw ribs; do not contaminate the remaining barbeque sauce – refrigerate it for basting the pre-baked ribs on the grill and for serving on the table the next day.
Brush both sides of the ribs with the ½ cup of barbeque sauce, dividing it evenly among the 4 sections.
See instructional photos below. Place one rib section, meaty side up, on the centre of each piece of foil. Fold the sides of the foil up towards the ceiling. Leaving an air pocket on top of the ribs, bring the foil edges together at the top and fold down about ¾"; crimp tightly all along the edge with your fingers to make an airtight package; fold down two more times the same way. Repeat the same process to seal both ends of the packet. Take care not to puncture the foil during this process.
Carefully transfer wrapped ribs to a rimmed baking sheet; place tray on the middle oven rack of a 275ºF degree oven; bake for 2 hours.
After 2 hours, remove ribs from the oven but don't open the packets; let cool, sealed in their packets, at room temperature for 15 minutes.
Carefully open hot foil packets. Remove ribs from foil and place in a baking dish; discard remaining juices and foil. Cover dish with plastic wrap. Chill ribs in the fridge overnight. Do not remove from the fridge until you are ready to grill – the meat should be chilled thoroughly when you put the ribs on the grill.
When ready to serve the next day, preheat grill to medium heat. Remove the cold ribs from the baking dish and place the ribs directly on a clean, well-oiled grill; immediately baste with barbeque sauce and grill for 5 minutes. Flip and baste again with barbeque sauce; grill for another 5 minutes. Flip and baste with sauce two more times, grilling for about 5 more minutes or until sauce is caramelized, lightly charred, and the meat is hot.  In total, you should have basted 4 times total and grilled for about 15 minutes or so.
Serve remaining ½ cup sauce in a bowl on the table for those who want to brush more sauce on their ribs.
                            18
th
Annual
Canada's Largest Ribfest
Organized by the Rotary Club of Burlington Lakeshore. Location: Spencer Smith Park in Burlington, Ontario Dates: August 30
th
to September 2
nd
, 2013  Hours: 11 am to 11 pm Friday, Saturday and Sunday, 11am to 8 pm Monday All the info you need to know is here:
www.canadaslargestribfest.com
Read More