This mildly spiced cheese and potato soup is my twist on the classic Peruvian dish, Papa a la Huancaína (sliced cold potatoes covered in a spicy cheese sauce). My soup has just enough heat to gently warm your bones – but not enough heat to awaken the bones of the dead – on a chilly Halloween night. Add more aji amarillo if you're feeling devilish.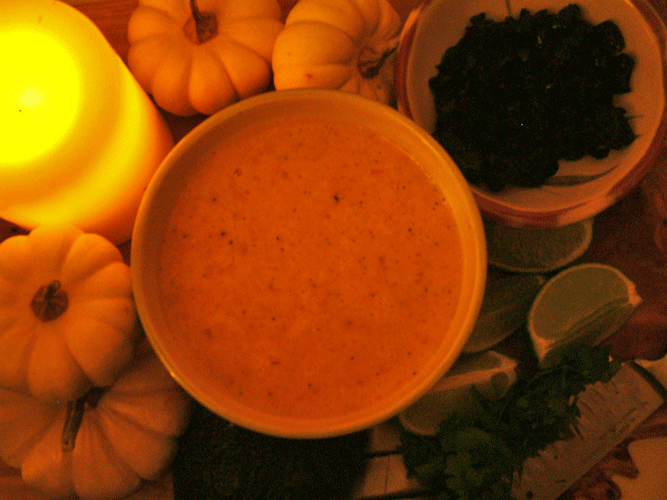 Papa a la Huancaína Soup
Serves 6
Aji amarillo peppers are orange-fleshed, medium-hot Peruvian chili peppers, which are prized for their unique fruitiness and imported from Peru. Aji means chili pepper and amarillo means yellow. Look for frozen aji amarillo chili peppers or jarred aji amarillo paste in Latin American grocery stores. Check my Grocery Store Directory to find a Latin American grocery store in your area.
Queso fresco is a Mexican fresh white cheese. You can find it in Latin American grocery stores and sometimes in regular grocery stores, such as Paul's nofrills at Bristol Road and Creditview Road in Streetsville.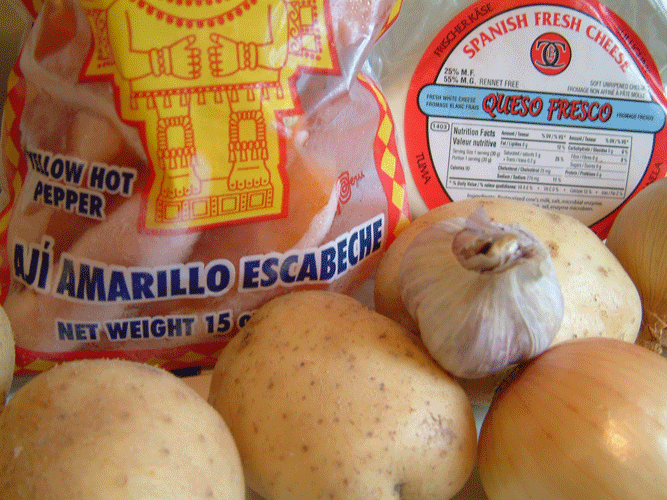 Local Dairy in Ingersoll, Ontario produces queso fresco under the LaVaquita brand name (photo not shown), using authentic Latin American recipes and techniques. It is made from fresh milk that is delivered daily from local farms in the Oxford County area. The nearest store where we can find LaVaquita Queso Fresco regularly is the Sobey's on Queensway, beside the Ontario Food Terminal. Local Dairy also produces other Latin American dairy products (Queso Oaxaca, Queso Duro, Queso Chihuahua, and Crema, all under the LaVaquita name) and Indian dairy products. I was lucky enough to sample their delicious cheeses and dairy products recently, at the Delicious Food Show. I hope we will find Local Dairy products in our neighborhood stores in the future. Next time I am in my local grocery store, I'm going to ask if they can bring in Local Dairy products.
Ingredients:
2 tablespoons extra-virgin olive oil
1 cup finely chopped yellow onion (1 medium onion)
4 yellow aji amarillo chili peppers, defrosted (or 1/2 cup jarred aji amarillo paste)
6 medium yellow-fleshed potatoes, chopped
1 teaspoon dried thyme
1 teaspoon coarse salt
4 garlic cloves, finely minced
4 cups water
3 cups grated queso fresco (Mexican fresh white cheese)
1 (370 ml) can fat-free evaporated skim milk or 2%
Salt and freshly ground black pepper, to taste
1 lime, cut into sixths
Garnishes: chopped pitted sun-dried black olives, chopped avocado, chopped fresh cilantro
Directions:
If using whole aji amarillo peppers, seed and devein them; roughly chop.
In a large heavy saucepan, heat oil over medium-low heat. Add onions, potatoes, and chopped peppers (if using aji amarillo paste instead of frozen peppers, don't add it yet); season with thyme and 1 teaspoon coarse salt. Sauté until onions are softened, about 10 minutes, stirring occasionally.

Add garlic; sauté for 1 minute, stirring constantly.

Add water (and aji amarillo paste if using in place of the peppers); bring to a boil, then reduce to a simmer. Simmer until potatoes are tender, about 15 minutes, stirring occasionally.

Remove from heat; let cool slightly. Carefully transfer soup to the large bowl of a food processor; add cheese and then process until smooth.

Return soup to pot. Add evaporated milk.

Bring soup to a boil over medium heat, stirring frequently. Reduce heat to low and simmer gently, stirring occasionally, until cheese has melted a bit. Add salt and pepper to taste. Serve hot with lime wedges and garnishes.
Read More