I often think of the women of my church as the Divas Who Dish Divinely. After countless bake sales, church luncheons, and casseroles for friends in need, years of practice have perfected their "from-scratch" recipes and turned them into best-in-show treasures.
The Divas Who Dish Divinely (AKA Streetsville United Church Women) will be dishing up some delicious food again at the 46th annual Streetsville United Church Harvest of Crafts Sale, this Saturday October 26, 2013 from 9:30 a.m. to 3:00 p.m., at Streetsville United Church.
Olive the Streetsville United Church Harvest of Crafts Sale because it invites the surrounding community to come together under one roof. Our fundraising efforts help support various local outreach programs. And of course, the food is delicious.
Our all-day café offers you a spot to sit, chat, and replenish your shopping-weary soul. Several women make their own batches of chili con carne and chicken soup, then combine them all into one heavenly pot of chili and one ethereal pot of chicken soup. Sandwiches, salads, and homemade desserts are made with care.
Make the baking table your first stop: delectable pies, cakes, cookies, and squares are all made from scratch and sell out quickly. Our local harvest is preserved in pretty jars to enjoy throughout winter. The sale is brimming with creative and witty, inexpensive crafts made by the talented Streetsville United Church Women. Local artisans offer a variety of unique, handcrafted gifts. There is always a special find in the Attic Treasures collection of gently-used modern and vintage finds. Come and get your Christmas shopping done early.
After working all day at the craft show, while the aroma of simmering chili wafts from the kitchen, I come home tired and craving chili. Here is my recipe.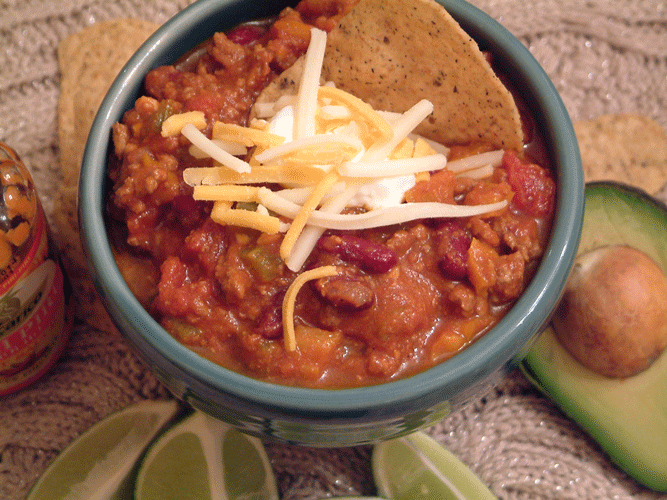 Chili Con Carne
Serves 8
This classic chili simmers for five hours but it is much more flavourful cooked slowly and lovingly on the stovetop than abandoned in a slow cooker. Start it early in the day, refrigerate overnight, and reheat gently the next day to further deepen the flavour. If you have two large pots, you can double the recipe and stock your freezer with chili to warm up the chilly months that lie ahead.
I learned this old Southern tip from my friend, Bill, (who learned it from his friend from Kansas City): gently stir in a tablespoon of peanut butter near the end of cooking to smooth out the acidity and round out the flavour of the chili. For years I made this recipe without the peanut butter and still loved it, so if there is a peanut-allergy concern, leave it out.
Ingredients:
4 tablespoons olive oil
About 2 pounds (1kg) extra lean ground sirloin
2 yellow cooking onions, chopped
6 garlic cloves, finely minced
2 yellow or orange sweet bell peppers, cored, seeded, and chopped
4 celery stalks, chopped
1 28 fl oz/796 mL can diced tomatoes
1 19 oz / 540 mL can red kidney beans, drained, rinsed, drained again
1 28 fl oz/796 mL can crushed tomatoes
1 teaspoon coarse salt
1 teaspoon white sugar
2 tablespoons ground chili powder, to taste
½ teaspoon ground cumin
¼ teaspoon ground cinnamon
2 bay leaves
Finish:
1 tablespoon smooth peanut butter
Freshly ground black pepper and coarse salt, to taste
Few dashes of hot sauce (such as Tabasco or Piri Piri), to taste
Optional Garnishes: shredded cheddar cheese, sour cream, lime wedges, hot sauce, chopped avocado, fresh cilantro leaves, tortilla chips, or garlic bread.
Directions:
Heat a large heavy pot over medium heat; add onions and ground sirloin and brown, breaking up with a wooden spoon and stirring frequently, just until meat is no longer pink inside, about 10 minutes.
Add garlic; sauté for 1 minute, stirring constantly.
Add remaining ingredients, except peanut butter; stir. Partially cover with a lid; simmer for 4 3/4 hours, stirring occasionally.
To finish, stir in peanut butter and simmer, stirring occasionally, 15 more minutes. Remove and discard bay leaves. Season to taste with salt, pepper, and hot sauce.
Let cool and then refrigerate overnight to allow flavours to mellow further. When ready to serve, reheat gently. Serve hot with your choice of optional garnishes.
Streetsville United Church
274 Queen St. South Mississauga, Ontario
L5M 1L8
Harvest of Crafts Sale Hours: Saturday October 26 from 9:30 a.m. to 3:00 p.m.
Free Admission. Appreciate your support.

View Larger Map