The cats are away so this mouse spent a busy afternoon testing recipes. After, I slipped out on to the patio (leaving my kitchen disaster behind me) and treated myself to a simple but sumptuous dinner: a Snow Crab Cake from Michael-Angelo's grocery store. I like it cold on a bed of mixed greens with herbs, topped with chopped avocado, and squirted with lemon.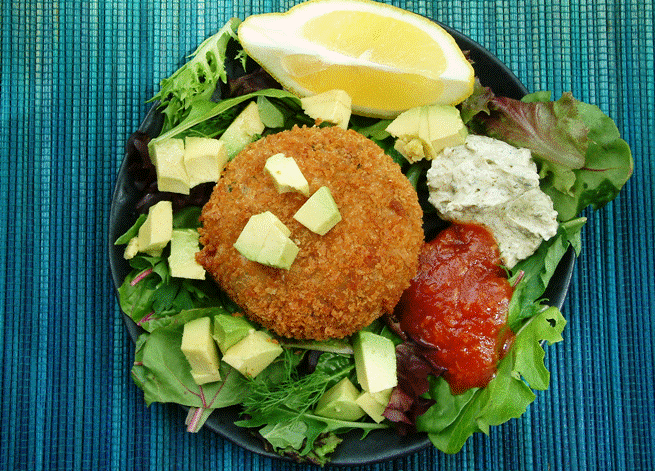 A dollop of cocktail sauce adds a classic, tangy bite. Amp up the wow factor even more with a hit of zingy cilantro pesto (Jamie Oliver's Coriander and Cashew Pesto is brilliant) mixed with crème fraiche (both sold at Michael-Angelo's) or mixed with creamy labneh (Middle Eastern strained yogurt that you can make yourself or purchase from Adonis).
Michael-Angelo's Snow Crab Cakes are made in-store. A thin layer of light, crunchy breading embraces a generous mound of delicate, sweet crab flecked with minute pieces of sweet peppers and parsley.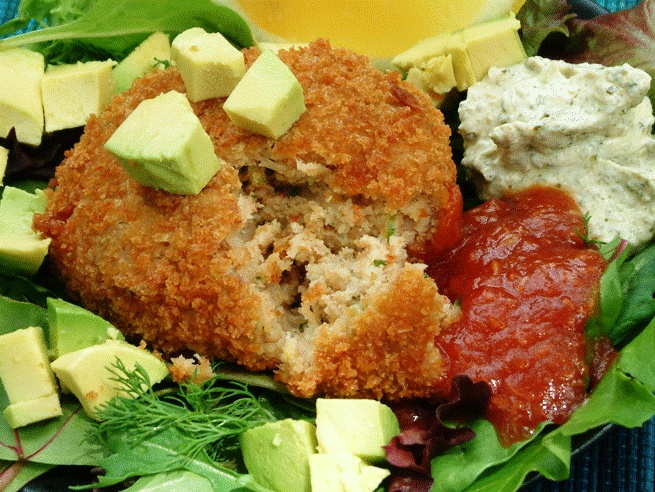 Snow Crab Cakes are available year round in Michael-Angelo's prepared food counter. The quality has been consistently great. The ladies behind the counter tell me that their Portuguese Cod Cakes are also delicious. Well done ladies!
Michael-Angelo's
Mississauga location:
4099 Erin Mills Parkway
Mississauga, ON L5L 3P9  
Telephone:
(905) 820-3300
Website:

http://michaelangelos.ca/about-us/in-store-departments
Read More