Even if you are not a fan of cider, don't miss an opportunity to enjoy a scenic drive to Spirit Tree Estate Cidery, an artisan cider mill gracing the Niagara Escarpment, in the picturesque hills of Caledon. While farm-fresh apples and carefully crafted cider are at the root of the Spirit Tree experience, there is much more to this story.
Of course, there are delicious sweet and hard ciders to sample in Spirit Tree's tasting room or purchase in their farm store, as well as apples already-picked from the estate's orchards.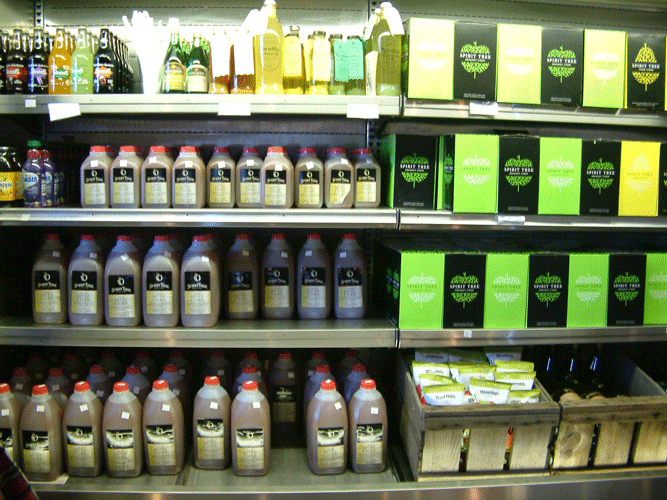 I look forward to a glass of sweet apple cider in the fall, but I am a novice when it comes to hard ciders. To learn more about Spirit Tree Estate Cidery's award-winning, artisanal ciders, click the Our Ciders tab and the Press tab on their website link at the end of this post.
What I find exceptional about Spirit Tree Estate Cidery is the attention to detail and high-quality standards that owners and founders Thomas Wilson and Nicole Judge have poured into their business, starting with their cider but apparent throughout their operations.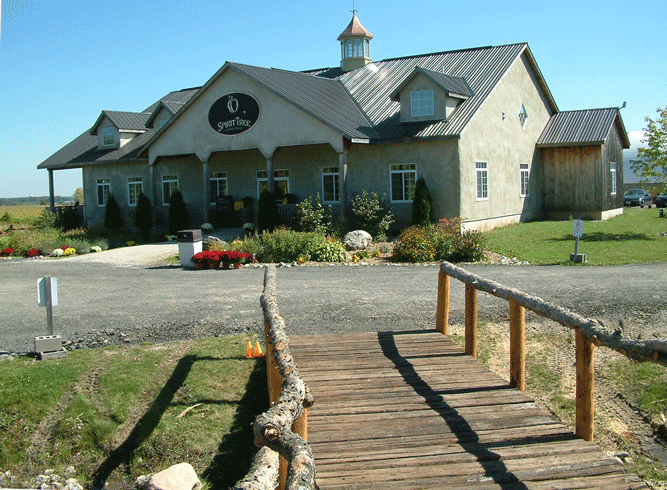 Nestled in the heart of their award-winning straw bale building is a specially designed wood-fired oven with thick stone masonry that retains heat for hours, even after the fire burns down and is cleaned out of the oven. From that oven, come some wonderful things.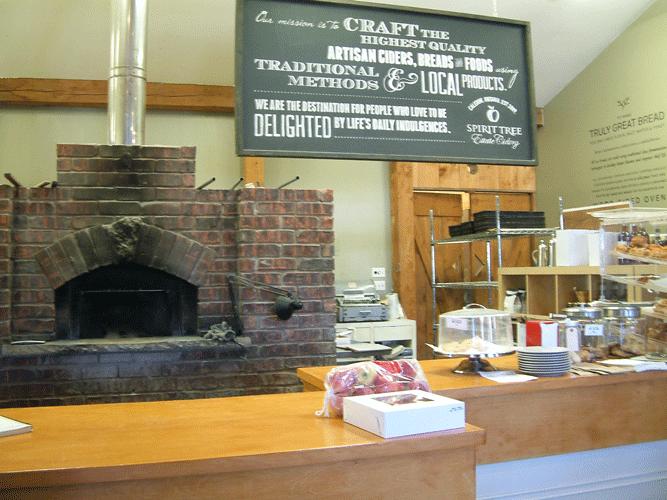 Artisanal bread is handcrafted using old European techniques and preservative-free, natural ingredients, then baked fresh daily, directly on the clean oven hearth. There are several beautiful varieties of bread to choose from, including Caledon Sourdough, Red Fife Whole Wheat, Boston Mills Multigrain, and Epi (gorgeous French-inspired baguettes styled after wheat stalks).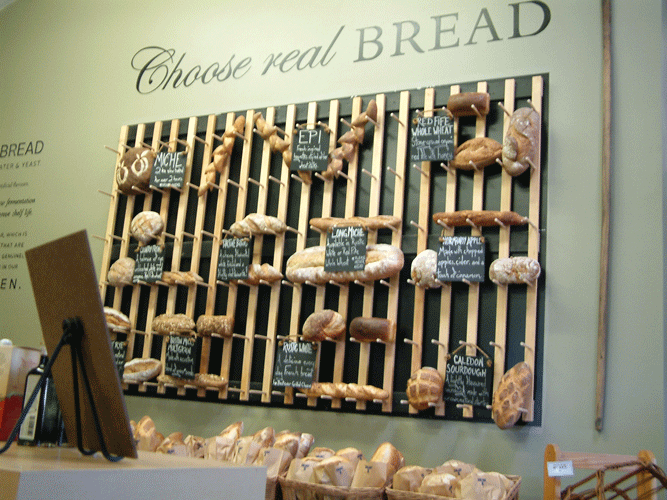 I brought home a Tartine loaf – a Spirit Tree favourite, with a chewy crust and delicious interior.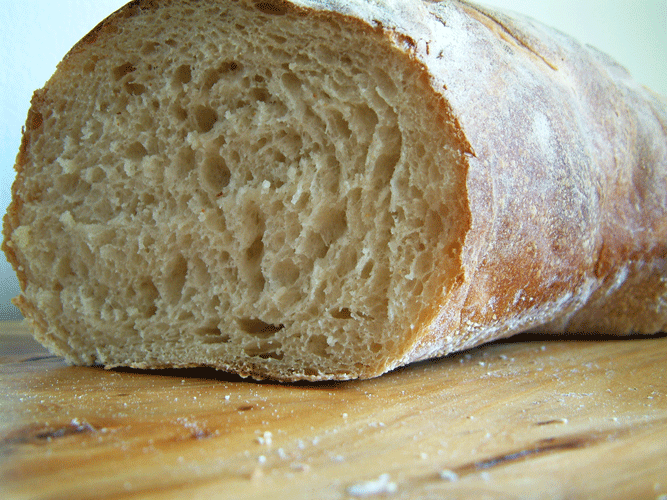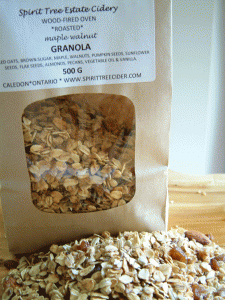 Spirit Tree's Maple Walnut Granola is roasted in the wood-fired oven. It has a crisp texture with a pleasing maple flavour that is not too rich or too sweet. It's made from rolled oats, brown sugar, maple, walnuts, pumpkin seeds, sunflower seeds, flax seeds, almonds, pecans, vegetable oil, and vanilla. Healthy never tasted so good!
Whole pies and quiches (filled with a variety of delicious ingredients) are baked fresh on the premises and available ready-to-eat or frozen. I picked up a frozen Quiche Lorraine filled with bacon, potato, thyme and swiss cheese. I have it stored in my freezer, ready for an easy brunch. For Thanksgiving, consider pumpkin pie or gluten-free Applicious pumpkin pie, but be sure to call in advance to pre-order. Cheese buns, cinnamon buns, tarts, cookies, and scones (which are delicious, according to my sister) are offered daily.
Spirit Tree Estate Cidery even makes a couple of enticing gourmet pâtés. I picked up Pâté with Ice Cider & Shallots – the ingredients sound delectable: chicken livers, clarified butter, shallots, port, brandy, ice cider, Calvados, apple syrup, eggs, spices. It's frozen in adorable little 165g ceramic pots – I am storing it in my freezer for Christmas entertaining.
The owners' insistence on quality, natural ingredients is evident again in the gourmet food they bring in from local artisans. Spirit Tree's farm store is filled with fine quality, artisanal gourmet food – a gourmet gal's dream.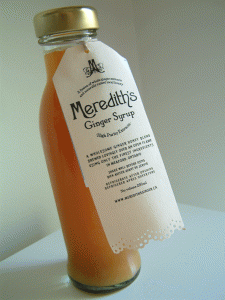 Meredith's Ginger Syrup is a fusion of fresh ginger root extracts and natural honey raised on Meredith's organic farm in Meaford, Ontario. My favourite way to add this healthy elixir to my diet it is to add the juice of half a lemon and a dash of cayenne powder to 1 cup of hot or cold water, then stir in two tablespoons of Meredith's Ginger Syrup for a rejuvenating morning habit that my friend Angela has got me started on. Of course, you can omit the cayenne and the lemon and enjoy a lovely, soothing drink of spicy ginger that will warm you from the inside out.
Handcrafted in small batches at the Deerhurst resort in Muskoka by chef Shelley Westgarth, Belly Ice Cream is served in some of the finest restaurants (such as the Ritz Carlton's TOCA) and sold in several of the finest gourmet food stores throughout Ontario (including Spirit Tree Estate Cidery). Shelley uses locally-sourced, all natural, preservative-free ingredients and dreams up a variety of creative, gourmet flavours like these.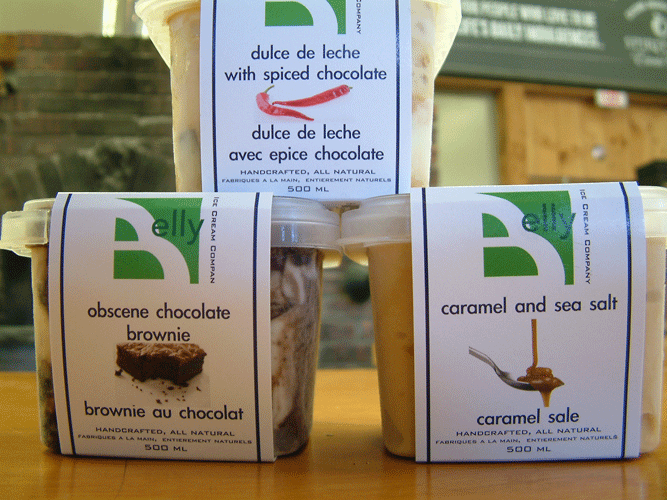 I bought Dulce de Leche with Spiced Chocolate ice cream – did they know I was coming? This flavour was made for me: dulce de leche caramel ice cream, toffee bits and thin wafers of Belgian dark chocolate that melt on your tongue and leave you with a little kick of heat. A variety of amazing flavours, sold in 500 mL containers or individual serving sizes, are available at Spirit Tree Estate Cidery.
You will also find Sheldon Creek Dairy products (such as traditional unhomogenized milk with cream on the top), Wicked Shortbread, Roothman's Gourmet Preserves, and a bounty of other gourmet goodies.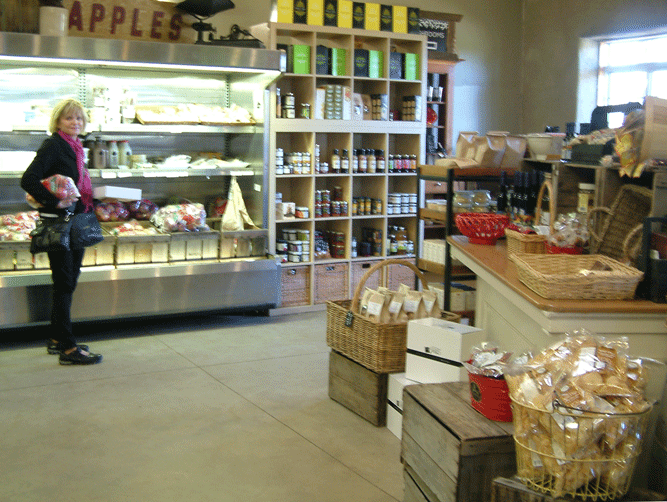 My sister and I enjoyed a light lunch in the tasting room. The high ceilings, rustic decor, and touches of elegant black or white calligraphy scrolled on the walls and blackboards made us feel like we were eating in a charming French mas (farmhouse). You can also eat on the outdoor porch or the picnic tables scattered on the lawn, if the weather permits. Brunch and lunch are served from 11:00 a.m. to 4:00 p.m. daily. Daily sandwiches and a farmhouse charcuterie platter are also on the menu.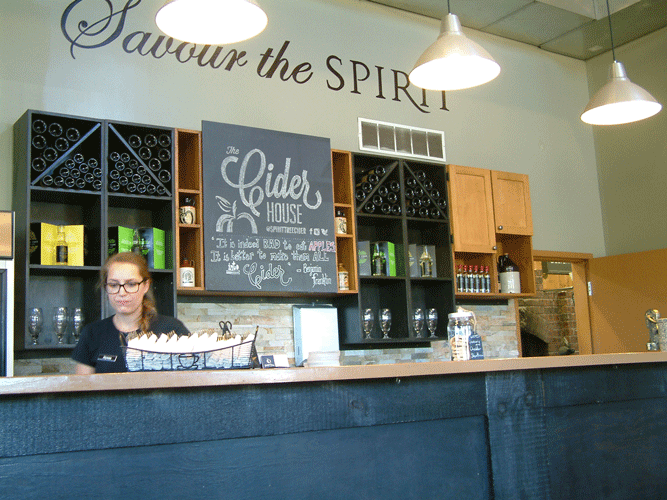 The atmosphere is casual but the quality of the food is superb. The daily quiche was filled with wood-oven-dried tomatoes, sautéed spinach, thyme and chèvre, all suspended in a lovely egg custard. It came with a healthy side salad of barley, red quinoa, baby arugula, and diced vegetables.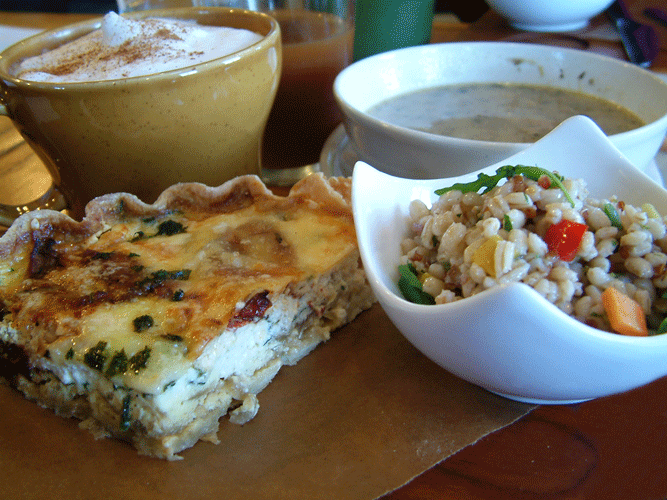 Our gracious and knowledgeable server, Alyssa, informed us that the daily soup (mushroom) was made with homemade vegetable stock, fresh rosemary from the garden, and a just a hint of cream. It was chock-full of mushrooms and had a full mushroom flavour – the best mushroom soup I have had in a long time.  Soup is served with slices of Spirit Tree's delicious Country French bread.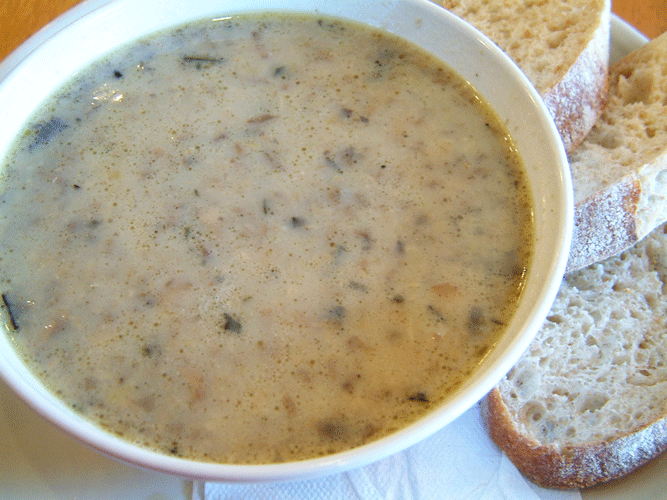 I couldn't resist and ordered both a well-prepared café latté and a freshly-pressed sweet cider that tasted like apple in a glass – so much fresher tasting than mass-produced, grocery store apple juice that has been processed, filtered, treated, sweetened, and watered down.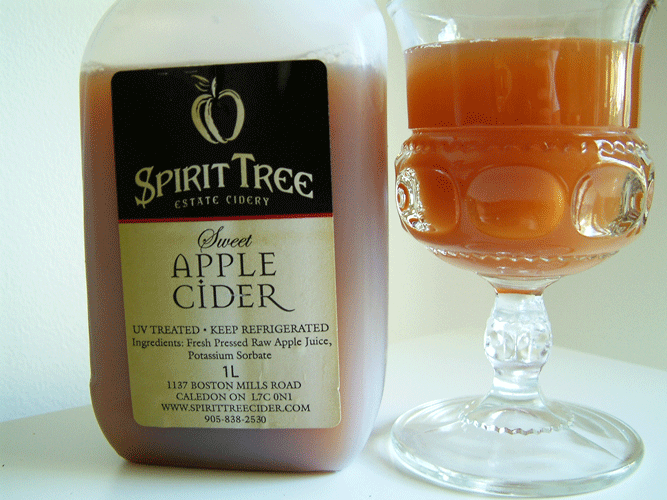 Friday night is pizza night. Though I haven't had the opportunity to try Spirit Tree's hand-tossed, wood-fired oven pizza yet, I am told that it is a real treat. Pizza toppings range from traditional to creative, quality ingredients. To an adventurous eater like me, the Cider House Blues pizza sounds heavenly: caramelized onions, wood-oven roasted potatoes, sliced apples, mozzarella, blue cheese, rosemary, and walnuts drizzled with honey. Oh my! Pizzas are served from 4:00 p.m. to 8:00 p.m. and are baked to order, so call ahead. You can either take your pizza to go or enjoy it on Spirit Tree's picnic tables, when weather permits.
Visit Spirit Tree Estate Cidery on Saturdays or Sundays at 2:00 p.m. for a drop-in, guided tour ($5 includes free-tasting) or check the website for details on pre-booked group tours. Sparkling sweet apple cider will be available in October, when Mother Nature dictates.
Fall is the perfect time of year to take a scenic drive through Caledon to Spirit Tree Estate Cidery. When I went with my sister last week, the leaves were just beginning to be tinged with colour. I'll be back at Thanksgiving for more cider and again closer to Christmas to stock up on gourmet goodies for easy entertaining. I'd love to make it to the wassailing ceremony on Family Day in February, to sing to the apple trees. Stay tuned to my blog for more information, closer to the date. Whenever you go, bring a cooler to safely transport any frozen goodies home.
Spirit Tree Estate Cidery
1137 Boston Mills Road
Caledon, Ontario, Canada
L7C 0N1  
Telephone:
905-838-2530  
Open:

Wednesday from 10:00 a.m. to 5:00 p.m.
Thursday from 10:00 a.m. to 5:00 p.m.
Friday from 10:00 a.m. to 8:00 p.m.
Saturday from 9:00 a.m. to 6:00 p.m.
Sunday 10:00 a.m. to 5:00 p.m.  
www.spirittreecider.com
Belly Ice Cream Company: www.bellyicecreamcompany.ca
Meredith's Ginger Syrup: www.meredithsginger.ca
Roothmans Gourmet Preserves: www.roothamsgourmet.com
Sheldon Creek Dairy: www.sheldoncreekdairy.ca
Wicked Shortbread: https://www.facebook.com/wickedshortbread
Read More