Olive Middle Eastern food. Healthy and flavourful, it always makes me feel good after I eat it. I fell in love with Middle Eastern food almost at the same moment that I fell in love with my Egyptian husband. First the husband, then his family, then the food.
My husband's family are talented cooks who love to host gastronomical extravaganzas.  Every generation of the family gathers around one long table, lavishly laden with delicious food. There is lots of love, laughter, good wine and even the odd heated debate just to keep things lively. They take food seriously and whether cooking Middle Eastern, French, Spanish, Italian, British, or Quebecois, they always search out the finest ingredients and prepare them carefully. Soon we will be welcoming Southeast Asian cooking into our wonderful, multicultural clan.
My mother-in-law, Mado, is a fabulous cook (and a lovely mother-in-law). Years of practice have perfected her cooking and engrained her recipes in her memory. There is nary a cookbook in sight. When I visit, I try hard to watch, translate, and learn so I can pass her recipes down to generations to come.
My mouth still waters when I recall a simple barbeque she held at her home one summer evening, when I was first getting to know the family. She char-grilled whole red snappers and served them with a delicious, creamy sauce made of ground sesame paste (tahina), lemon, and garlic. It was as yummy as it was unusual. That was my introduction to tahina sauce which quickly grew in to a love affair. Olive it the most on grilled or roasted fish. It's especially delectable with meaty salmon or trout.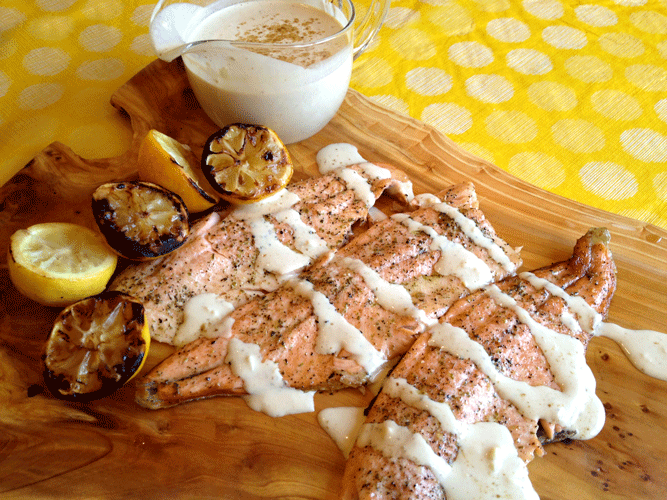 Olive it drizzled on grilled beef or chicken shish kebabs.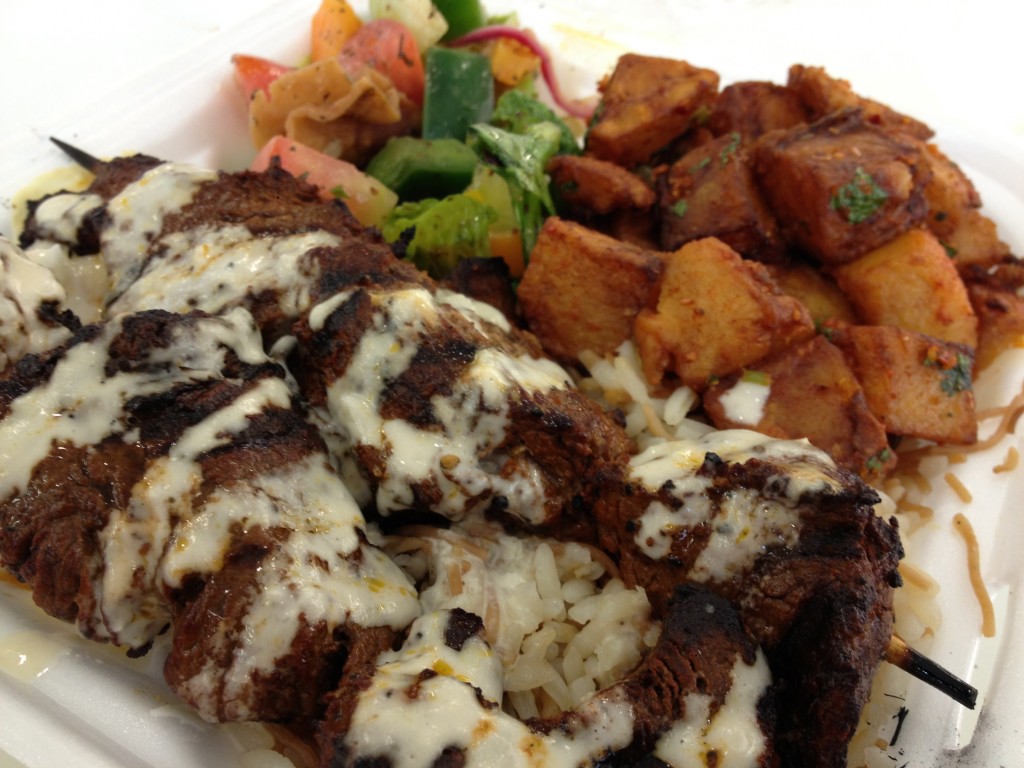 Olive to let it trickle down into my rice.  It heightens the flavour of Lebanese wrapped pita sandwiches, such as shawarma and falafel. It is essential in a good hummus and a good baba ghanoush. It is healthy and it's so easy to make. Let me teach you how.
First, let's talk about the ingredients. Here are all of the ingredients that you will need, plus cold water.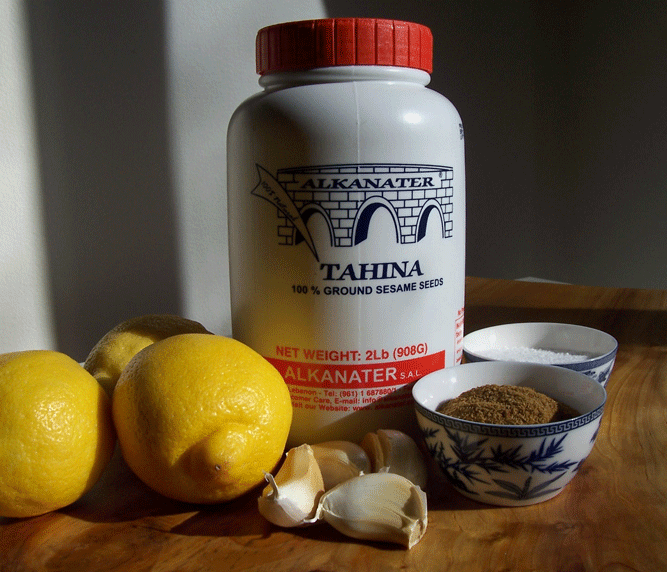 Make sure your lemons are large and roll them under your hand for a spell, to make them easier to juice. Choose four big, fresh cloves of garlic – go bold or go home (okay, do three if you feel a bit wimpy). If you can, buy your ground cumin from an Arabic store, where it has a high turnover and will be nice and fresh. Hmmm, I could smell the earthy fragrance of this cumin as I was taking this photo. This is my favourite brand of tahina paste, available at Adonis or Loblaws.
Store your jar of tahina paste upside down, set in a small bowl, in your cupboard. This will allow the oil on top to rise up through the paste, making it much easier to stir. It will keep in your cupboard for far longer than it will take for you to use it up. Because the paste is so thick, it is very important to stir tahina paste thoroughly before measuring it, to break up any clumps and to mix the oil in completely.
Now, a bit about the method. Tahina sauce needs to be blended properly with cold water. Mado always mixes it by hand, adding the water bit by bit and stirring while it breaks apart, then continuing to stir until it comes back together into a creamy blend. I get the same results in a food processor.
I like to make a batch of tahina sauce at the beginning of the week to serve with grilled fish. And then I use some to make baba ghanoush or hummus later on in the week. If there is any left over at the end of the week, we like to drizzle it over store-bought rotisserie chicken.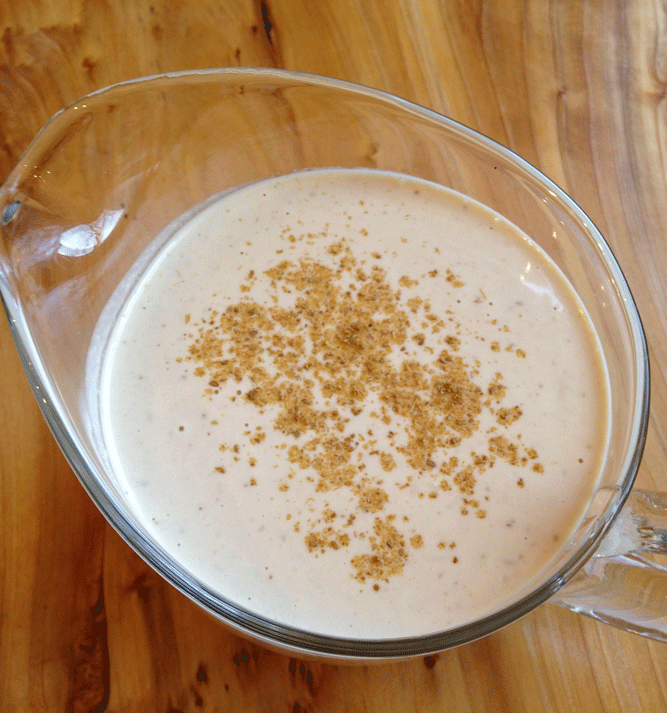 Sauce Tahina Mado
Makes about 2 1/2 cups
1 cup of tahina paste (stir well in jar before measuring)
Juice of 3 large lemons
1 teaspoon of kosher salt
4 garlic cloves, crushed and minced to a purée (in the above salt)
1 teaspoon of ground cumin plus a sprinkle for garnish
About 1 ¼ cup of cold water (depending on thickness of tahina paste – see instructions)
Mado's Method By Hand:
Before measuring the tahina paste, stir it very well to break up any hard chunks and blend thoroughly. Place the tahina in a medium bowl. Add the cold water, bit by bit, stirring each time. The tahina will separate and stiffen. Continue slowly adding the water (about 1 cup to 1 1/4 cups of water in total) and stirring until the tahina and water come back together into a creamy, pale sauce.
Add the lemon, salt, garlic, and cumin. Stir well. Adjust the salt to taste, to bring out a punch of lemon and garlic. Add more lemon, if necessary. Garnish with a light sprinkle of cumin. Store in the refrigerator.
Food Processor Method:
Before measuring the tahina paste, stir it very well to break up any hard chunks and blend thoroughly. Place all of the ingredients, except for the water, in a food processor.
Add the water slowly, using just enough to end up with a pale, smooth, creamy sauce (about 1 cup to 1 1/4 cups of water in total). The tahina will separate and stiffen at first and then become smooth. Adjust the salt to taste, to bring out a punch of lemon and garlic. Add more lemon, if necessary. Garnish with a light sprinkle of cumin. Store in the refrigerator.
Simple Grilled Fish (wonderful with Tahina Sauce)

Trout, salmon or red snapper fillets
Extra-virgin olive oil
Kosher salt
Freshly Ground Black Pepper
Dried Marjoram
Place fillets on a large piece of heavy-duty aluminum foil. Turn up the edges of the foil to make a rim (so that the oil doesn't leak out on to your grill).
Dress the fillets with a light drizzle of extra-virgin olive oil, a sprinkling of kosher salt, a grinding of black pepper, and a dusting of dried marjoram.
Grill the fish on the foil, at 425 degrees, until white proteins start to come to the surface and the fish is done to your liking. It will continue to cook a bit as it rests off of the grill. Alternatively, place on a baking sheet and roast in a 425 degree oven. Serve with a drizzle of tahina sauce and garnish with grilled lemons or fresh lemon halves.
Grilled Lemons
Lemons
Extra-virgin olive oil
Cut some lemons in half. Toss in some olive oil.
Place, cut side down, on a grill and grill for as long as the fish cooks, until slightly charred. Serve as a garnish for fish. Use caution when squeezing to avoid being burned by the hot juice.
One last thing. After every fish dinner, Mado recites "Après le poisson, il faut le dessert" (after fish, you must have dessert). And so I am leaving you with a little treat.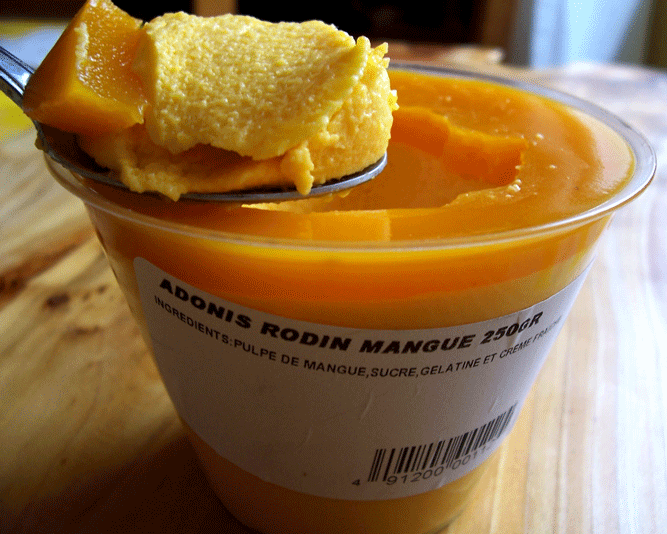 Adonis Rodin Mangue mango mousse – 250 decadent grams of sheer heaven. Made of luscious mango pulp, sugar, gelatin, and crème frâiche. Enough to share. The perfect treat after fish! Olive it!