Olive local field asparagus. I have eaten so much of it this season that it's practically growing out of my ears. I have been longing to taste asparagus raw, the moment after it is freshly picked. I really wanted to make it out to Andrews' Scenic Acres to pick my own asparagus this season but it was raining every day that was available to me to make the trip. I even thought of delaying this post by one day so I could get out there today. Guess what it's doing this morning? Raining! Thankfully, there has been plenty of local field asparagus available at our local farmers' markets.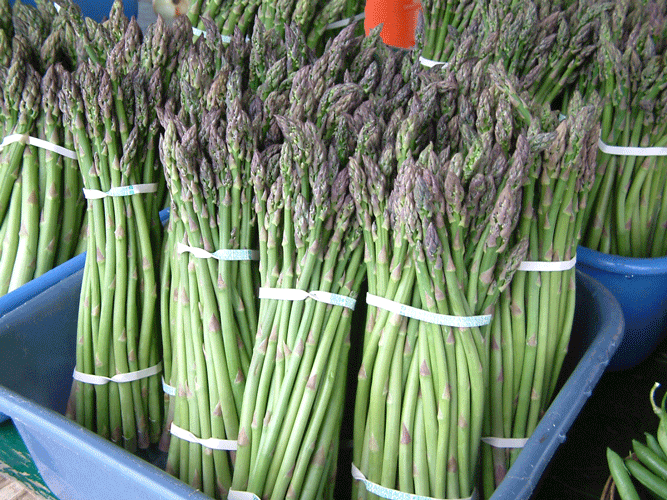 Olive asparagus prepared in many different ways but my go-to recipe is a healthy, simple oven-roasted asparagus that once cooked, needs little (if any) adornment – perhaps just a squeeze of lemon.
I prefer to eat my asparagus the day I buy it but it will keep in your fridge okay for 2 to 3 days if you stand the stem ends in a jug of water or wrap them in a damp paper towel and cover the bunch in plastic wrap.
Simple Oven-Roasted Asparagus
Serves 3 to 4
You could also grill the asparagus on your barbeque, instead of roasting it in the oven.
Ingredients:
1 bunch of asparagus 1 tablespoon of olive oil coarse salt to taste
Directions:
Preheat oven to 425°F. Hold asparagus loosely near the end and snap off the tough end where it breaks naturally. Wash asparagus carefully in cold, running water, paying special attention to the head where sand and grit get trapped. Drain well and pat dry.
Pile the asparagus on a parchment-lined, rimmed baking sheet. Drizzle with olive oil and sprinkle with  salt. Toss until evenly coated with oil. Spread the asparagus out in a single layer on the baking sheet, making sure that stalks are not touching each other. Roast on the middle rack for about 10 minutes, depending on the thickness of the spears, until asparagus is tender but still slightly firm. Asparagus will have acquired lovely little caramelized spots here and there. Serve hot, cold or at room temperature.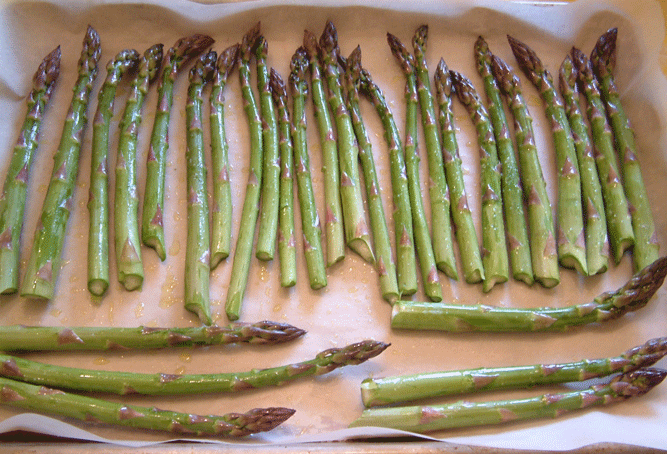 My Simple Oven-Roasted Asparagus is lovely as a vegetable on your dinner plate but just as nice in a salad.
I once saw this idea on the pages of one of my beloved Gourmet magazines and have been smitten with it ever since. Olive to top my Simple Oven-Roasted Asparagus with a soft poached egg, then squeeze on some fresh lemon juice, sprinkle on a few shavings of Parmigiano-Reggiano, some fleur du sel, and a cracking of freshly ground black pepper. The lemon and egg yolk mix together and make a bright, rich sauce that compliments the robust asparagus beautifully. Simple perfection. Guilt-free breakfast or lunch. One happy Olive.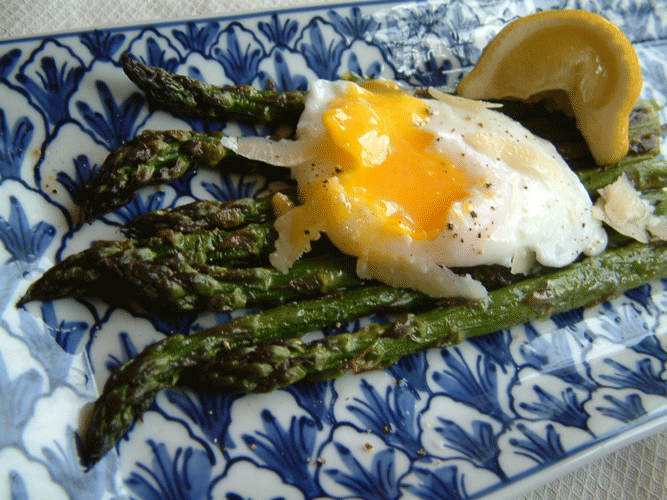 Andrews' Scenic Acres
9365 10th Sideroad Halton Hills, Ontario   Telephone: 905-878-5807