Baby, it's cold outside…but so warm and inviting inside the newly renovated modern lux interior of Cagneys Mississauga. This well-loved Streetsville restaurant reopened at 5:00 p.m. last night, after extensive renovations. It looks – and tastes – fabulous.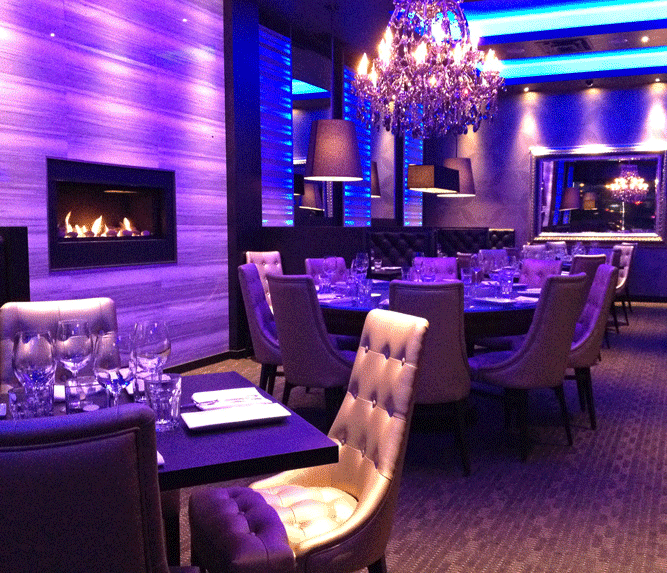 There are two fireplaces, glamorous chandeliers, gorgeous tufted seating, and a sleek and sexy wine bar. They are easing into their reopening so until 2014, Cagneys will only be open for dinner, will not have their full menu up yet, and will not take reservations. In 2014, they will serve from their full menu, take reservations, be open for lunch, and possibly brunch.
I don't know what the full menu will look like but the menu we dined from last night offered a good variety of new and tempting gourmet choices (with prices to match), including a beet salad that sounded amazing, rack of lamb, and mussels.  I just couldn't pass up my old favourite: Cagneys' famous Caesar Salad with the original dressing that tastes every bite as delicious as it has since Cagneys first opened 40 years ago but is now served with an added modern touch – crisp prosciutto chips…olive it! My entrée was the Three Mustard Chicken which was unbelievably tender and juicy, coated in a creamy and flavourful mustard sauce, and served with mini potatoes and a medley of tasty vegetables, including rainbow carrots. My son (the steak lover) devoured his New York Strip Steak with Demi-glace Sauce and truffled hand-cut fries (wow!) and my husband (the health-minded) loved his Bison Burger. Sorry, we dove right in before remembering to take photos of our dinners.
Check out Cagneys on their facebook page, follow them on twitter, or watch for their updated website: www.cagneys.ca
Cagneys Mississauga
128 Queen Street South Mississauga, ON L5M 1J5  
Telephone:
1 905-826-2311