It is mighty hard to leave a warm bed and face a cold, dark, winter's morning; a little extra pampering is required. Here is how I got my motor running this morning: artisanal toast, but not at $4 a slice from a trendy San Francisco coffee shop. I'm talking about artisanal toast made at home by you, the artisan.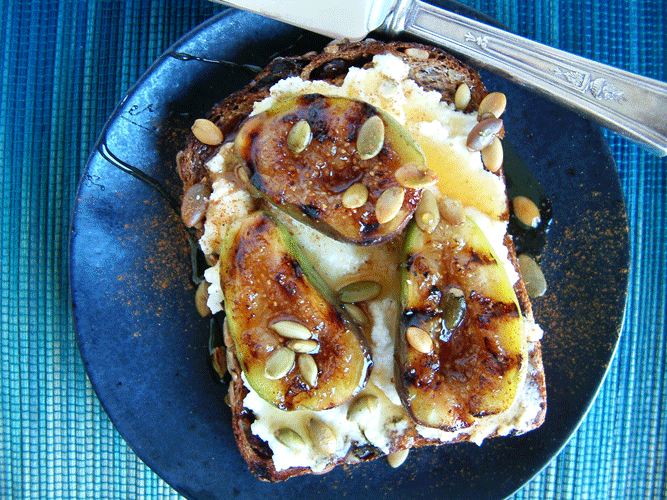 Artisanal Toast with Ricotta, Grilled Figs, & Honey
Special equipment: cast-iron grill pan
Ingredients:
Locally-baked, artisanal whole grain bread, thickly sliced
Olive oil
Fresh figs, sliced in half lengthwise
Ricotta cheese or cream cheese
Good quality honey
Shelled, unsalted, roasted pumpkin seeds
Ground cinnamon
Directions:
Start with a seasoned, cast-iron grill pan; get it good and hot (but not smoking) over medium heat.
Brush olive oil on both sides of the best artisanally-crafted, nutrient-dense bread you can get your hands on (see suggestions below); lay them on your grill pan. After 1 or 2 minutes, check the underside of the bread – when it has nice grill marks on it, flip it over and grill for 1 or 2 minutes more until both sides have grill marks; remove to a serving plate.
Place fig halves in a bowl; add a healthy dose of olive oil; toss to coat evenly. Place the figs cut side down on the grill pan. Grill for 1 or 2 minutes, until cut side has nice grill marks; flip to other side and grill until softened about 1 more minute.
Meanwhile, smear the best ricotta or cream cheese you can find on one side of your toast. Top with fig halves, drizzle with your favourite honey, sprinkle with pumpkin seeds, dust with cinnamon. Feel a smile draw across your face like the sun rising on the dawn of a bright, new day. Make a vow to treat yourself this well every morning. And then thank your local artisanal baker.
Some suggested breads from local artisanal bakeries:
Rye Walnut Bread from La Villa Bakery & Café in Port Credit, ON: baked using recipes and techniques passed down through generations of the Bozzo family.
Pumpernickel from Monestary Bakery & Delicatessen in Oakville, ON: baked fresh daily.
Fig, Raisin, & Walnut Filone from Pane Fresco in Burlington, ON: handcrafted and baked in a European Deck oven. Preservative free.
Hearty Seed from The Glen Oven Café in Glen Williams, ON: A golden flax bread with sesame seeds and poppy seeds.
Boston Mills Multigrain from Spirit Tree Estate Cidery in Caledon, ON: Handcrafted with cracked grains, seeds, and a touch of honey. Baked daily in a wood-fired oven. No artificial preservatives.
Chia Fruit Loaf from Cobs Bakery (click link for locations): Made with whole grain flour, cinnamon, chia seeds, sunflower seeds, dates, and raisins. Made without preservatives or added sugar. Cholesterol free.
Walnut, Fig, & Raisin Loaf from The Hot Oven Bakery at Cloverdale Mall: During the month of February all bread on the bread wall will be only $2.00 each.
Please check my Grocery/Gourmet Store Directory (Bakeries) for details on local artisanal bakeries.