UPDATE: Crawford's Village Bakery is closing November 30, 2014.

Grab your Easter bonnets, ladies and gents, and follow me along the virtual bunny trail as I gather up some of my favourite local treats. This week, I focus on what you need to order ahead: hams, quiches, pies, and handcrafted Easter chocolate. I share a great tip on exceptional wines and my favourite fruit salad recipe (scroll down to the bottom for Mary Katherine's Cinnamon-Scented Fruit Salad). Next week: potatoes, homemade desserts, and decorations. Make your Easter feast special for the loved ones gathered around your table. Hippety hoppety!
If you are looking for premium local estate wines and boutique imports (many of which are not available through the LCBO) at direct-from-winery pricing, contact Oakville's Laurie Blaha. A broker for Sideroad Twenty Cellars, Laurie will suggest wines to pair with your Easter dinner and give you a $10 off your first purchase coupon. Order on-line. Delivery can be made to your home, office, or cottage. Ontario residents only. But hurry – orders should be in by Monday April 14th for delivery by Thursday April 17th in time for Easter.
Our sizable clan is planning an easy Easter lunch. I've pre-ordered freshly baked quiches from Crawford's Village Bakery & Distinctive Foods; they also sell frozen, unbaked quiches. Crawford's is brimming with a wonderful assortment of quality gourmet pantry products and freshly baked goodies. Easter suggestions include lemon meringue or Easter Egg pies (chocolate mousse  pie garnished with whipped cream and an Easter egg, available from April 18th through April 21st only), squares (including rhubarb or lemon on a shortbread base), and cookies (including Cottontail cookies). Crawford's handcrafted Easter chocolate, made on-site using fine Belgian chocolate, has been a long-enjoyed tradition for our family. Look at the fine detail on Charlotte and Edward and the beautifully decorated large egg, ready to be filled with Crawford's truffles, hazelnut crisps, and caramels.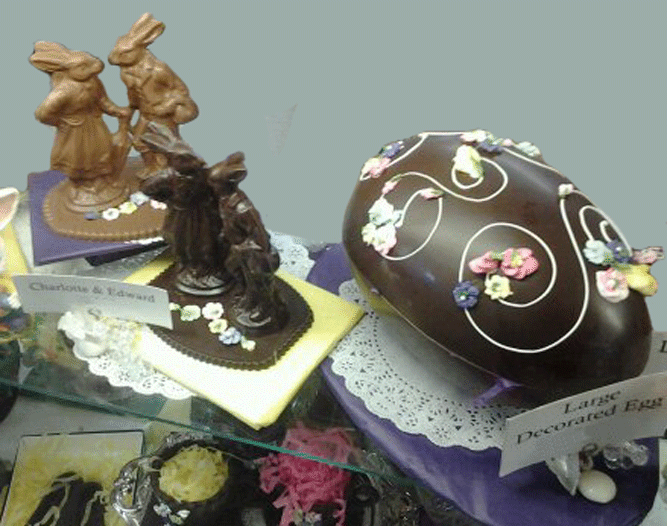 Quiches in the oven, next stop: ham. My nephew-in-law, Jean-Yves, served a succulent slower-cooker ham at Christmas, so I am giving this recipe a try for the first time: Cook's Illustrated Slow-Cooker Glazed Ham. Cook's Illustrated recipes are from America's Test Kitchen and are exhaustively tested and re-tested, so I am confident the recipe will work. I bought the magazine (Cook's Illustrated Make-Ahead Dinners 2014) at Target a few weeks ago but you can access the recipe on-line here by signing up for a 14-day free trial membership: http://www.cookscountry.com (it costs a few dollars a month to continue with the membership).
You can't use a spiral-cut ham for this recipe because it will dry out in the slow cooker. I've ordered a Country Ham (uncut, bone-in, skin-on, cured/smoked) from Heatherlea Farm Market in Caledon, ON. Heatherlea's Country Hams are sourced from Stemmler's in Heidelberg, Ontario and are excellent quality hams from local farms. Heatherlea Farm Market raises pasture-fed, free-run, drug-free Black Angus beef and sells local free-run, naturally-raised chicken, pork, lamb, and bison. Wild boar, Berkshire pork, and emu are available on occasion.
Especially lovely at Easter, this colourful fruit salad is enrobed with a cinnamon and citrus-infused syrup. I use a different combination of fruit every time: this time strawberries, kiwi, pineapple, mango, and oranges. Thanks to my bff's sister-in-law, Mary Katherine, for the recipe.

Mary Katherine's Cinnamon-Scented Fruit Salad
Makes about 6 servings (easily doubled)
This keeps well for a couple of days in the refrigerator.  Delicious served alone or over ice cream or lemon gelato. It makes a good breakfast topped with vanilla yogurt and granola.
Ingredients:
1 orange
1 large lemon
About 5 to 6 cups total of assorted, ripe but still firm fruits, peeled and cut into bite-sized pieces (combos of citrus, berries and tree fruit work well)
1 cup of water
1/4 cup of sugar
1 cinnamon stick
Directions:
With a sharp knife or vegetable peeler, remove only the peel (leaving the bitter white pith behind) of the orange and the lemon; slice peel into thick strips and set aside. Segment the orange, cut into bite-sized pieces and add to a large 8-cup capacity bowl; set aside. Juice the lemon; add about 3/4 of lemon juice to large bowl (reserve remaining 1/4 to adjust acidity level to your taste at the end).
Add assorted fruit to large bowl; stir gently to coat with lemon juice to prevent browning.  Chill in refrigerator.
Meanwhile, heat water to boiling in a small saucepan. Add sugar; stir until dissolved. Add cinnamon and reserved peel; immediately reduce to medium heat. Simmer gently until slightly reduced, 10 to 15 minutes. Remove from heat; cool to lukewarm.
Strain syrup; pour over prepared fruit and fold in gently so as not to bruise fruit. Discard peel but keep cinnamon sticks for garnish. Taste salad and if desired, add remaining 1/4 of reserved lemon juice; fold gently. Cover and store in airtight container in the refrigerator until ready to serve. Garnish with cinnamon sticks, if desired.