I thought I'd share a little inspiration with you – some photos of edible flower ideas that I have collected and pinned to my Olive Edible Flowers board on Pinterest. I haven't tried the recipes yet but the photos give me an idea of how I can use edible flowers in my own cooking.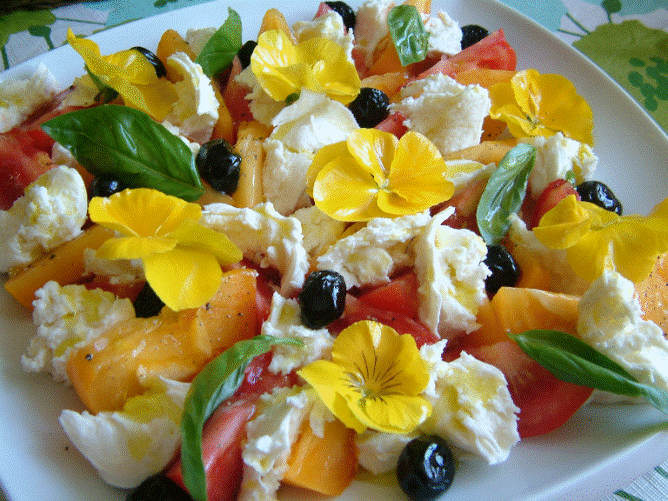 They inspired me to add flowers from my garden to a simple tomato mozzarella salad I saw on a Barefoot Contessa episode, prepared by a California chef. I think the yellow pansies look so pretty against the orange and red wedges of heirloom tomatoes. I love the casualness of the torn pieces of fresh mozzarella tucked in between the tomatoes. I didn't have time to make the basil-infused olive oil they used on the show, so I drizzled the salad with my best extra-virgin olive oil and added whole basil leaves for drama and ease. I thought a jolt of black and a touch of saltiness would be nice, so I scattered on a few sundried black olives (you can find them at Adonis or Longo's – check my grocery store directory for locations). Don't forget to season with salt and pepper.
Here is a taste of some of the many pins I have collected on my board. Click on the photo/link and you will be directed to the original site for recipes or instructions. If you try any of them please let me know how they worked out for you.
I am definitely going to try the recipe for these darling Spring Bouquet Popsicles filled with pretty blossoms and flavoured with orange blossom water (I have the fondest memories of orange blossom water en Provence). What a sweet idea for a birthday party. I just love the messages that are handwritten on the popsicle sticks (click the link to see the full post and recipe). The recipe would make lovely ice cubes too. Thanks to Marla Meridith for permission to share her gorgeous photo and recipe from www.familyfreshcooking.com.
How about these adorable Zucchini Blossom Mini Quiches from www.emmadime.com?  Wouldn't these be perfect for a baby shower? Thanks to Emma Dime for permission to share her stunning photo and recipe.
Look at these beautiful zucchini blossoms from Hutchinson Farm in Burlington (thanks for permission to share your photo, David). Find out why they are picked to order at dawn (call a day ahead), plus helpful tips here. Hutchinson Farm suggests using them in cheese quesadillas. I saw a great recipe for Squash Blossom Quesadillas on one of my favourite cooking shows, Pati's Mexican Table, and have pinned the recipe to my Olive Edible Flowers Pinterest board, along with stuffed zucchini blossom recipes. Zucchini and pumpkin blossoms will be ready at Hutchinson Farm in Burlington near the end of July. In May, Hutchinson Farm also sells nasturtiums which David says are "an awesome edible flower".  Contact Hutchinson Farm for more information.
Last summer, I found zucchini blossoms at Mississauga Central Farmers` Market. And Longo`s carries zucchini blossoms when in season (soon) and can get edible flowers in pretty much all year round. If you don't see them in the produce section, speak to the Produce Manager; he may be able to order them in for you.
Your own garden can be a great source for edible flowers; just be sure they are organic and verify they are edible by checking with a reliable source before serving them.
To visit my other Pinterest boards and see all the inspirational photos and recipes I have collected, click here.
Hutchinson Farm
6202 Walkers Line,
Burlington, ON L7M 0R3  
Telephone:
905-335-2515   Family-owned and operated farm. All grown in their fields or greenhouses, using best tasting varieties. Ready-picked at peak ripeness or pick your own. Wide range of field crops, herbs, and annual flowers.  
Website:

http://www.hutchinsonfarm.ca/