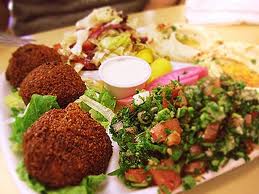 I predict that if you live in Mississauga and love Arabic food, you will be eating a lot more of it starting in 2013. How do I know this? Because the fabulous Lebanese grocery store chain from Montreal, Marché Adonis, is coming to Ontario. And rest assured, you are going to olive it! Long a favourite of our family in Montreal, Adonis has 5 stores in Montreal and this spring (in partnership with Metro Inc.) will be opening one in Ontario. And guess where the first Adonis will be opened? You guessed it – right here in Mississauga, in the newly renovated store that was occupied by Metro, at 1240 Eglinton Avenue West. The grand opening is currently scheduled for April 17, 2013.
Why do olive Adonis so much? Close your eyes and let me describe to you a typical visit to the Adonis that we frequent in Ville St. Laurent. The first thing that hits you when you walk in the door is the intoxicatingly sweet fragrance of perfectly ripe mangoes…a feast for your nose. Take a moment to breathe it in and let it refresh your soul and tease you with a little taste of the feast to come.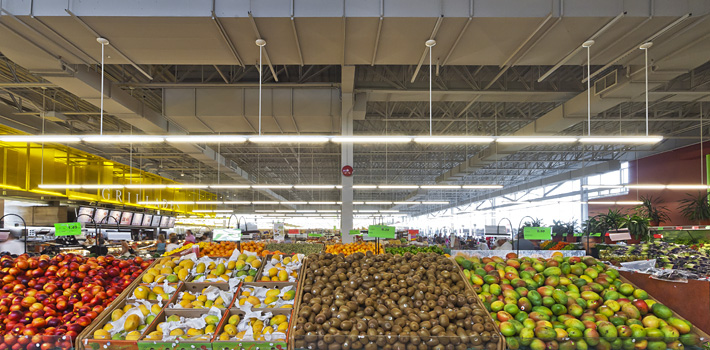 Next the visual feast. Scan your eyes over the neat stacks of fresh produce to the pastry counter that showcases a bounty of oriental pastries (such as baklava, namoura, knefeh, maamoul, karabige, ghoraybe, katayef),
as well as European-style cakes, petits fours, French croissants, ice cream and sorbet.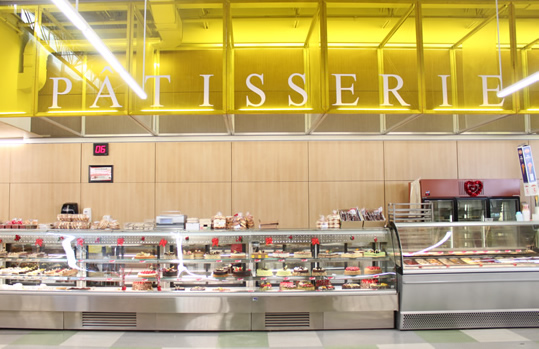 Swoon over the pretty bottles of freshly squeezed juice (orange, mango, avocado, etc.) and the delicate sweet or savory crepes.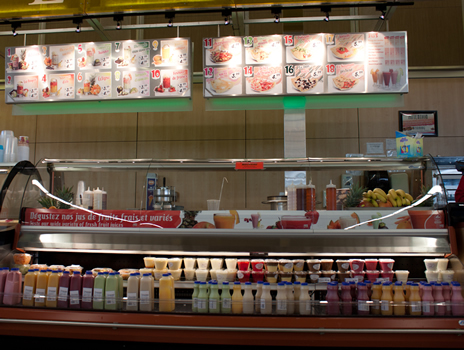 Now prepare yourself for the actual feast. You are standing in front of the long grill counter where you are offered a huge array of prepared Lebanese dishes, ready for you to eat in store or take home. Choose from shawarma, charcoal grilled kebabs, stuffed pita sandwiches, stuffed vine leaves, stuffed cabbage rolls, rice with lentils and fried onions, and roasted cauliflower to name a few. Pick up freshly prepared salads such as fattouche and tabouli. Try something from the large selection of Lebanese savory pastries. Don't forget the hummus and baba ghanoush.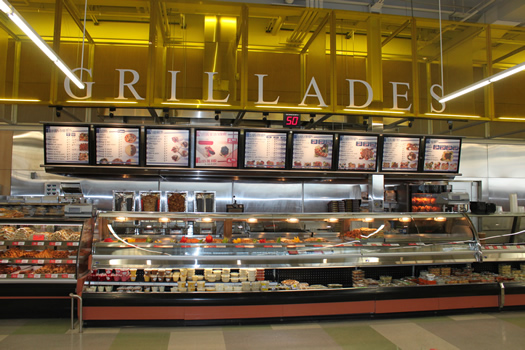 On our latest visit to the Ville St. Laurent store, we feasted on perfectly cooked vegetable marrow (stuffed with a mélange of very lightly seasoned tender ground beef and rice, dressed in a delicate tomato sauce).  And for dessert, a heavenly, light and luscious store-made fresh mango mousse. The healthy choices abound and the quality is superb, surpassing any hot table offerings currently offered in local grocery stores.
Adonis is a full service grocery store, offering a wide range of Mediterranean products. It is so popular in Montreal that Ricardo Larrivée featured the store in an episode of his TV cooking show, Ricardo and Friends. My husband and I have been longing for an Adonis to come to Ontario for years and are so happy that the first Adonis in Ontario will be right here in Mississauga. Move over Scarborough, Mississauga just went up a big notch on the ethnic food scale.
Adonis Market – Mississauga
1240 Eglinton Avenue West,
Mississauga, Ontario L5V 1N3
Telephone: 905 363 0707
Check out their website for a visual feast. www.adonisproducts.com