Mississauga meet Muhammara, a seductively delicious dip originating from Aleppo, Syria but common in Lebanese cuisine. This intriguing little number has layers of flavour and texture: roasted sweet red peppers, crunchy walnuts, acidic tomato paste and lemon juice balanced by sweet and tangy pomegranate molasses, and a warm spicy heat that slowly unveils itself. A breeze to make with most items stocked in my pantry, it's my favourite appetizer of the moment.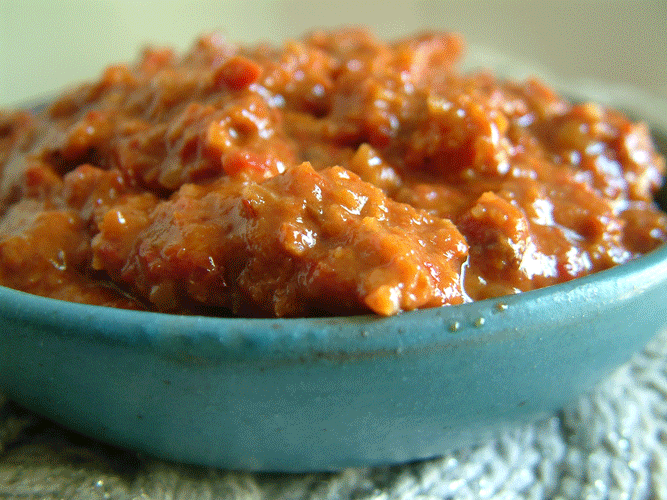 The type of dried, crushed chili peppers you use is important here. The classic recipe uses dried Aleppo chili peppers, originating from Syria. Regular grocery store dried red chili peppers are fiery hot and lack the fruity flavour of Aleppo pepper but Aleppo pepper can be hard to come by. The Spice Trader in Toronto carries Aleppo pepper, available in their store on Queen Street West (in Trinity Bellwoods) or from their website (they just received a new shipment on Friday November 1, 2013 and are in the process of updating their website). I use Armenian pepper, sold at Adonis (under the Cedar brand in plastic packets in the spice aisle). Cedar brand Armenian pepper flakes have a fruity flavour, like raisins, and a gentle heat.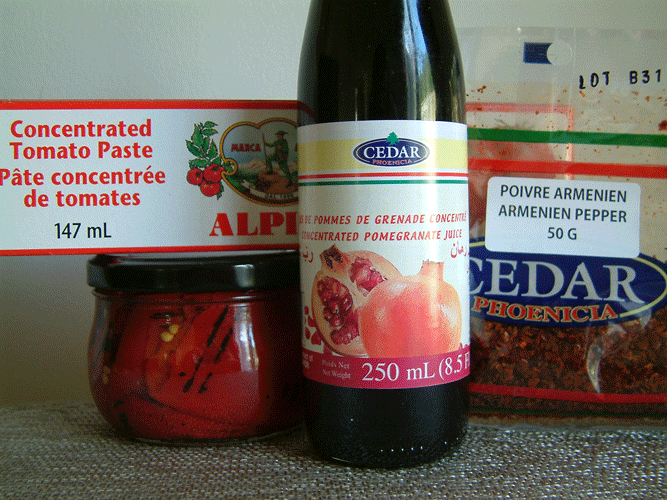 You'll find pomegranate molasses in Middle Eastern grocery stores or in the international section of some supermarkets. If you live in or close to Mississauga, a drive to Adonis will be worth the trip. You can stock your pantry with Armenian pepper, pomegranate molasses, and small jars of roasted sweet red peppers. Don't forget to pick up a package of freshly baked Adonis pita bread from the racks under the window of their in-store bakery.
There are many versions (and spellings) of muhammara. Adonis sells a good store-made version, available ready-made in mild or spicy hot (they spell it Mouhamara). My recipe is somewhere in between the Adonis version and Claudia Roden's version (from her book The New Book of Middle Eastern Food, which is an extensive collection of good, authentic Middle Eastern recipes).
Please visit my Grocery Store Directory for information on The Spice Trader and Adonis.
Olive's Muhammara
Makes about 2 cups.
Adapted from Claudia Roden's The New Book of Middle Eastern Food.
Perfect for holiday entertaining, this dip is colourful, healthy, and exotic. Make sure you don't over-process; you want the slight crunch of the walnuts and tiny hits of different flavours coming at your taste buds. Alternatively, if you add a garlic clove and puree to a smooth paste, you'll have an outstanding and healthy sandwich spread that I like to call Muhammara Mock Mayo.
Ingredients:
1 cup shelled walnuts
4 tablespoons concentrated tomato paste
1 jar (250ml) grilled/roasted sweet red peppers, drained
1 slice whole wheat bread, lightly toasted, crusts removed, torn into small pieces
½ cup extra-virgin olive oil
2 tablespoons pomegranate molasses (also called "syrup","glaze" or "concentrated juice")
3 teaspoons Armenian pepper or Aleppo pepper
1 teaspoon ground cumin
1 ½ teaspoon sea salt or coarse salt
1 tablespoon freshly squeezed lemon juice
Directions:
Add all ingredients to the bowl of a food processor; pulse several times, stopping to scrape down the sides of the processor with a rubber spatula when necessary, until mixture is processed into a rough paste; avoid over-processing.
Serve immediately with toasted pita points, pita chips, or endive spears. For longer storage, seal in a plastic container and store in fridge for a few days or in the freezer for up to 2 weeks; defrost before serving.