Goodfellas Wood Oven Pizza is opening tonight! Read my latest post here: Hot Off The Olive Press SPECIAL EDITION Goodfellas Wood Oven Pizza is Opening October 23, 2013
Latest News on Goodfellas Wood Oven Pizza Streetsville: Updated October 20, 2013
Stay glued to my blog Streetsville…there will be a big announcement coming this week.
Latest News on Goodfellas Wood Oven Pizza Streetsville: Updated August 2, 2013
Don't worry Streetsville. Though the front sign has been taken down from Goodfellas, word is that it is being replaced with a better sign. And while the Streetsville Main Street Square is being redesigned, the planter boxes from Goodfellas' patio have been moved to safer locations. Meanwhile, I frequently see workers inside Goodfellas. Can't wait for the opening of Goodfellas and the redesigned Streetsville Main Street Square.
Latest News on Goodfellas Wood Oven Pizza Streetsville: Updated June 20, 2013
"Good things come to those who wait". And when Goodfellas Wood Oven Pizza opens up its first flagship restaurant in Streetsville, it's going to be fabulous. I recently had a conversation with one of the owners of Goodfellas, Rocco Giovannelli, who confirmed the partners' commitment to doing things right, from the start, so that when they do open everything will be in place to bring you an enjoyable restaurant experience.
The partners have already sponsored two chefs from Italy. But the experience will go beyond the food. Goodfellas is working on setting up an impressive entertainment line-up that Rocco promised will be wonderful.
All of this will take place in a beautifully renovated space. The process has involved a lot of determined hard work, including removing 14 truckloads of dirt from the basement to build a wine cellar, that will include a harvest table and reclaimed chandelier – the perfect room for a private dinner party. It has included opening up the windows along two sides of the building, so light can pour in and the restaurant can spill out onto the sidewalk. If you have driven by recently, you may have noticed the lovely patio that is taking shape. There will be a separate party room in the back of the building that will hold 30 to 40 people. All of the millwork, using stunning reclaimed wood pieces, has been done off-site and is ready.
When you open up an 1836 circa building, unexpected challenges are bound to pop up, resulting in lots of paperwork submitted to the City of Mississauga to bring the building up to current standards. Support beams were installed, gas lines replaced, and electrical brought up to current codes. The renovations are in their final phase.
So as much as we all are anxious for Goodfellas Streetsville to open, we need to give them a little more time to get things just right.  One day, in the not-so-distant future, we will be sitting on their outdoor patio, watching the happenings at Queen and Main Streets – and eventually in the newly redesigned Streetsville Main Street Square. Goodfellas is going to be great for Streetsville.
Goodfellas Wood Oven Pizza in Streetsville: Update Posted February 20, 2013
Just got word this morning from Goodfellas Wood Oven Pizza that their Streetsville location will hopefully be opening in 6-8 weeks from now. Perfect! Just in time for a wood oven pizza dinner and a glass of wine on a warm spring evening, hopefully on their sidewalk patio. I have never tried Goodfellas but olive the location in the heart of Streetsville, at the corner of Queen Street South and Main Street. After dinner stroll through the village shops, wander down along the Credit River trail to Streetsville Memorial Park, then loop back and treat your kids or yourself to a Murphy's ice cream cone back on Main Street. I am looking forward to the days getting longer and the pizza coming hot from the wood burning oven to my sidewalk table. I can't wait to try out Goodfellas' southern Italian cuisine and if olive it, I will tell you all about it. Stay tuned.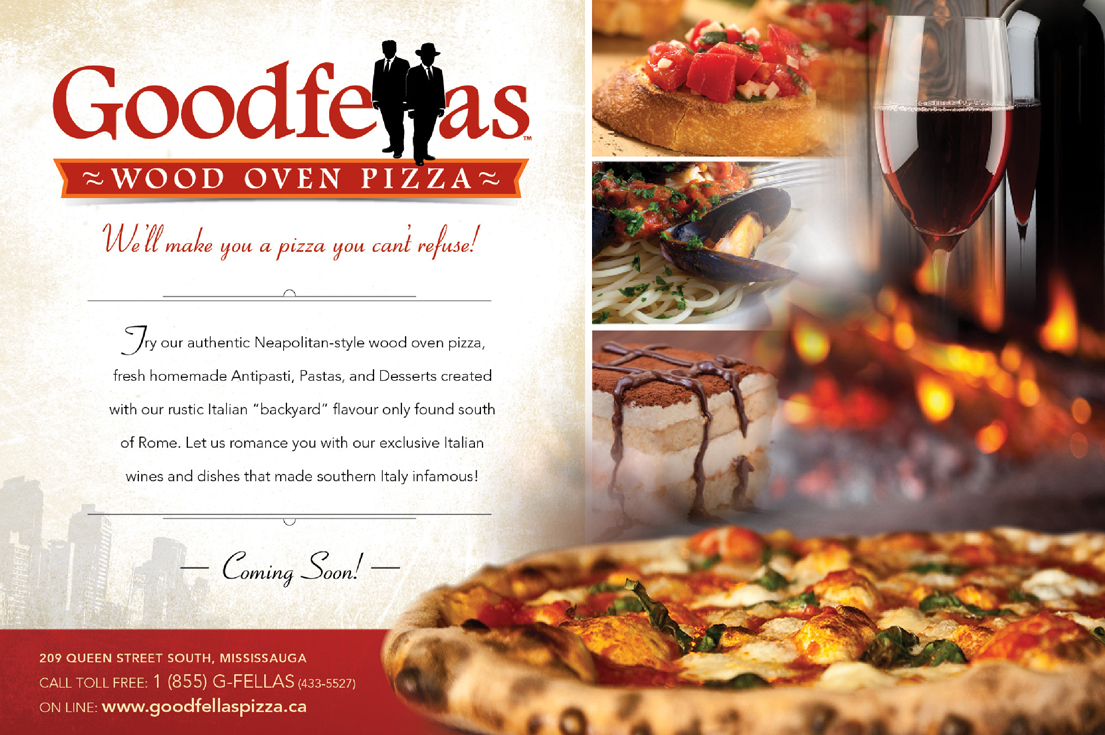 Goodfellas Wood Oven Pizza
209 Queen Street South, Mississauga, ON    
Read More