Okay, so I am not exactly Irish though I like to believe that everybody's got a little Irish in them. When St. Patrick's Day rolls around, here is how I love to celebrate it: Cuchulainn Crisps shared with good friends at Cuchulainn's Irish Pub, in Streetsville. As the Irish saying goes, 'it's easy to halve the potato where there is love'.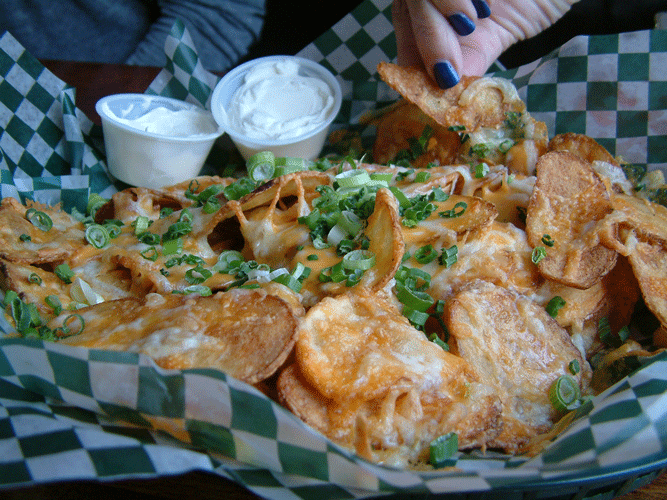 These homemade Irish potato chips are a tasty tribute to the humble potato. Fresh potatoes are sliced just thick enough to have a little potato substance to them, fried up crisp, and then smothered with melted cheese and green onion. Add crumbled bacon and chopped fresh tomato, if you wish. Served with sour cream for dipping.
Now my friends have me hooked on Cuchulainn's Hill o'Chips, a traditional Newfoundland dish known as CDG (chips, dressing, and gravy): French fries are topped with a Newfoundland-style bread dressing (stuffing) made with savoury (instead of sage) and smothered in beefy gravy. They say it is Newfoundland's answer to poutine; I say it's SDG (so darn good). Add chicken curry, if you like.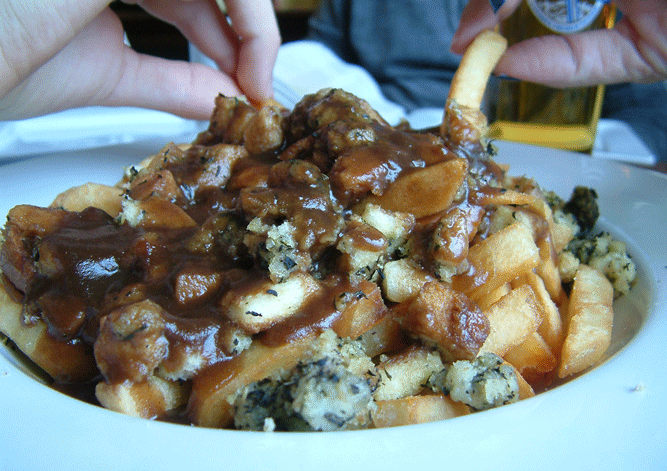 Cuchulainn's is an authentic, family-owned and managed Irish pub, serving Irish whiskeys, scotches, a wide selection of draught beer, and Irish and British food. My nephew likes the Guinness Stew: beef braised in Guinness beer with potatoes, carrots, and onions and served with Irish soda bread. My son loves the Dublin Dip: a thinly sliced roast beef sandwich topped with onions, mushrooms, and mozzarella and served with beef jus for dipping.
Enjoy Irish dancers and live music on Monday March 17th 2014, from 3:00 p.m. to 1:00 a.m. A five dollar donation to The Crohn's and Colitis Foundation of Canada (CCFC) will be accepted at the door. Check Cuchulainn's events page for St. Patrick's week celebrations.
It may not be spring yet but as the song goes "When Irish eyes are smiling…'tis like the morn in spring. In the lilt of Irish laughter, you can hear the angels sing."1 To all of my Irish friends, and the rest of us who want to be Irish for a day, Happy St. Patrick's Day!
Cuchulainn's Irish Pub
158 Queen Street South
Mississauga, ON
L5M 1K8
Telephone:
905-821-3790
Website:

http://www.cuchulainns.ca/index.html
Twitter:
https://twitter.com/CuchulainnsPub
Hours of Operation:
Sunday: 10:00 a.m. to midnight
Monday
:
11:00 a.m. to midnight
Tuesday: 11:00 a.m. to 1:00 a.m.
Wednesday: 11:00 a.m. to midnight
Thursday: 11:00 a.m. to 1:00 a.m.
Friday: 11:00 a.m. to 2:00 a.m.
Saturday: 10:00am to 2:00am  
1
When Irish Eyes are Smiling: Songwriters: George Graff, Ernest R. Ball, Chauncey Olcott. Published by Lyrics © Warner/Chappell Music, Inc., EMI Music Publishing, WINDSWEPT HOLDINGS LLC, CARLIN AMERICA INC
Read More