Ever since an Indian friend introduced me to dosas at Guru Lukshmi – a restaurant, she asserted, that serves the finest, authentic South Indian vegetarian cuisine in our region – I have been hooked. The food has the flavours of India that I love but without heavy sauces and rich meats it tastes bright, clean, and healthy. Fresh, quality ingredients are prepared using traditional family recipes that have been passed down – and mastered – through generations of the family who owns Guru Lukshmi.
Don't worry if you aren't familiar with this type of Indian cuisine; Guru Lukshmi's menu will guide you through the many choices. South Indian cuisine is usually hotter so start out with mild choices and work your way up.
Rasam soup is a fiery blend of lentil, tamarind, and tomato juice – not for the faint of heart. I can't handle the heat but my husband loves it.
Sambhar is a spicy soupy stew made with tamarind, vegetables, lentils, red chili peppers, and spices.  Chutneys are fresh delights: the tomato chutney seems to be the hottest, the coriander chutney is sweet and bright, and the coconut chutney is cooling.
Idly are two soft pillows of ground, fermented, and steamed rice and lentils – sponges for the wonderful sambhar and chutneys you dip them in. You can order them plain with sambhar, coconut chutney, and tomato chutney on the side for dipping (photo below);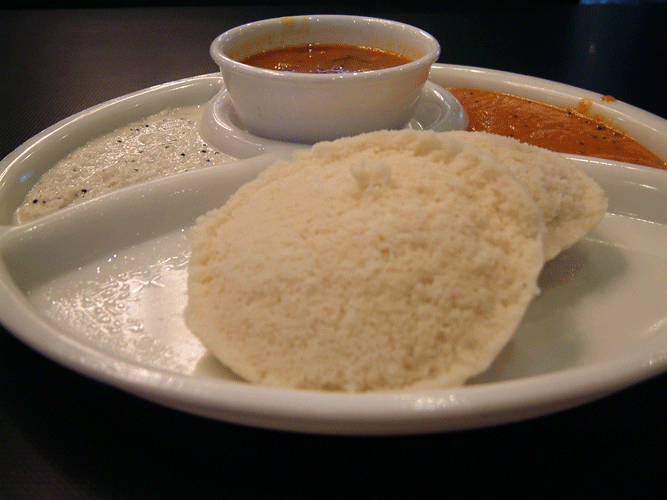 or order them "dipped" (as Sambhar Idly) and they come soaked in spicy sambhar sauce and topped with ghee, chopped tomato, fresh coriander, sweet purple onion, and coconut chutney (photo below). Either way, they are quite filling and should be shared as an appetizer.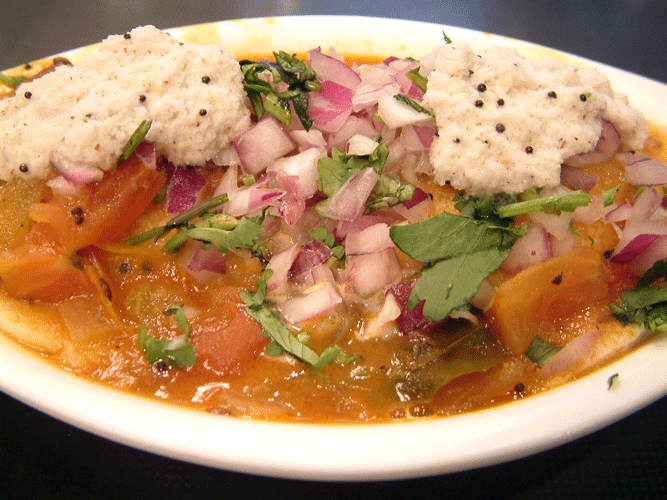 The dosas are absolutely addictive: traditional South Indian crepes (made of fermented rice and lentil batter) that are delicate and crispy, yet deliciously satisfying. Create your own custom dosa by selecting one of many flavourful pastes, toppings (onions, green/red peppers, coriander, ghee butter), and whether you want to include a potato filling ("aloo masala": a mild potato stuffing with fried onions, herbs, and spices), and cheese.  You can also specify the spice level, amount of oil (cholesterol-free vegetable oil), and texture (soft, medium, or crispy). My preference is mild and crispy.
How do you eat a dosa? Tear off a piece with your fingers and dip it into your sambhar and one of the chutneys or take the messier route and pour the sambhar onto your dosa, tear off a piece and dip it into some chutney. It's fun to double dip, mixing two or three chutney flavours with each bite.  Dosas come with sambhar and three chutneys (tomato, coriander, and coconut).
My favourites are Guru Lukshmi's signature dosas that are so flavourful the family had them trademarked to prevent others from copying their creations. Mysore Bhaji Aloo Masala Dosa is spread with a mild mysore paste (garlic, herbs, and spices), aloo masala potato stuffing, fresh onion, coriander, green and red peppers, butter, and secret spices – it is uniquely ambrosial (photo below). Though it is rated mild on the menu, the heat is head-tickling and sinus-clearing but pleasant and not painful; a great choice for those who can handle what I think of as medium heat.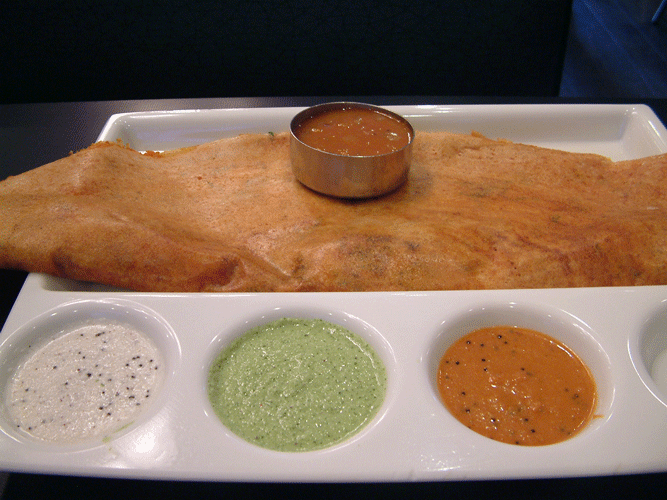 When I want something a little less filling, I order the Vegetable Spring Dosa (a.k.a. diet dosa) without the aloo masala potato stuffing but with cheese and coriander paste.  It is stuffed with shredded carrot, green cabbage, sweet purple onion, sweet green pepper, chopped tomato, and a hint of ghee (photo below). Fresh, bright, clean, and just spicy enough to warm me nicely from my ears to my toes.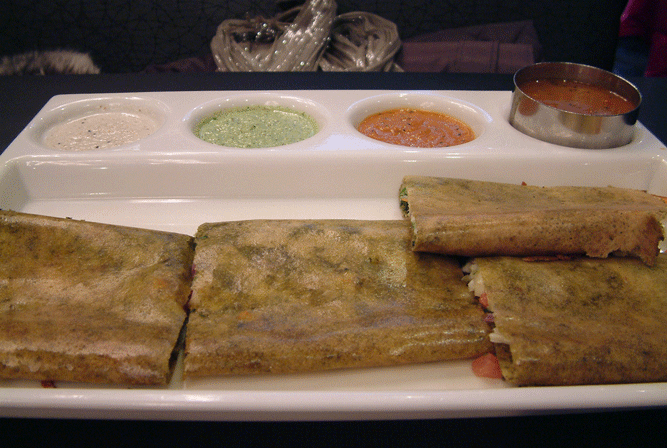 Opened in 2003 by husband and wife team Kumar Gurutharan and Thana Lakshmi, Guru Lukshmi has since moved from its Erin Centre Boulevard location to Derry and McLaughlin, while steadily gaining popularity. On my latest visit, I arrived when the restaurant opened at 11:30 a.m. on Friday and easily found seating; by 12:00 p.m. the restaurant was full and shortly after, a healthy line-up formed. Apparently it is busier on the weekends – the reason why the owners have recently allowed reservations with some seating saved for walk-ins. Service is efficient, fast, and friendly. Décor is chic Indian: dark walls with silver wall decorations and pretty lights.
Guru Lukshmi
7070 Saint Barbara Blvd Unit 45 & 50
(Derry and McLaughlin)
Mississauga, Ontario L5W 0E6
Telephone:
905-795-2299  
Hours:
Monday & Tuesday: 5:00 p.m. to 10:00 p.m.
Wednesday: closed
Thursday: 5:00 p.m. to 10:00 p.m.
Friday: 11:30 a.m. to 3:00 p.m. and 5:00 p.m. to 10:00 p.m.
Saturday & Sunday: 12:00 p.m. to 10:00 p.m.
Reservations are welcome – read the reservation policy here: http://www.gurulukshmi.com/reservation.html
Read More