I love the beautiful food I've recently discovered at Port Credit's Raw Aura restaurant. I've passed by Raw Aura many times, passing it off as a raw vegan restaurant catering to diets far more regulated than what pleases my palate.  After my trainer, Joanne Klingenberg, encouraged me to "step out of my comfort zone", I agreed to give it a try – wow, I am so glad I did! It is easy to fall in love with Raw Aura, even if you are not vegan.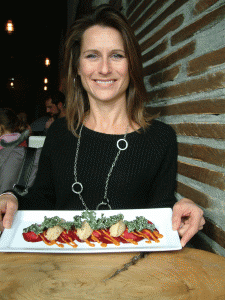 My interest was piqued as soon as I stepped inside the tiny restaurant. The place was buzzing with a cool vibe. Rough wooden beams span the interior, tabletops are sliced tree trunks. The decor echoes the food: raw and organic.
Raw Aura serves familiar food that is made with sustainably-harvested and organic (where possible), gluten-free, raw, vegan ingredients (no animal products). Because none of the ingredients are heated over 105°F, the digestive enzymes, vitamins, and minerals are retained. But what I love about Raw Aura are the pure and vivid flavours, the attention to every detail, and the passion that Chef Patrick Hartt serves up on every plate.
Raw Aura's Red Beet Ravioli is a creamy cashew stuffing tucked between thin slices of red beets, topped with more spoonfuls of cashew stuffing, and drizzled with a luscious red pepper marinara sauce. The plate is crowned with the most delicious dehydrated kale chips; the kale is perfectly crisp and robust.  The entire dish is a symphony of flavour, colour, and texture – a first visit must try.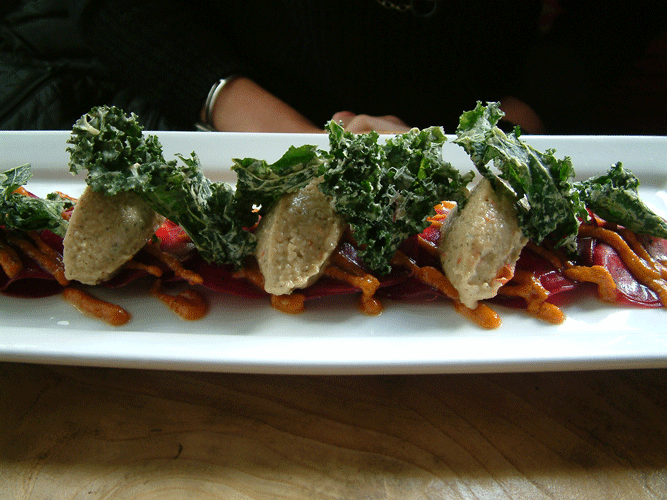 The Burstin' Burrito is big and bursting with the fresh flavours of crisp lettuce, ripe tomato, sweet red onion, guacamole, and refried pumpkin seed beans, all wrapped in a sun-dried tomato and carrot tortilla, drizzled with cashew sour cream, and garnished with green onion and pico de gallo salsa.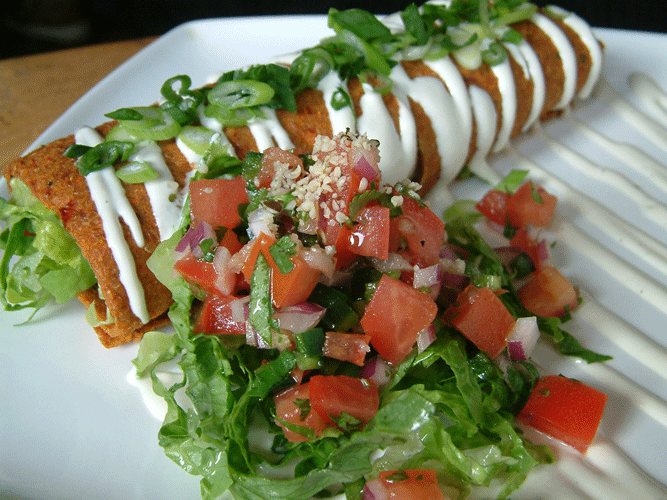 The Chocolate Mint Ganache is a rich and satiating cashew cheesecake topped with a thick chocolate ganache laced with fresh mint – a decadent but feel good dessert.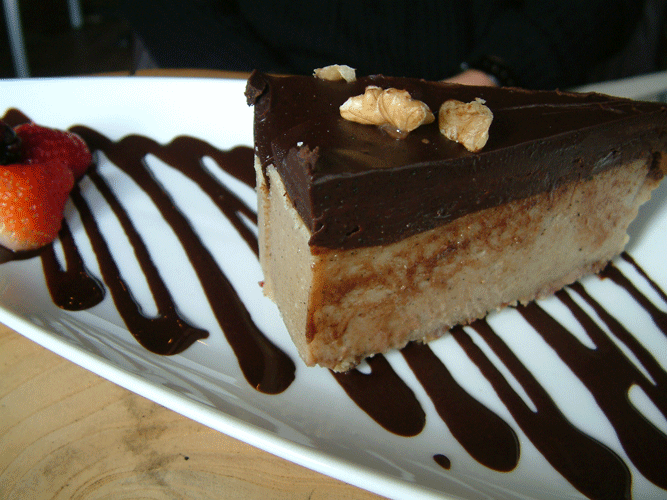 Delicious and nutritious, it's food that loves me back. And though I'm not vegan, I'll be a regular at Raw Aura. Mmm…next time I'll try one of Raw Aura's fresh juices and the Yellow Coconut Curry Noodles.
Reservations are strongly recommended.
Raw Aura Organic Cuisine
94 Lakeshore Road East
Mississauga, ON L5G 1E3
Telephone: 905-891-2872
Hours:
Tuesday to Thursday: 12:00 p.m. to 9:00 p.m.
Friday & Saturday: 12:00 p.m. to 10:00 p.m. Sunday & Monday: Closed  
www.raw-aura.com
Read More