My husband and I splurged on a romantic dinner at Cluny Bistro & Boulangerie, a glamorous French restaurant in Toronto's Historic Distillery District. Cluny's luxuriously detailed, expansive interior will sweep you off your feet. I should have taken photos but my man was my focus that night. http://clunybistro.com/gallery.
While the menu includes classic, casual French bistro dishes, it is more adventurous than our beloved Montreal bistro, L'Express. Like L'Express, Cluny is the kind of place you could show up at any time and enjoy something from the menu (though L'Express is open far later, until 3:00 am). Cluny's boulangerie opens at 8:00 am. The dining room serves lunch, weekend brunch, and dinner. The menu offers a fantastic selection of small plates to snack on or to add to a meal: from Beef Bourguignon Poutine to various tartines, to Baked Sauvagine for Two (baked cheese stuffed with truffle paste and sautéed wild mushrooms – a favourite of our waitress).
This is definitely the place to indulge. Freshly baked baguette (from Cluny's in-house boulangerie) and cultured organic Quebec butter, for starters. Take a cue from Mireille Guiliano's passion for oysters and champagne (French Women Don't Get Fat): a glass of bubbly Crémant d'Alsace and Kusshi oysters is the way to a girl's heart!
Crisp Sesame Baked Asparagus Frites were phenomenal finger food; the spicy yogurt dipping sauce wasn't even required. Roasted Cauliflower & Hazelnut Salad with fine herbs and pomegranate vinaigrette was healthy and refreshing.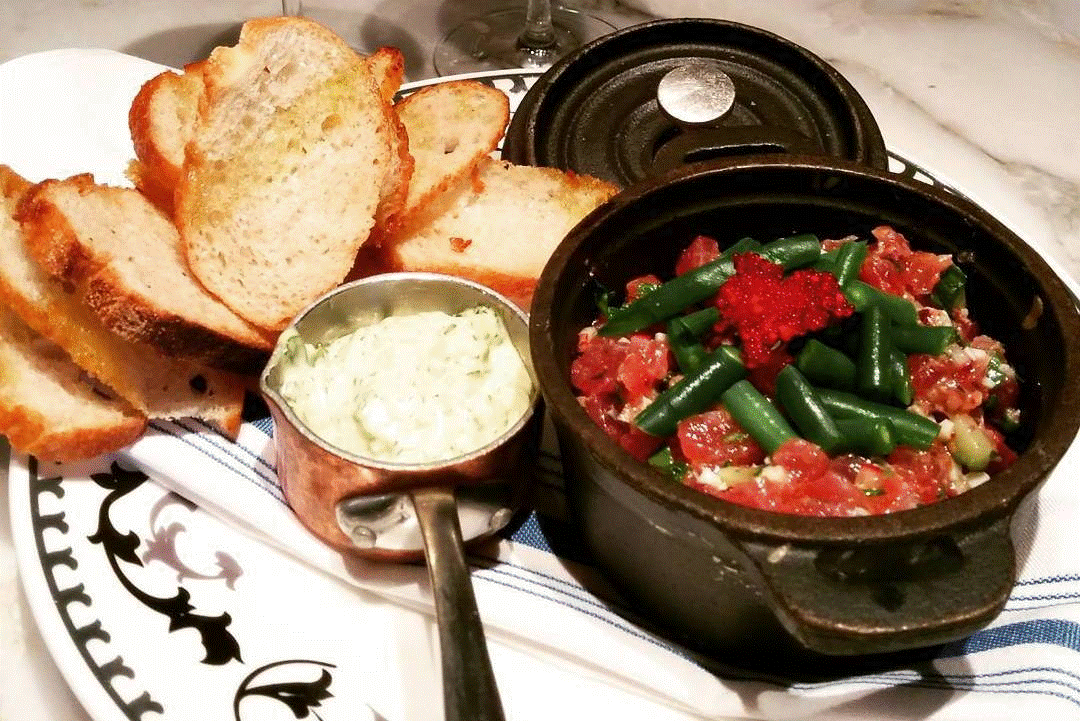 On a previous visit, a friend and I shared the Tuna Tartare Niçoise (with egg, French beans, Niçoise olives, roe, and a decadent aioli).
Grilled Chicken & Marrakesh Carrot Salad is a luscious, Moroccan-inspired mélange of carrots, chickpeas, dates, cilantro, pistachios, feta cheese, pomegranate seeds, and lime.
My husband is a big fan of steak frites – specifically the French-style, flavour-packed cut of meat called "bavette". Fibrous and chewy, it is hard to prepare properly. Cluny's version (hanger steak) was possibly the best he has ever tasted: tender and flavourful. And the frites were perfect: thin, crisp, and lightly spiced.
Our Quebec-City-raised waitress was attentive, informed, and very patient with my French (which improved with the flow of the wine). I can't wait for spring time in Paris…I'd love to go back for brunch on their outdoor terrace!
Cluny Bistro & Boulangerie
35 Tank House Lane
The Historic Distillery District
55 Mill Street. Toronto
Telephone: 416.203.2632
Website: http://clunybistro.com/
Read More