This summer, Olive is living life through rose-coloured glasses, thanks to a gorgeous Wild Rose Petal Syrup from Forbes Wild Foods. This exquisite syrup is made from pure organic sugar, water, lemon juice, and the fragrant petals of the five-petal wild rose that grows across Canada. Delicate rose petals suspended in a beautiful pink-tinted syrup; a luxurious mouthfeel with soft notes of rose, just the right amount of sweetness, and a hint of lemon that keeps it from tasting cloying. I swoon every time I taste it.
Forbes Wild Foods (based in Toronto) supplies high-end, sustainably-harvested wild foods from the Canadian wilderness to restaurants, hotels, gourmet stores, Toronto farmers' markets, and on-line customers.  Founder Jonathan Forbes was recently celebrated as one of the top twenty picks from twenty years of Food & Drink (20 Things We Love, Food & Drink 20th Anniversary issue, Autumn 2013, page 134). To learn more about the high quality and sustainable practices used by Forbes Wild Foods click here.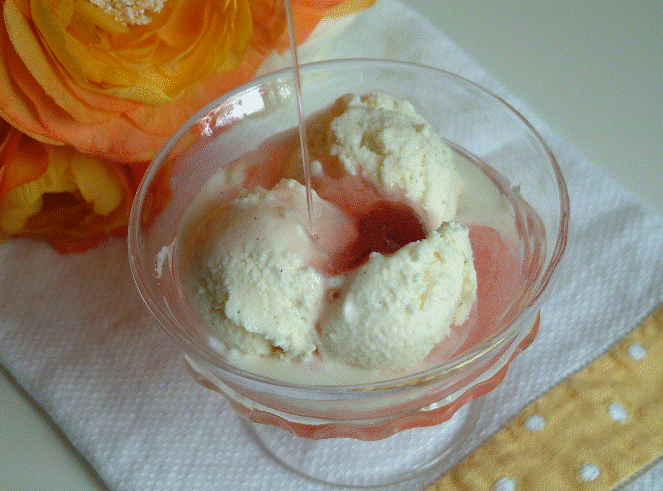 Wild Rose Petal Syrup is sumptuous simply poured over your favourite vanilla ice cream (I like Kawartha's Vanilla or Belly's 16 Vanilla Bean). What an easy but elegant summer dessert to dazzle your summer dinner party guests.  Look at the pretty wild rose petal; be sure to spoon a few out as garnish, they taste delicious.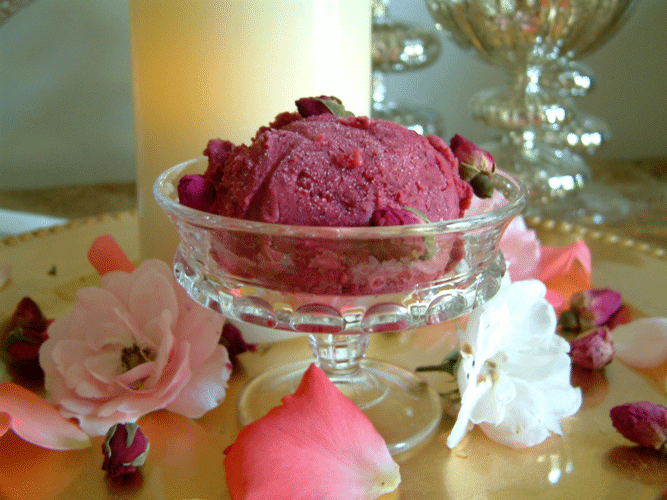 It is absolutely dreamy in my Black Cherry Rose Water Sherbet. Replace the half teaspoon of straight rose water with 3 tablespoons of Wild Rose Petal Syrup (maybe a touch more) and cut the white sugar back to half a cup.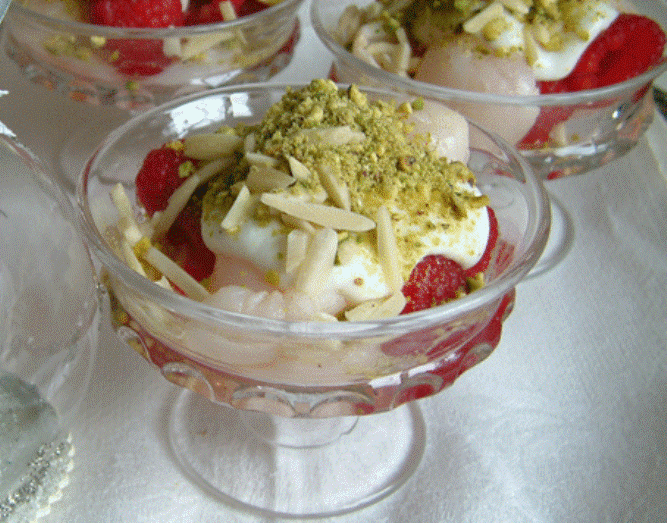 In my Ispahan Parfait, replace the homemade rose syrup with an equal amount of Wild Rose Petal Syrup.  You could also replace the yogurt with whipped cream and serve this chic fruit salad on meringue; or with ice cream in a crêpe. Hmm, I wonder what an Ispahan Martini would taste like…raspberries, lychee, rose syrup, and almonds? Ooh là là!
Like the flirty skirts of the cancan dancers, rose-scented stewed rhubarb is saucy and pretty; its tartness tamed by a sweet hint of je ne sais quoi.  Serve cold, layered with plain yogurt and garnished with pistachio dust for a delicious breakfast parfait; or warm with vanilla ice cream or crème fraîche for dessert.  I made this batch with Ontario greenhouse rhubarb and it turned out such a pretty colour of pink.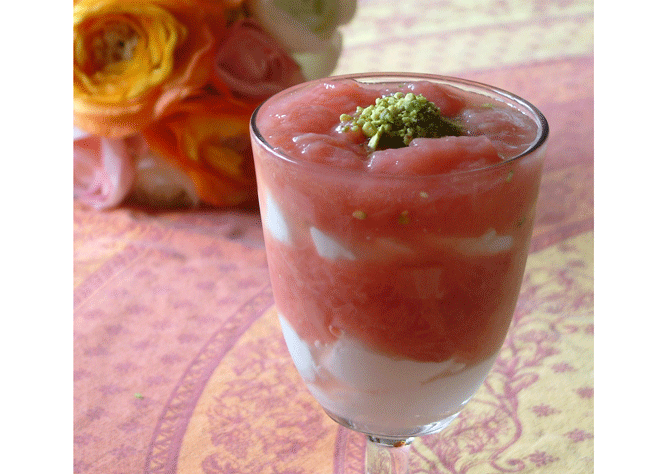 Rose-Scented Stewed Rhubarb
Makes about 1 1/2 cups
Ingredients:
3 cups chopped (3/4" pieces) fresh rhubarb, root ends and toxic leaves discarded (from about 1 pound of fresh rhubarb stalks)
1/3 cup sugar (preferably Demerara sugar)
3 tablespoons Wild Rose Petal Syrup
Directions:
Place chopped rhubarb in a medium glass bowl. Sprinkle with sugar; stir. Let rest on the counter for about 30 minutes, stirring once or twice more, until rhubarb begins to release its juices and sugar dissolves.
Place the rhubarb in a medium saucepan. Gently simmer over low heat, stirring occasionally, until soft, about 25 minutes.
Remove from heat and add rose syrup.  Serve warm or cold.
Strawberry Rose Angel Food Cake
I had fun dreaming up a Strawberry Rose Angel Food Cake. It was the first time I made it and we liked it but next time I may make a few changes as noted below. I thought it was worth sharing the recipe with you now, as inspiration? I used a store-bought angel food cake but you could easily use a mix; add a little rose syrup to the mix before baking for an added touch of rose.
The only thing a bit complicated about making this ultra-feminine cake is getting your hands on the Wild Rose Petal Syrup (okay, that's easy just order on-line from Forbes Wild Foods) and the candied rose petals (hey, you can order those on-line too from Golda's Kitchen). The rest is a breeze using ready-made, store-bought ingredients.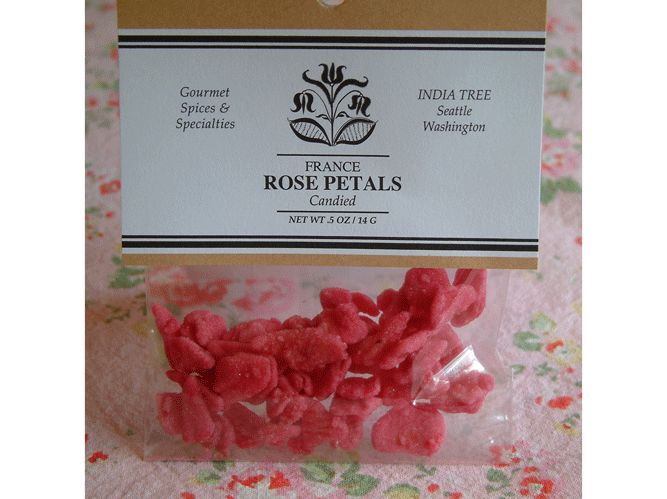 In fact, because I was in a rush to capture the natural light for my photo-shoot, I bought white buttercream icing from Bulk Barn for the first time ever – don't laugh, it was fine and saved my morning. Bulk Barn is in the same 'hood as Golda's Kitchen.  I beat a cup of whipping cream into the buttercream to tone down the sweetness. I was happy with the stability of the icing but it was still pretty sweet and I had about 1 ½ cups of extra icing left over. Next time, I am may try using a ratio of 3 cups buttercream to 1 cup of whipping cream (instead of 4:1) or probably will just use 4 cups of whipped cream and no buttercream. The recipe below uses my original measurements.
Ingredients:
1 pound of fresh strawberries, hulled and cut into bite-sized pieces (save one whole for garnish)
3 tablespoons Wild Rose Petal Syrup
1 package (.5 oz/14 g) candied rose petals (optional)
1 already-made angel food cake
4 cups prepared white buttercream icing (see suggested amendment above)
5 tablespoons juice from mashed, rose-infused strawberries
1 cup whipping cream (see suggested amendment above)
Directions:
Place strawberries and rose syrup in a medium-size bowl. Roughly mash with a potato masher or fork to release the juice from the strawberries.  Let sit at room temperature while proceeding with next steps.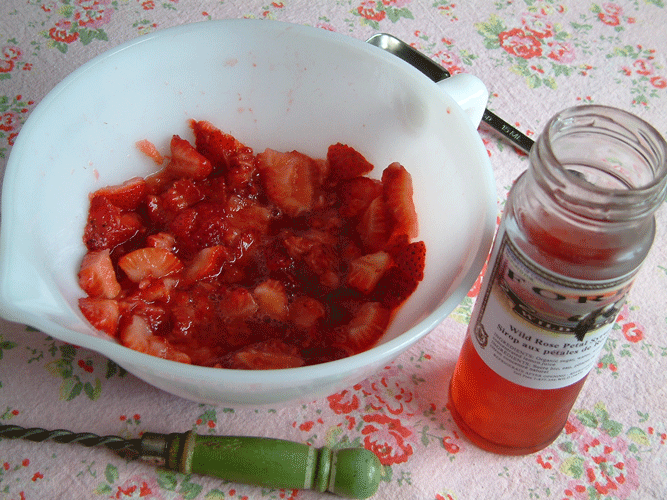 Finely chop candied rose petals (the ones in my photo of the finished cake at the bottom of the post are a bit too big and too crunchy). Set aside.
Cut off the top third of the cake, slicing evenly with a serrated knife. Set aside and reserve top. Using a knife, cut a circle about 1" or so from the outside of the cake and another concentric circle about 1" or so from the inside of the cake, cutting only halfway down through the bottom two-thirds of the cake. When the top is placed back on the cake, the trench will sit in the middle third of the cake.  Use a fork to help you remove the cake in the trench and discard those pieces.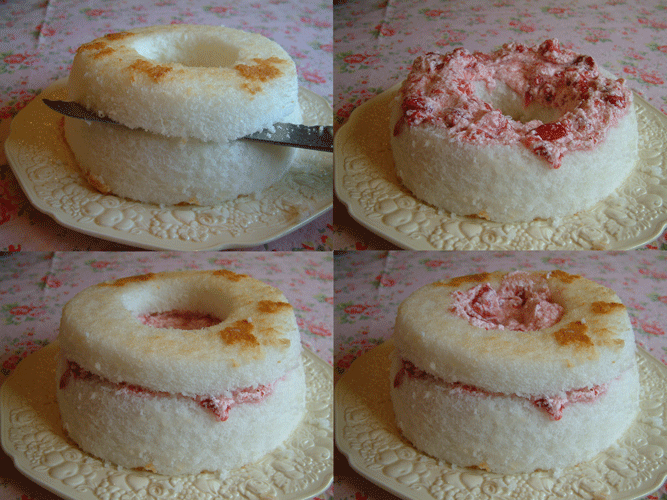 Strain strawberries in a fine sieve, reserving both the juice and berries separately.
(See amendments noted above) In a large bowl, place 4 cups white buttercream icing and 5 tablespoons of reserved juice from mashed strawberries. While beating with an electric mixer at high speed, slowly pour in one cup of whipping cream. Beat until frosting holds soft peaks.
Measure out 1 cup of frosting and set the remaining frosting aside. Fold 1 cup of frosting into reserved strawberries, folding gently until combined. It may separate a bit but it's fine. Spoon into trench.
Cover with top section of angel food cake. Spoon remaining mixture into centre hole of cake to fill. Frost top and sides with remaining frosting. Garnish with fanned whole strawberry and sprinkle with finely chopped rose petals. Cover and refrigerate for 1 hour and up to 4 hours. Serve.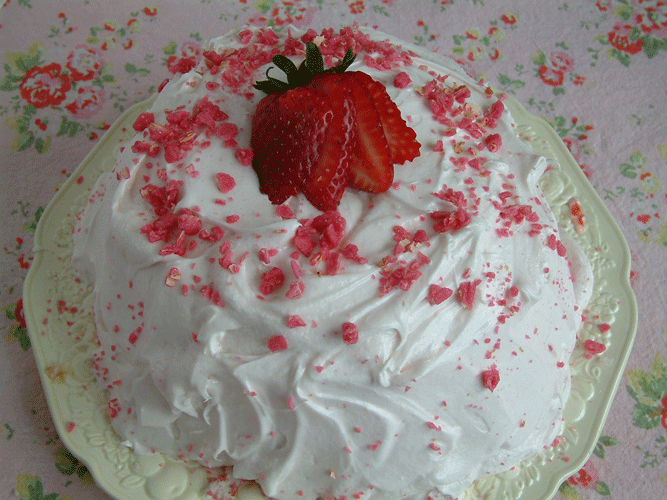 Forbes Wild Foods
Toll Free
: 1-877-354-WILD (9453)
Phone
: (416) 927-9106
Website:

http://store.wildfoods.ca/
Twitter:
@forbeswildfoods
Facebook:
facebook.com/ForbesWildFoods
Read More