Spice up your holiday potluck party with exotic and inexpensive finger food that will please the palates of adventurous eaters and vegetarians. Easy peasy; no cooking required. Pick up an assortment of restaurant-quality, sweet and savory, vegetarian Indian baking from Mississauga's White Gold Food.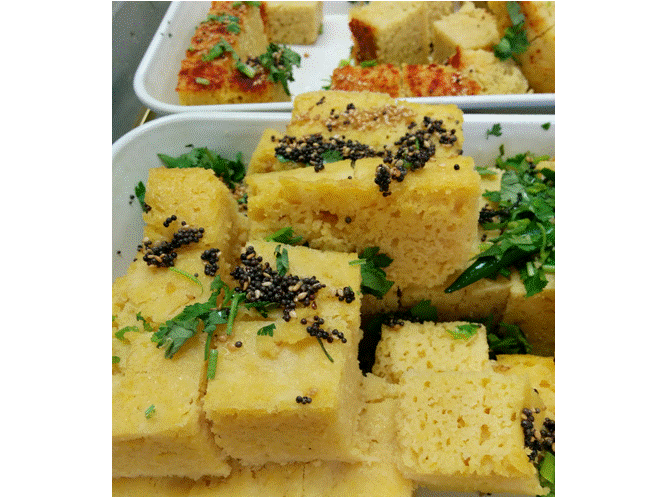 Dhokla is a moist, savory cake made from chickpea flour and yogurt – a healthy dose of fibre and protein. The regular "non-spicy" version has a garnish of tempered black mustard seeds, sesame seeds, hot green chiles, and fresh coriander leaves: gentle heat and fresh green flavour against the mellow nuttiness of the chickpeas and tang of the yogurt, all in one deeply satisfying bite. The "spicy" version is made with ginger and green chiles and is dusted with chile powder – take a walk on the wild side, this baby is hot. Serve with very spicy, hot green chutney (coriander, green chiles, and yogurt) but lovely just solo.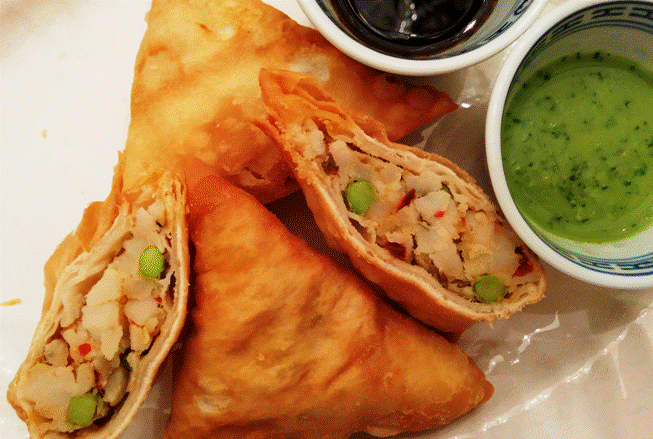 Of course, samosas are always a big hit at a party and White Gold's samosas are delicious. Choose regular; the spice level is just enough to give a golden warmth. Apparently, the spicy version is not for the faint of heart. Serve with tangy-sweet tamarind chutney….mmm!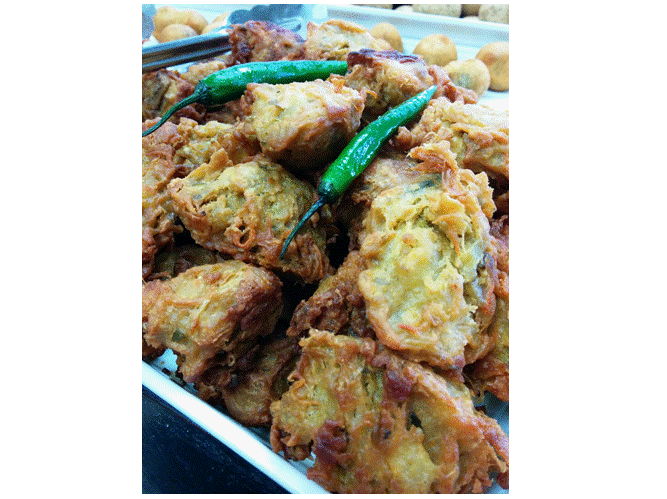 I've never been a pakora fan (those often greasy, tasteless globs of fried batter with a hint of vegetables). But White Gold has awoken the inner pakora lover in me. Their pakoras are not greasy and are packed with a flavourful combination of potatoes, onion, spinach, carrots, eggplant, and cauliflower in chickpea batter, fried to perfection.
Some Indian desserts are almost sickly sweet but there are a few that I like in small doses and White Gold makes them mouth-watering.
Burfi means fudge. I adore White Gold's mango burfi (middle right): tangy, pure mango pulp balances the rich sweetness of the fudgy evaporated milk. Anjeer burfi (top) is made with figs and almonds while Khajoor burfi (bottom) is made with dates and almonds. Elaichi peda (middle left) is like a cross between shortbread and fudge: sweetened evaporated milk dumplings made with the very best cardamom.
Owned and operated by a local family who use only top quality ingredients and prepare their authentic products with the utmost care. White Gold supplies their quality baking to restaurants and markets but thankfully, they have a storefront take-out counter, filled with all sorts of goodies, open to the general public. Google maps has pinned the address incorrectly on Laird. It is at the back of 3176 Ridgeway in unit #48.
At this time of year, I love seeing the Diwali lights and fireworks across our city. Happy Diwali!
White Gold Food
3176 Ridgeway Drive,
Unit 48, Mississauga,
ON L5L 5S6
Telephone: 906-607-6776