Sometimes I wonder who I love more – my guacamole or my husband? I raise one pondering eyebrow and make him a bowl. It's a labour of love as I chop the fragrant cilantro, juice the sweet, tangy lime, and mellow as I mash the creamy avocado. As soon as it's ready I feed my husband a scoop and watch him swoon…and then I know it's him I love the most, of course! Hey, does he love my guacamole more than he loves me?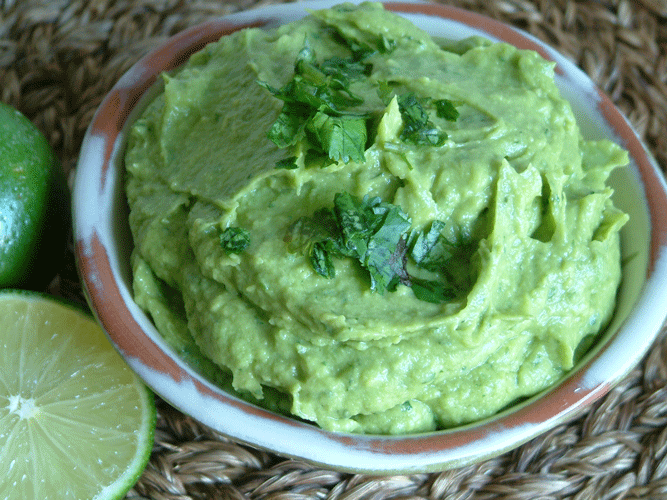 I used to mix my pico de gallo in with my guacamole but then I tasted the most delicious guacamole at La Cantina Mexicana in Streetsville. Since then, I've spent the rest of my guacamole-making days trying to replicate that smooth and luxurious, pure avocado dip that has a hit of garlic and is served with homemade tortilla chips and salsa on the side. Now I focus on the avocado and don't get watered down by the tomatoes. Use firm but ripe Haas avocados; make sure the stem end yields to the gentle pressure of your thumb.
I prefer to serve my pico de gallo on the side; it's easy to whip up since it uses some of the same ingredients. To have enough cilantro for both recipes, buy one large or two small bunches. I don't use fresh jalapeno because I find the raw, crunchy bite of heat too jarring in a guacamole or pico de gallo. Green Jalapeño Pepper Tabasco Sauce gives me the flavour and heat I am looking for (and I ain't ashamed to admit it) but switch out for the classic, fresh jalapeno if you like.
Guacamole
Makes 2 cups
This recipe is as close as I've come to the one we love at Cantina Mexicana. The guacamole can be made a few hours ahead, covered with plastic wrapped pressed on to the surface of the guacamole, and refrigerated.
Because the limes vary in size and taste buds vary in acidity tolerance, only add about two thirds of the lime juice initially; then taste the guacamole and add more juice as desired (I like to use it all). To get the most juice out of your limes, place your hand over the whole lime and lean down while rolling it around to soften it before you cut it open.
Ingredients:
3/4 teaspoon coarse salt
1 clove of garlic ¼ cup finely chopped fresh cilantro leaves Few dashes of hot sauce (preferably
Green Jalapeño Pepper Tabasco Sauce
)
Juice of 1 ½ limes
3 Haas avocados, firm but ripe
Accompaniment:
Tortilla chips
Directions:
Mince and mash garlic in the salt to achieve a purée; add to medium bowl.
Add the cilantro leaves and a few dashes of hot sauce. Add about two thirds of the lime juice.
Slice avocados in half; remove pit and discard. Empty pulp into bowl.
For chunky guacamole, mash the avocado with a potato masher until you achieve desired consistency. For smooth guacamole, purée with an immersion blender.
Taste and add more lime juice or hot sauce if desired.
Serve with tortilla chips for scooping.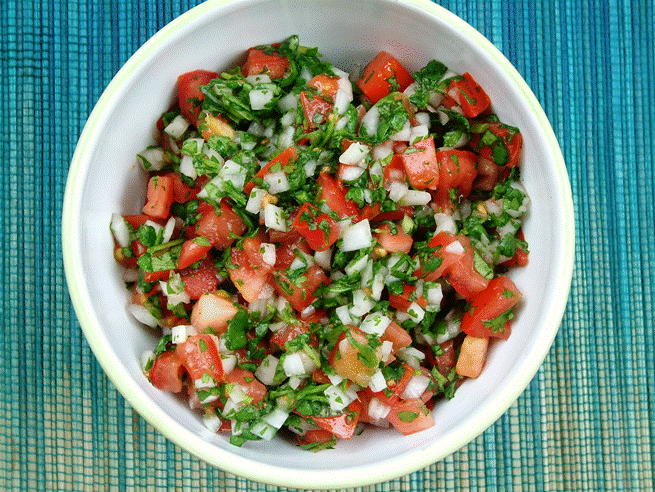 Pico de Gallo
Makes 1 cup
My Spanish sister-in-law, Marie, converted me from jarred salsa to fresh pico de gallo with the spicy and refreshing pico de gallo she lovingly prepares for our clan when we gather at her pool in the summer. It's a real treat; your guests will feel the love. Pico de gallo can be made up to a few hours before serving; any longer and the tomatoes breakdown and release too much of their juices.
To prevent my pico de gallo from becoming too watery, I've tried seeding my tomatoes first but the tomatoes lost some of their flavour and broke down too much. I also tried a technique I read about on the internet: chopping the tomatoes whole (including the seeds), placing them in a fine-mesh strainer set over a bowl, sprinkling them with salt, and leaving them to drain for about 30 minutes. But the results lacked a fresh tomato flavour, tasted bitter, and had a weird texture. So I just dice up the whole tomato, seeds and all, and love my pico de gallo for what it is: juicy and flavourful.
Use the ripest, locally-grown or homegrown tomatoes you can get your hands on – it doesn't matter what size, along as you end up with 1 cup of diced tomato. If it is not tomato season, use roma tomatoes.
Ingredients:
1 cup diced ripe tomatoes (locally-grown or roma tomatoes) ½ cup minced white onion 2/3 cup finely chopped fresh cilantro leaves
Several dashes of 
Green Jalapeño Pepper Tabasco Sauce
Juice of ½ lime ½ teaspoon coarse salt
Directions:
Add tomatoes to a medium, non-reactive bowl.
Add remaining ingredients and toss gently.
Let rest for 15 minutes and then serve with tortilla chips for scooping or cover in an airtight container and refrigerate up to a few hours.
Cantina Mexicana
277 Queen St. South
Mississauga, Ontario L5M 1L9  
Telephone:
905-813-1992
Website: www.cantinamexicana.com
Read More