Move over beef tacos, there's a new dish in town. My Shrimp Tacos are easy, healthy, and packed with refreshing flavour. Succulent pre-cooked shrimp are briefly marinated in cilantro, mint, lime, garlic, aji amarillo paste, sugar, and salt – a mouthwatering melody of sweet, sour, spicy, and salty. Served in a soft tortilla spread with avocado purée and a lick of lime juice, they are everything I want in a shrimp taco. My son named them his new favourite food. Olive to make my son happy!
Aji amarillo paste is a simple blend of orange-fleshed, medium-hot Peruvian chili peppers, which are prized for their unique fruitiness. Aji means chili pepper and amarillo means yellow. Although very common in Peruvian cooking, aji amarillo peppers can be hard to find here. I was thrilled to find aji amarillo paste (sold in jars)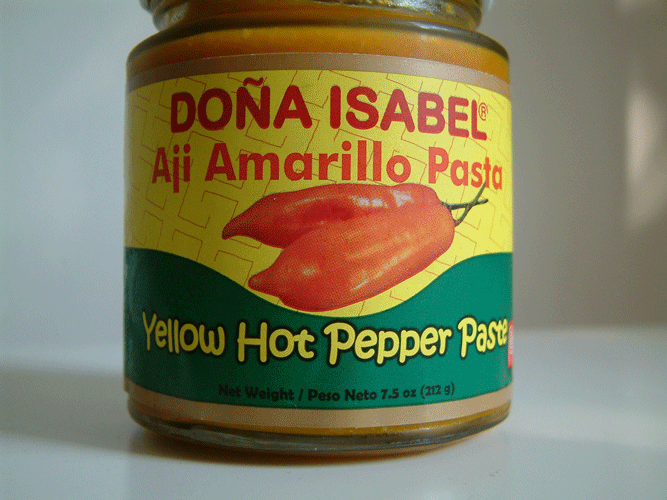 and the much sought-after, frozen, whole aji amarillo peppers (imported from Peru) in Latin Super Chicken Rotisserie – a little Latin American grocery store that also sells Peruvian-style rotisserie chicken, located at the corner of Queen and Britannia, in Streetsville. I confirmed by phone that the stores Rincon de Espana in Port Credit and El Tropical in Oakville also carry aji amarillo paste.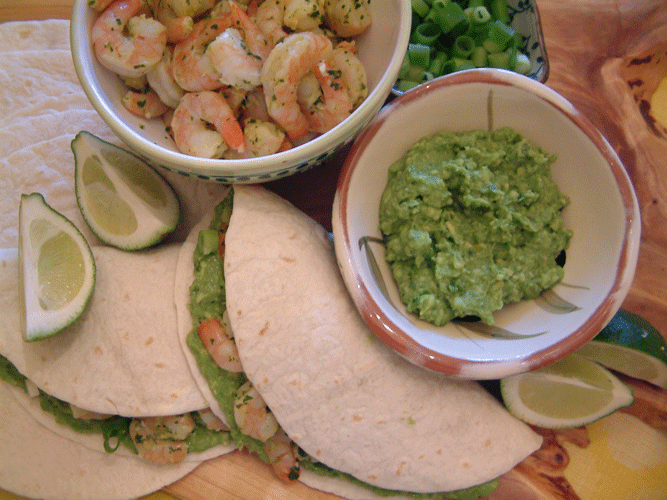 Olive's Shrimp Tacos
Serves 3 to 4
If you can't find aji amarillo paste, Tabasco sauce is an adequate substitute for this recipe.
Marinade Ingredients:
1 lime
1 tablespoon roughly chopped fresh mint leaves
1/3 cup roughly chopped fresh cilantro leaves
1 large clove of garlic
1 teaspoon aji amarillo paste (Peruvian yellow hot pepper paste)
½ teaspoon salt
½ teaspoon white sugar
1 tablespoon olive oil
Taco Ingredients:
454 g (1 lb.) frozen cooked, peeled shrimp 61/70
1 avocado
2 green onions, finely sliced
8 medium soft flour tortillas
1 lime, quartered
Optional garnish:
Extra coriander sprigs
Directions:
Defrost shrimp according to package directions; drain. Remove tail shells and discard. Place shrimp in a paper-towel-lined bowl, cover and chill in the fridge for at least 1 hour to drain well.
Meanwhile, grate the lime zest into the bowl of a small food processor. Juice the lime and add to the zest; add remaining marinade ingredients and then process until well-blended.
Pour out 1 tablespoon of marinade and set aside in fridge for later use with the avocado. Pour remaining marinade in a large, re-sealable Ziploc bag and seal. Refrigerate until 1 hour before eating.
One hour before eating, place shrimp in marinade bag. Squeeze out the air and seal tightly. Massage the marinade into the shrimp until evenly coated. Place in the fridge and marinade for 1 hour.
Just before serving, warm tortillas in the oven as per package instructions.
Meanwhile, cut the avocado in half and remove the pit. Scoop the flesh into a medium bowl. Using a fork, mash the avocado into a purée. Add the remaining 1 tablespoon reserved marinade and stir thoroughly. Spread ⅛th of the avocado puree on one half of each tortilla.
Dump marinated shrimp into a colander set in the sink and drain briefly. Place about ⅛th of the shrimp on top of the avocado puree. Sprinkle with green onions and fresh coriander sprig, if desired. Fold other half of tortilla over.
Serve with immediately with lime wedges.
You can find aji amarillo paste at:
Latin Super Chicken Rotisserie
17 Queen Street North A5, Mississauga, ON L5N 6A1 Telephone: 905-369-0420 Open Tuesdays to Saturdays from  11:00 a.m. to 8:00 p.m. & Sundays from 12:30 p.m. to 6:00 p.m.
El Tropical
391 Kerr Street, Oakville, ON L6K 3B9 Telephone: 905-845-9262
Rincon De Espana Inc.
550 Lakeshore Road East Mississauga, ON L5G 1J3 Telephone: 905-274-2109