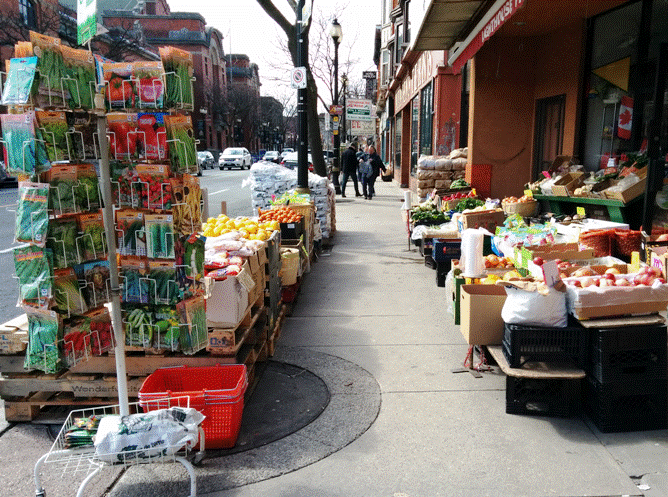 If you haven't heard the buzz – or didn't believe it – Steel City has transformed into a cool place to hang out.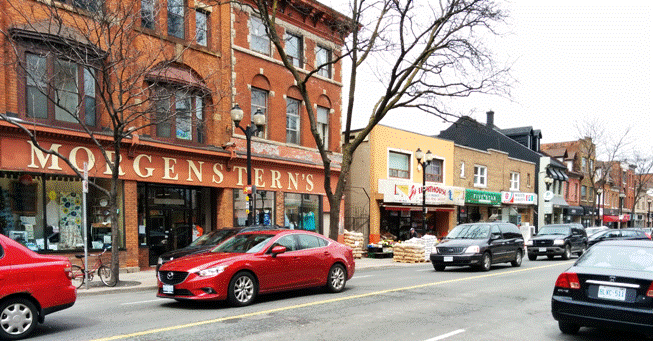 James Street North is a vibrant, culturally diverse mix of food, art, and unique retail that ranges from old-fashioned to modern, in such a hip way (that's my inner urban geographer speaking). My inner foodie says that Hamilton is the grassroots of where young chefs hone their skills with their own set of rules; so refreshing and impressive. Remember, this is the city that put the wheels in motion for the local gourmet food truck trend.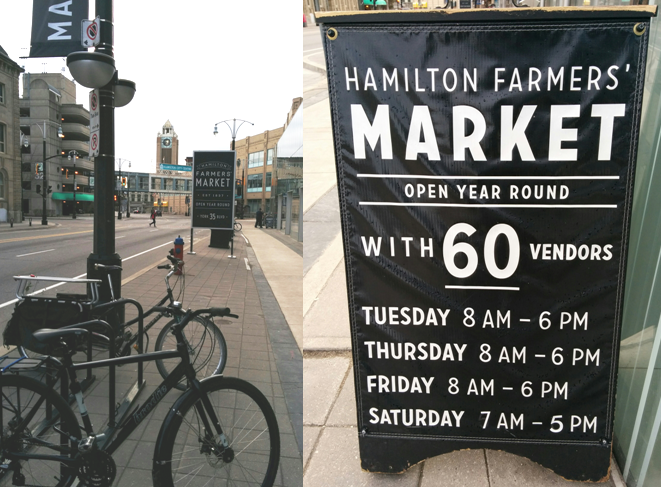 Start off at the Hamilton Farmers' Market (inside Jackson Square, corner of James Street and York Boulevard). There's plenty of cheap parking right across the street.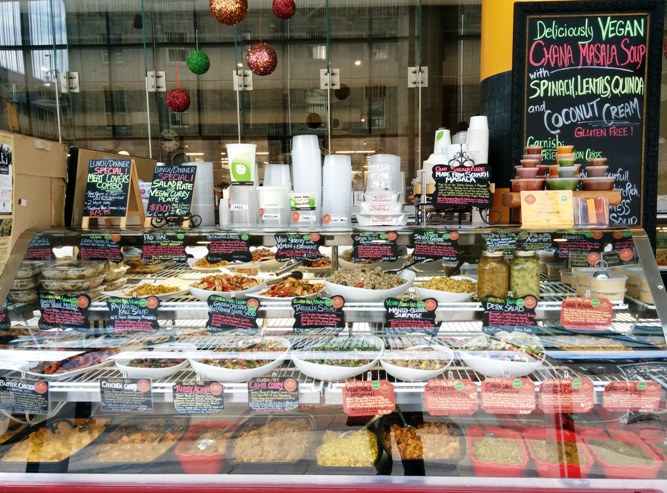 Sensational Samosa offers an impressive variety of international foods: savoury and sweet finger foods, curries, chutneys, salads, and soups.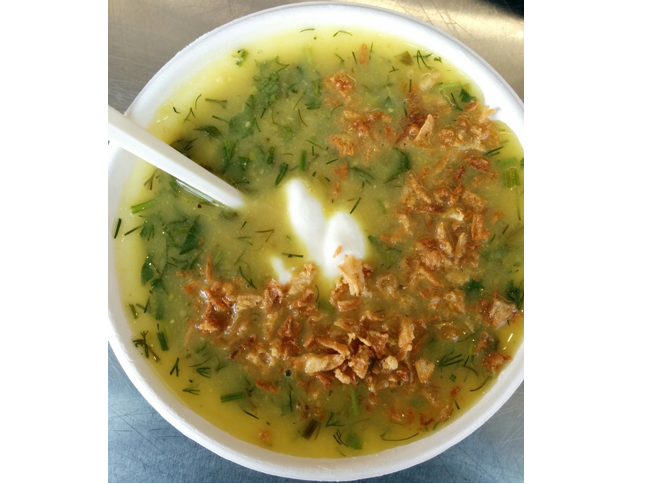 I started my morning off with a healthy bowl of protein-packed Persian Ash soup: chickpeas, kidney beans, black beans, yellow split peas, pearl barley, dill, parsley, cilantro, onions, garlic, and turmeric. Garnished with yogurt and crispy fried onions.
On a recommendation from a local, I brought home the World's Best Samosas, mint-cilantro chutney, and mango chutney; what a nice treat after driving home in the snowstorm. Health-conscious, vegan, and gluten-free options available.
I met the lovely Ed Wong of Henry Brown's Small Batch Ice Cream. He and his partner have been at the market since last July, having fun playing around with flavour combinations.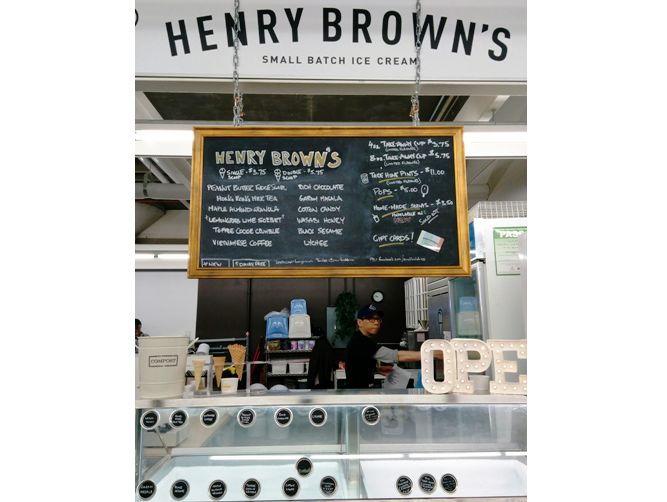 Flavours range from bold (Black Sesame and Curried Carrot) to childhood favourites (Toasted Marshmallow and Peppermint Candy Cane) and oh so many tempting ones in between. Move over green tea ice cream, Hong Kong Milk Tea is my new favourite: I love how the tea balances the sweet creamy bliss. Prepared on-site in small batches, fresh every market day, additives not required. Flavours rotate. Plan to come back for an afternoon scoop or bring your cooler to take a tub home. But be sure to ask for a taste in the morning because your favourite flavour may be sold out later.
Next time, I'll try a poké bowl at the Pokeh Bar (Canada's first poké bar). When I returned to the market for an ice cream, the mid-afternoon crowd was a clear indication that these healthy, Hawaiian-influenced raw fish bowls have quickly gained popularity with the locals.  Like sushi in a bowl: choose from fresh ahi tuna, salmon, or shiitake/tofu on cucumber noodles or rice, with Asian sauces, and over 20 healthy toppings.
After the market, walk one block east on York to James Street, turn left and head up James Street North. If the stores aren't open (some not until noon), grab a coffee at Mulberry Coffee House. Or walk up to Murray Street to Chris' Store Fixtures, a kitchenware and restaurant supply store where I rubbed elbows with Hamilton's hot young chefs.  At Mixed Media, I lusted over the art supplies, laughed my guts out at the cards and scored the hard-to-find, cult-favourite foodie magazine, Lucky Peach.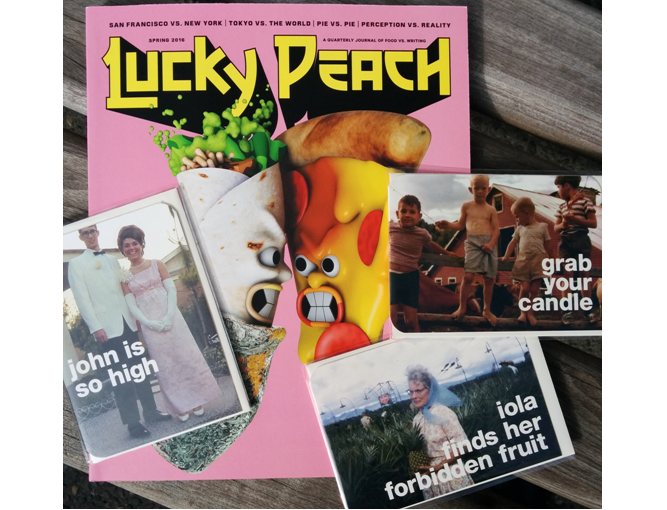 Satisfy your morning chocolate fix with a wee sample at Chocolat on James; you won't come out empty-handed.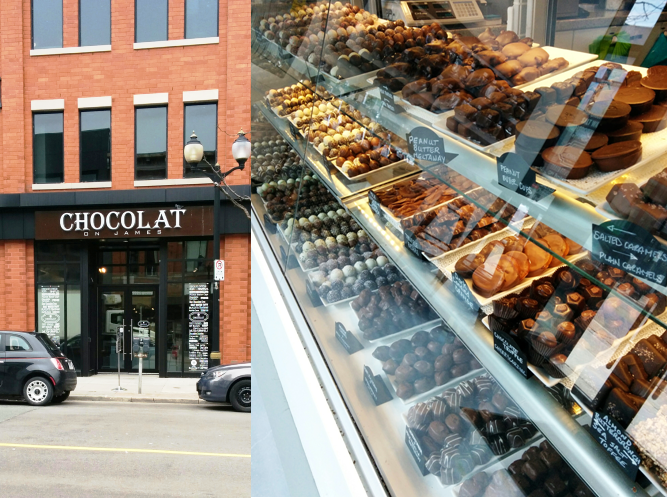 Admire the local art, whether on a wall…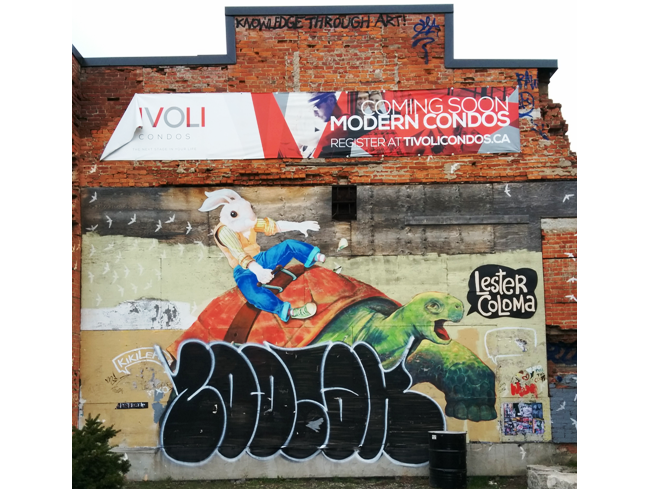 or in the window of a gallery (you me gallery) or vintage shop (Chaises Musicales).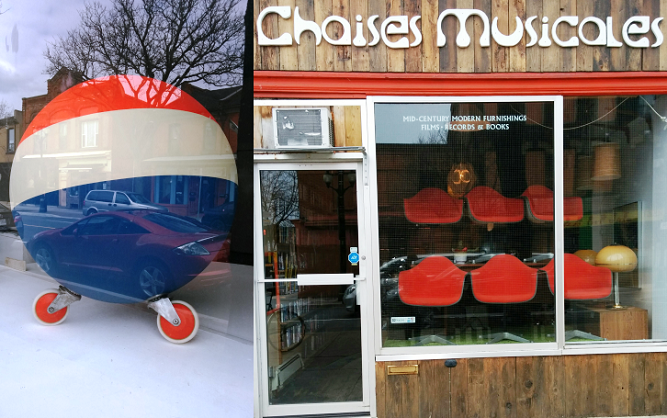 Check out the AGH Design Annex: an extension of the Art Gallery of Hamilton that shows experimental exhibitions, stages intimate performances, and houses a home and office design store.
There are two really good vintage clothing shops on this strip. Hawk & Sparrow is a gorgeous, well-curated, upscale vintage, pre-loved, and new clothing store that also sells on etsy. Olive is in love all over again with these boots.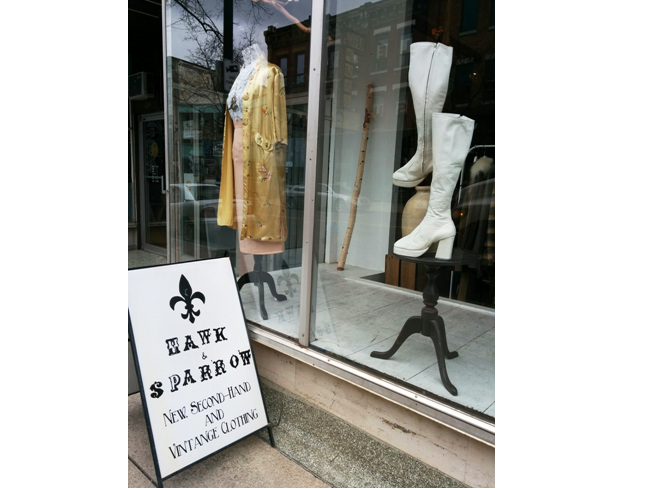 And with these boots from Newold's Vintage, just up the street; a great shop with lots of inexpensive gems.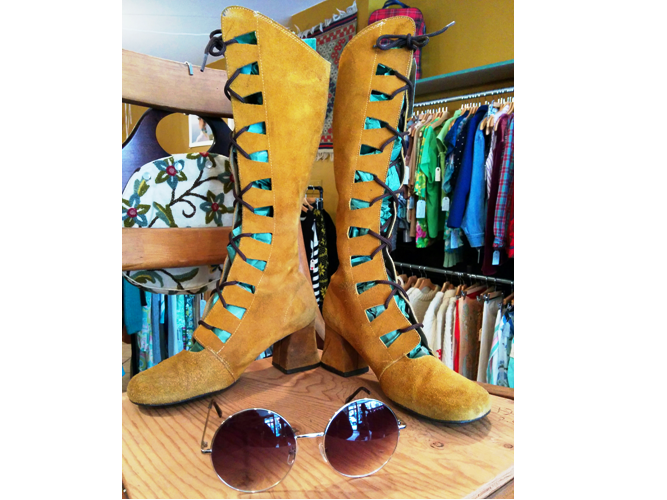 I am so tempted to return to this charming little shop to learn how to sew (Needlework). And isn't this a pretty window (i fiori)?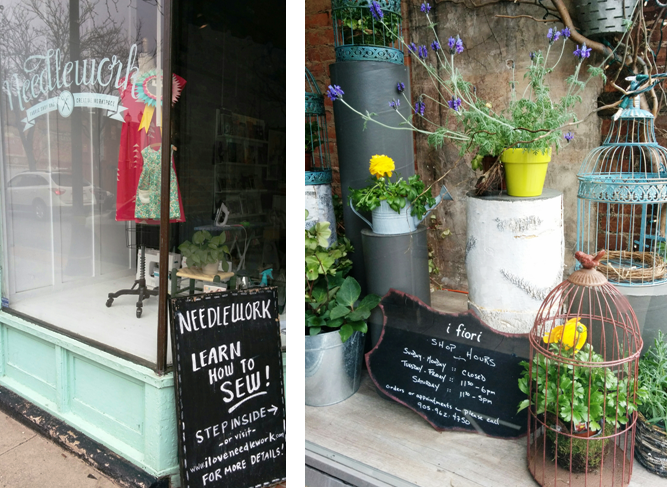 When your stomach starts to growl, you'll find Vietnamese, Korean, Thai, Portuguese, Indian, and Italian restaurants along this strip, interspersed with restaurants such as Saint James Espresso Bar & Eatery, Saltlick Smokehouse, Mesa, Lake Road, Jack & Lois, Charred, and The Green Smoothie Bar.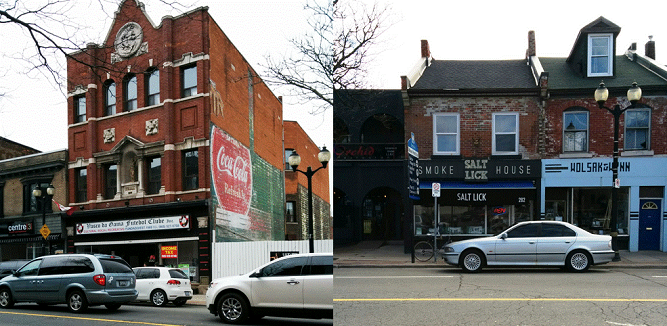 I ended my morning on James Street North at a recommendation from a friend. Thank you, Casey, The Burnt Tongue (10 Cannon Street East/corner of James) lived up to its reputation.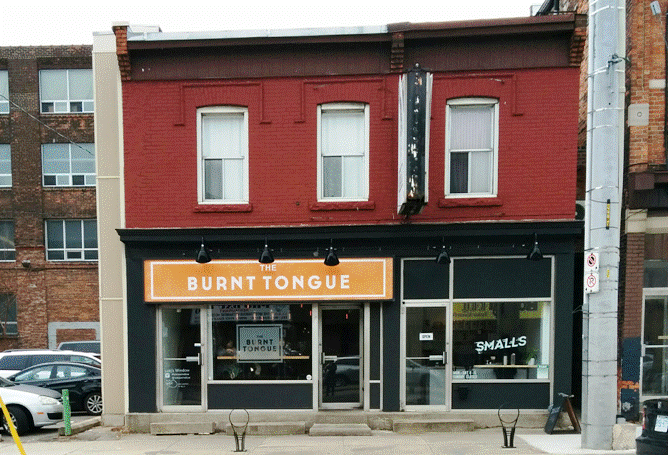 The staff is super friendly, the atmosphere energetic, and the rotating daily menu so creative.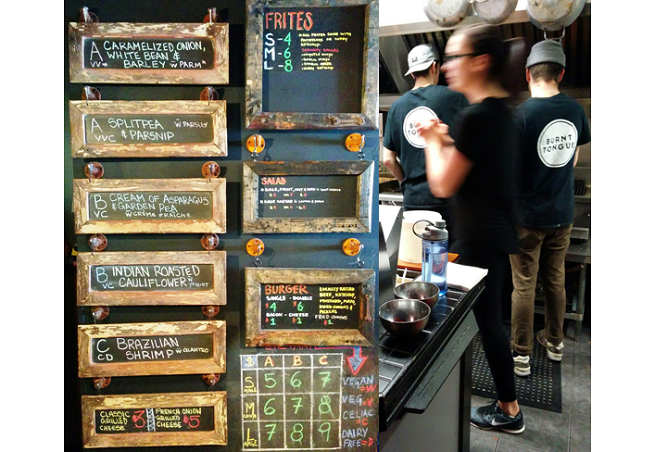 The soup is well worth the reasonable wait for a table. Indian Roasted Cauliflower for me: velvety smooth with fragrant cumin notes and yogurt drizzle. That's my kind of comfort food.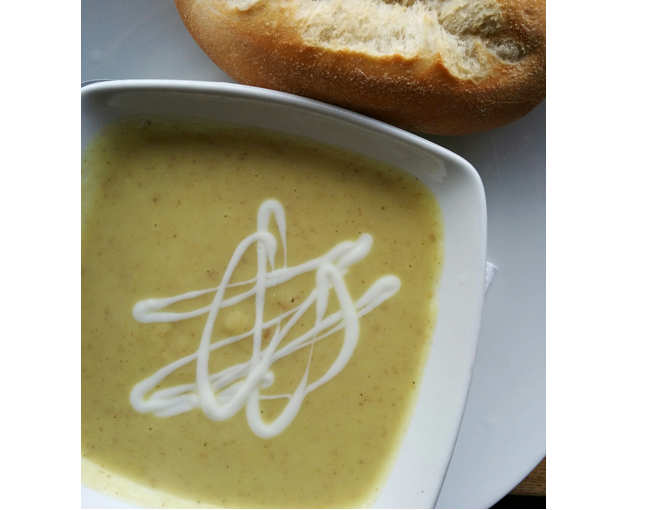 Although the locally-raised beef hamburger, frites, and curry ketchup served to the people beside me looked amazing. Sandwiches and salads, too. Dang, I forgot to try the long-craved-for Rudy's Paletas. Order at the counter, served at the table. Vegetarian, vegan, celiac-friendly, and dairy-free options available.
There is only so much food one belly can hold and my timing that day didn't allow me to venture further. I'll be back; there is more to see and taste in the hip Hammer.
Read More