Hot off the Olive Press! Paramount Fine Foods restaurant is opening up a second Mississauga location at Erin Mills Town Centre (Erin Mills Parkway and Eglinton Avenue), hopefully sometime in the fall of 2013. Paramount Fine Foods serves Middle Eastern cuisine.
Our first experience with Paramount Fine Foods was at their 1290 Crestlawn Drive, Mississauga location. My husband had just returned from a family visit to Montreal, which always includes fabulous Middle Eastern food. He wanted to find out if Paramount's food could compete with Montreal standards. We weren't disappointed.
Compared to the surrounding industrial neighborhood, the elegant interior decor of the Paramount Crestlawn Drive location is a pleasant surprise. The parameter of the room boasts a charcoal grill and bakery counters. Warm woodwork and beautiful chandeliers create an inviting ambiance in the seating area.
Even more pleasant than the decor is the service. Though you order at the cash, the food is delivered to the table quickly and our waitress was friendly and knowledgeable about the restaurant.
The first thing that strutted to our table, warm and puffed up like proud roosters, was a basket of freshly baked pita bread straight from the wood burning oven. Promise me that at least once in your life you will treat yourself to freshly baked Middle Eastern pita, which is thinner and tastier than other pitas.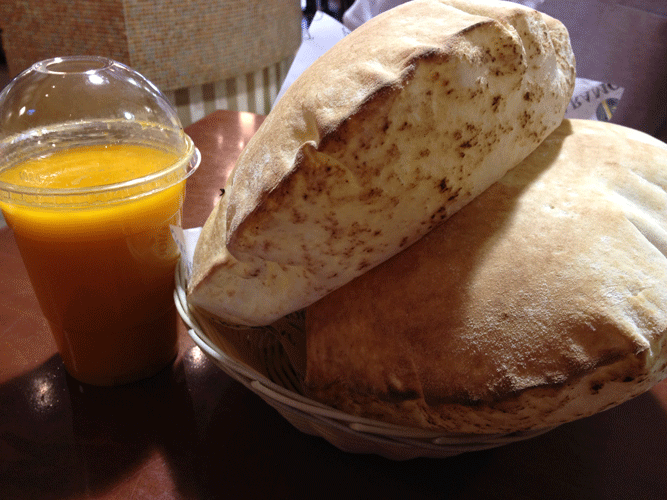 I had to treat myself to a fresh mango juice because olive mangoes! The fattoush salad is fresh and crisp with romaine lettuce, parsley, red and yellow pepper, tomato slices, and deep fried pita bits in an authentically acidic dressing. We also ordered a bowl of tahina sauce to drizzle on our rice and meat. Olive tahina sauce (try my Grilled Trout with Tahina Sauce and Grilled Lemons).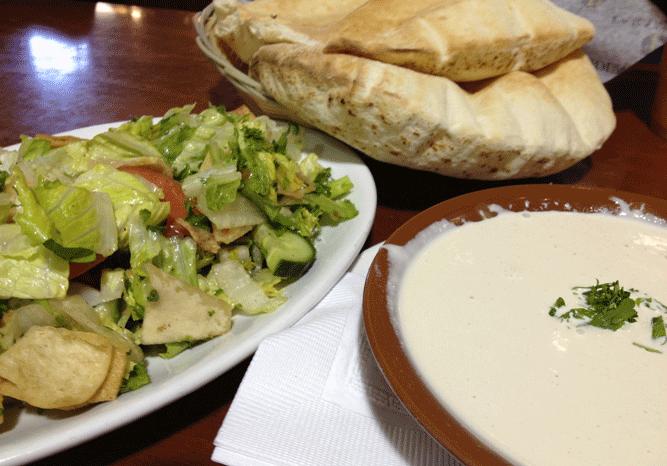 I ordered the BBQ Beef: two skewers of charcoal grilled striploin beef. My husband ordered the Mixed Grill: skewers of shish taouk (marinated chicken breast), kofta (spiced ground beef), and bbq beef. All of the meat is so tender and flavourful that it is mouthwatering just to recollect. Paramount serves charcoal barbequed, sodium-nitrate-free, grass-fed, Ontario Halal meats prepared in the Paramount Butcher Shop.
Our plates included a small container of hummus or garlic mayonnaise, picked turnip, and picked celery. The fries are good but the rice is even better – nicely seasoned and fluffy.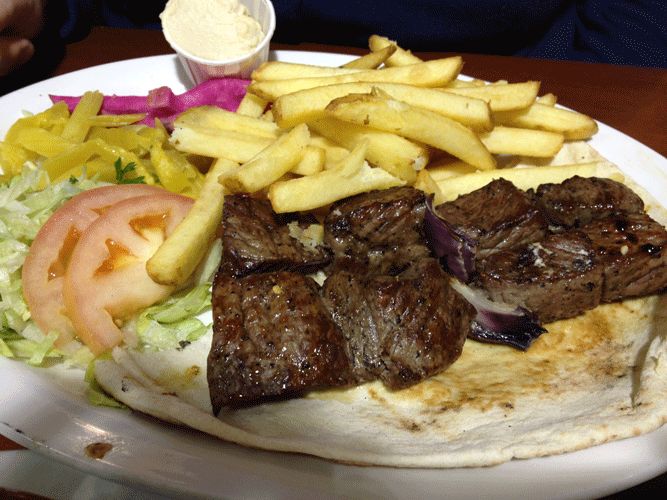 The Arabic pastries are handmade and baked fresh daily in Paramount's full bakery. They display them on huge, impressive trays behind the counter.  You can enjoy them in the restaurant or take them home.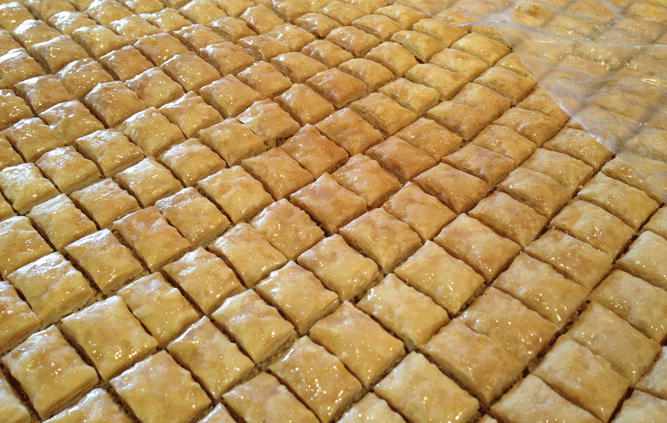 My husband was in heaven. He selected a sampling of a few different kinds to share. Delicate layers of crisp pastry, sticky sweet with crunchy nuts.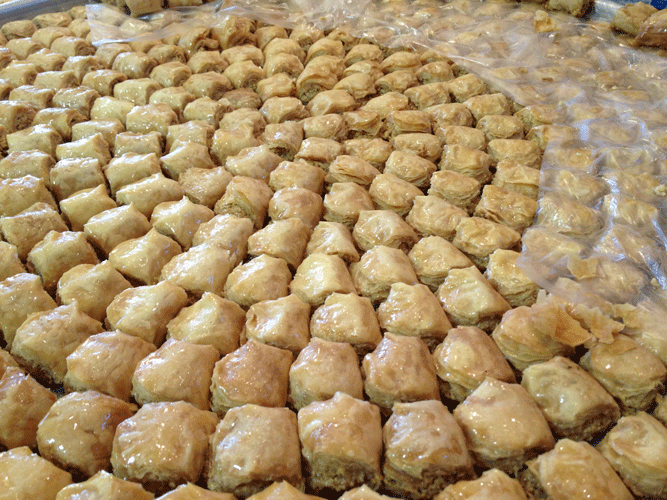 These little babies, filled with beautiful pistachios nuts, have always been my favourite and they are exquisite.  Don't they look like hungry baby birds?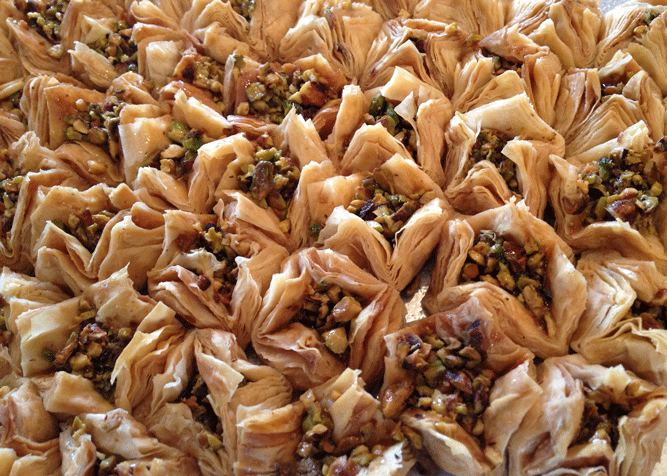 The menu is extensive: appetizers, salads, sandwiches, grilled meats and chicken, shawarmas, falafels, Arabic style pizzas made to order and baked in a wood burning oven, fresh fruit juices, and fine pastries. We both agreed that Paramount Fine Foods restaurant is among the best Middle Eastern food we have tasted outside of Montreal. Reasonable prices, pleasant atmosphere, friendly efficient service, and good food. Olive Paramount Fine Foods!
Paramount Fine Foods plans to open in the fall of 2013 at Eglinton Avenue West and Erin Mills Parkway, in Mississauga.
Check out their website for photos, videos, and other Paramount locations and hours in Mississauga, Hamilton, Toronto, Thornhill, and London: www.paramountfinefoods.com