I have a favourite little spot I like to wander off to come summertime. I didn't even know it existed until my friends brought me there one happy afternoon. Glen Williams is a peaceful little hamlet hidden amongst the trees of the meandering Credit River Valley, in the outskirts of Georgetown. The tree-lined street is dotted with just a handful of heritage buildings and homes. It is so quiet you can hear the crickets chirping.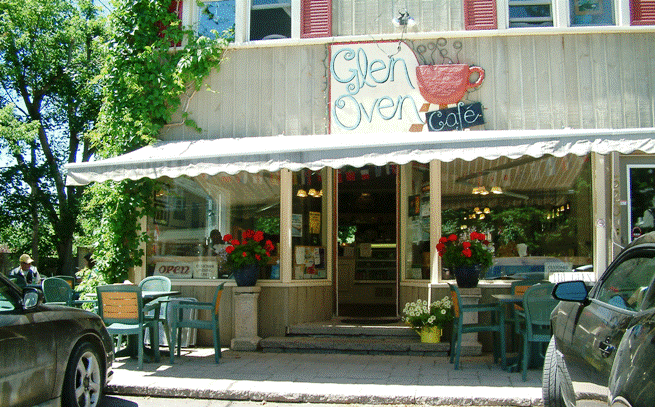 Walk onto the porch of the Glen Oven Café and the regulars give you a nod as if to agree "yep, there is something so serene about this place". Feel welcome in a modest but charming interior filled with vintage fine china tea cups, little British flags, a few tables, a couple of arm chairs, and a little wood stove.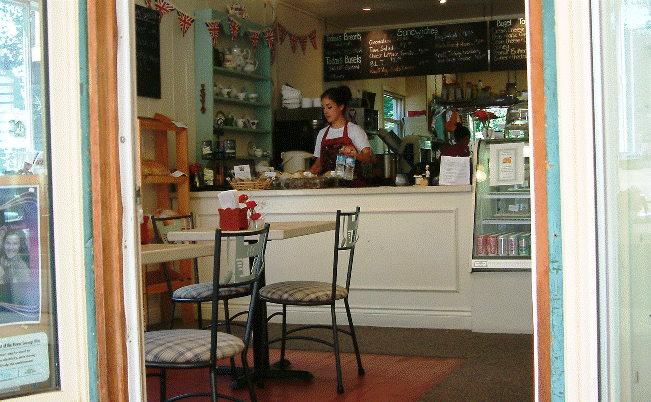 Order at the counter. Choose from quiche, salad, soup, or sandwiches – all lovingly made from scratch (even the bread) with quality, wholesome ingredients. Everything I have tried has been delicious. My favourite is the Roasted Veggie sandwich: sweet potato, parsnip, red peppers, zucchini, eggplant, and red onion all roasted until tender and slightly caramelized then piled on billowing homemade bread spread with creamy chèvre.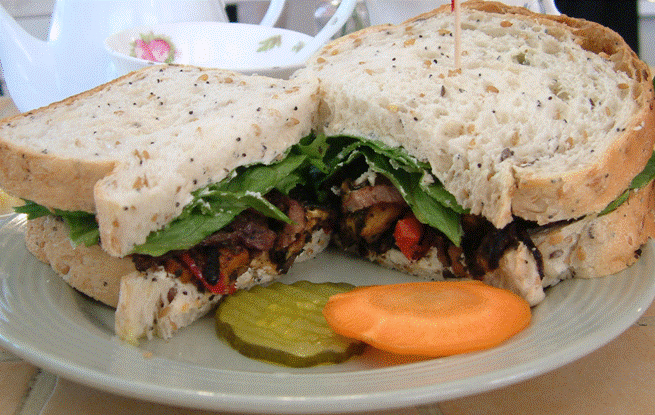 Buy a loaf of bread to take home. This is the home of the Hearty Seed Bread, my son's favourite flax seed bread; I have to hide it or he will polish off the whole loaf in one day. My friend loves the Whole Wheat Muesli Bread, a breakfast bread with raisins, cranberries, walnuts, and sunflower seeds. Don't even try to resist the baking displayed in the counter – it is definitely worth giving into. I love the Lemon Squares the most: rich, buttery shortbread crust covered with a luscious layer of tart lemon filling.
Order tea: a pot and a delightful vintage tea cup will arrive at your table with the rest of your order.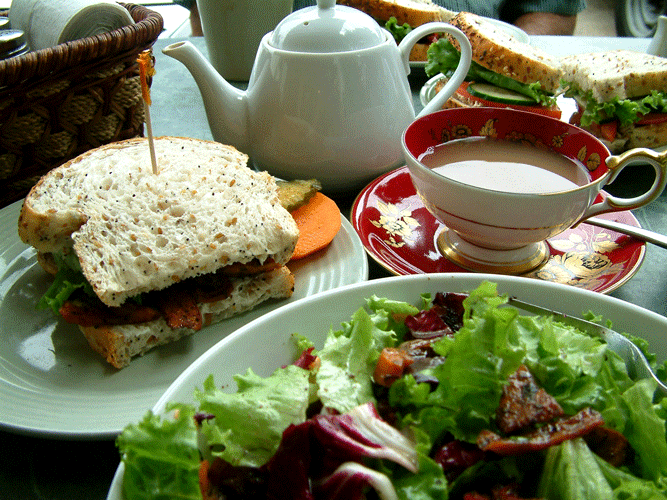 Eat inside or better yet, relax in the shade of the big trees on the outdoor porch. Leaves dancing in the gentle breeze on a warm, sunny day – it just feels so summery, so carefree.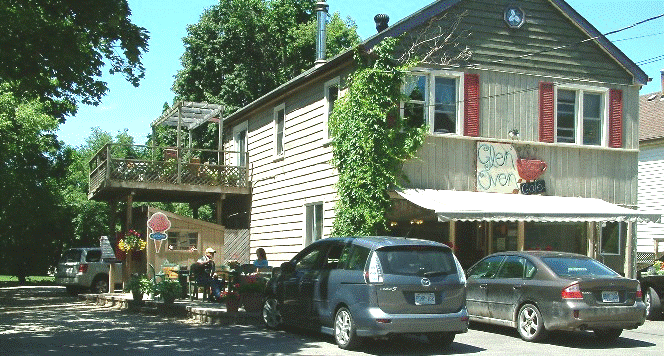 Allow enough time to poke in the antique book shop (Reeve & Clarke Antiquarian), marvel at the glassblowing (Glen Williams Glass), and shop for one-of-a-kind art by Canadian artists (Williams Mill Visual Art Centre), or get lost in booth after booth of vintage treasures at the Beaumont Mill Antiques & Collectibles Market. A stroll beside the tranquil Credit River is always good for the soul (Glen Williams Park).
The Glen Oven Café
520 Main Street
Glen Williams, ON L7G 3S8  
Telephone:
905-873-0940
Facebook:

https://www.facebook.com/TheGlenOvenCafe?fref=ts
The Glen Oven Café has a second location in historic downtown Georgetown, The Glen Oven Tea Room. It offers lunch and afternoon tea. Catering available.
The Glen Oven Tea Room
98 Main St S,
Georgetown, ON L7G 3E4  
Telephone:
289-891-8833
Facebook:
https://www.facebook.com/theglenoventearoom?fref=ts
Read More