What makes my labours on this blog so rewarding are the exceptional people I discover. Perhaps the most inspirational is the poised and passionate Hoda Paripoush, founder and director of Sloane Tea Company. A Toronto-based alliance of boutique fine tea merchants, certified Tea Sommeliers, and culinary experts, Sloane Tea Company represents a guild of small-batch, premier tea gardens throughout the world.
Hoda's passion for tea is rooted in her childhood. Of Persian descent but born in India, she was raised in a family of tea lovers, who come from a land of tea gardens and perfumed flower blossoms. After her family immigrated to Brockville, a very young Hoda experimented in her mother's kitchen, blending her tea with aromatics within her reach (orange blossom water, ginger, rose water or cardamom).
As a creative and ambitious young adult, Hoda studied perfumery in Grasse, France (the world's perfume capital) and became a certified Tea Sommelier. Hoda now travels the world in search of the finest teas, individually sourcing them directly from point-of-origin. In the process, Hoda has built genuine, close-knit, and exclusive relationships with the world's most esteemed artisanal tea gardens. Hoda brings these splendid loose leaf teas back to Canada. Using her perfumery expertise and exotic ingredients (such as herbs, flowers, and real fruit pieces), Hoda and her team of certified Tea Sommeliers and culinary experts blend some of the leaves into ambrosial teas with fragrant top, heart, and base notes that linger and enchant; others are offered unblended, straight, pure, and stunning. Hoda insists on perfection every step of the way, from crop to cup.
Sloane Tea selections are categorized by taste (citrus, sweet, fresh, spicy, floral, or creamy) or by type (white, green, oolong, black, herbal, and iced). Estate Reserve teas are rare, limited production, hand-rolled artisan teas from premier estates. Each tea is packaged in gorgeous tins with designs inspired from something meaningful on Hoda's travels: a vintage Japanese kimono was the inspiration for one design.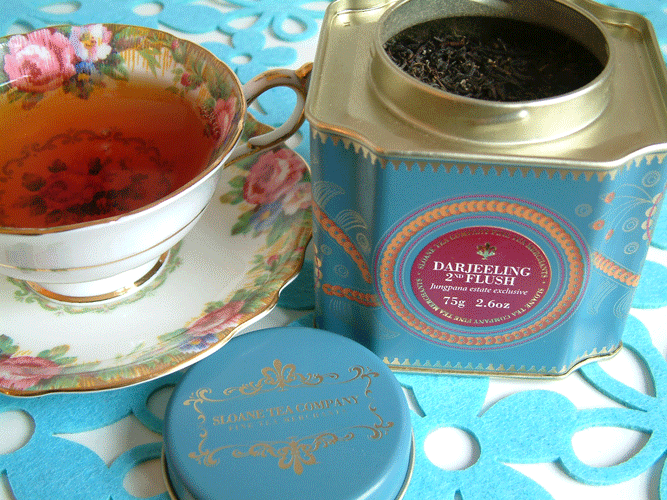 I could pick a different Sloane tea to delight my every mood. My top favourites include the unblended, medium-bodied Estate Reserve Darjeeling 2nd Flush black tea, revered as the "champagne of teas". Its designation of origin, highly prized tea leaves are plucked between May and July on the award-winning Jungpana Estate in Darjeeling (Sloane has the exclusive North American rights). I find it slightly brisk and incredibly refreshing.
Both my husband and I are enamoured with the silky Signature Blend Oolong Crème and its fragrant, buttery sweetness that reminds me of a hint of dulce de leche. Hoda shared a wonderful legend about this tea:
 "This signature oolong from the Wuyi Mountains in China is said to have come about when the moon fell in love with a comet. The comet passed her by, as comets will do. The moon cried milky tears which chilled the tea fields, withering the leaves and giving them a delicate creaminess."
Hoda says Oolong Crème is also remarkably refreshing steeped as an iced tea. Scroll to the end of my post for Hoda's Iced Tea Brewing Instructions.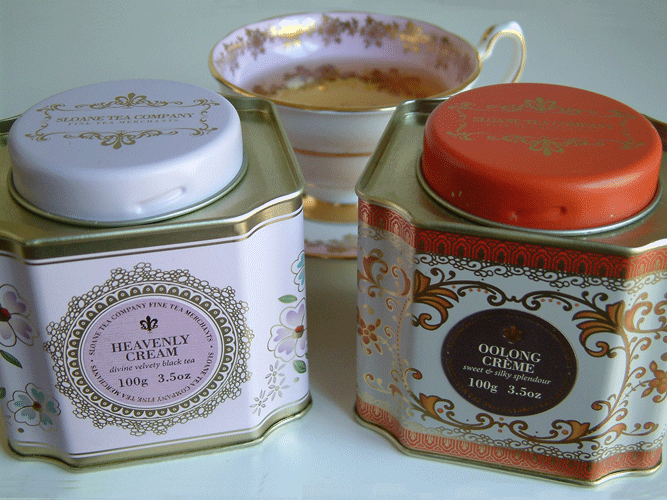 Sloane's most popular tea, Heavenly Cream, is a medium-bodied, smooth and creamy, long leaf Ceylon black tea blended with hints of bergamot and vanilla. It's especially rich with a splash of whole milk.
The Shop For All Reasons recently invited Hoda to present her teas at Tea 101, second in a series of informative tasting seminars from some of The Shop For All Reasons' outstanding suppliers. Hoda taught us how to taste tea (called cupping by the industry): taste with your nose first, inhaling the fragrance, and then sharply slurp the tea into your mouth, sucking in oxygen and rolling the tea along your tongue to reach all of your taste buds. We compared the exquisite notes between six of Sloane's delicious teas.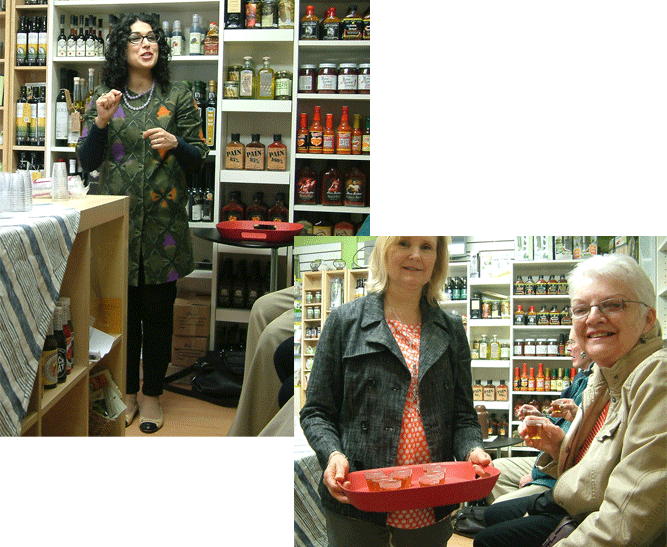 I learned so much about tea. Black, oolong, green, and white teas are derived from the same plant, Camellia sinensis; the differences between them are the result of different levels of oxidation. More importantly, they need to be brewed using different temperatures of water; the easiest and most precise method is to use the Breville IQ Kettle (a variable temperature control kettle). Brewing instructions are on the bottom of each Sloane tin.
The Shop For All Reasons has apothecary jar testers (taste with your nose) of each of the teas in Sloane's line. Drop in and marvel over the fragrant differences between each tea.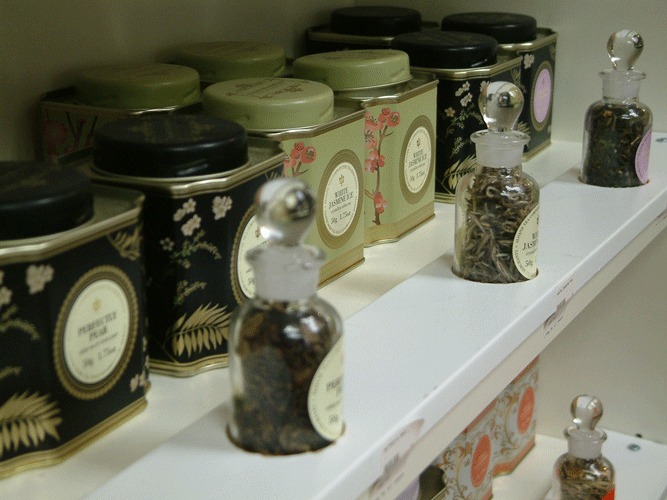 A luxurious Mother's Day gift for the tea lover, Sloane Tea will transport Mom to an estate of old-world luxury (Downton Abbey's Carson not included). And the tins are so elegant I am willing to bet she'll find another use for them once they are empty.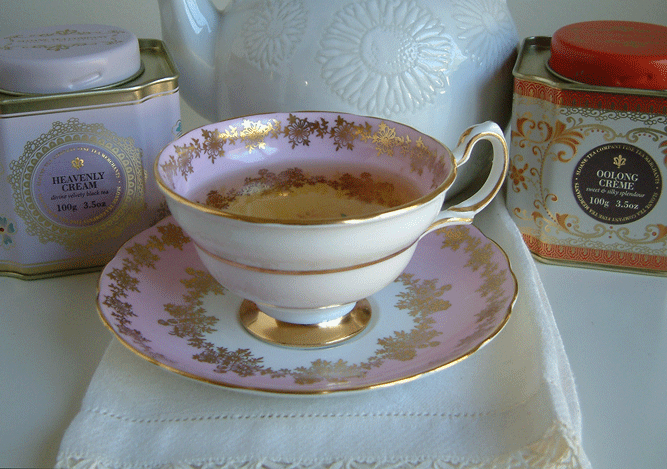 Hoda's Iced Tea Brewing Instructions (to make 1 litre/quart)
Boil 2 cups of water and pour over 7 tsp. (approximately 14g) of tea, in a heat-safe pitcher.
Steep for 12 min and then fill with 2 cups of cold water.
Remove tea leaves (Sloane Sachet) from pitcher.
Garnish with fresh mint, blueberries, or citrus slices.
Where to buy, how to make the perfect cup of tea, and more on Sloane's website: http://about.sloanetea.com
Follow Hoda on Twitter and Facebook for information on upcoming Sloane Tea tasting events. Laura from Laura Slack Chocolates and Hoda will be conducting a Tea & Truffle Pairing at the Toronto Botanical Gardens on May 11th.
Twitter: https://twitter.com/sloanetea
Facebook: https://www.facebook.com/sloane.tea
For upcoming supplier seminars at The Shop For All Reasons, visit their website or sign up for their newsletter.