Okay, I admit it: I've never been to Myanmar and so…have no memories of it. Instead, I live vicariously through people like award-winning Canadian culinary travel writer Naomi Duguid and CNN's Anthony Bourdain, who guide us through the doors of a country whose society is now opening up after 50 years of isolation, and introduce us to the seductive flavours of its exotic cuisine.
Anthony Bourdain's engaging episode on Myanmar (formerly Burma), from his show Parts Unknown, awoke in me an appetite for Burmese cuisine – a distinctive and delicious melting pot of flavours influenced over time by Myanmar's bordering countries of India, China, and Thailand. I love the concept of Burmese salads: condiments may be sprinkled on bite-by-bite to make each mouthful a different combination of textures and flavours suited to individual tastes. So I created a salad tailored to my taste, loosely inspired by what I saw on the show but simplified, using ingredients I could easily find here.
Since then, I happened upon Naomi Duguid's gorgeous book Burma: Rivers of Flavor while browsing in Indigo recently. The photographs drew me in and the recipes won me over; I've been pouring over it ever since. Warming Beef Curry with Tomato is an easy, comforting recipe using commonly found ingredients. The Red Chile Powder recipe is a cinch to make and has a bright heat that creeps up on you, leaving you blanketed in warmth. Next I am going to make the Paneer in Tomato Sauce and the Tart-Sweet Chile-Garlic Sauce so my husband will stop using the grocery store brand that is full of preservatives (he uses it like ketchup). And doesn't the Intensely Green Spinach & Tomato Salad with Peanuts sound delicious? If you would like to travel vicariously down the rivers of Burma – "the rivers of flavor" – and want to try your hand at authentic Burmese cooking, Ms. Duguid's well-researched book is your passport. Thank you, Ms. Duguid, for bringing the flavors of Burma into our kitchens.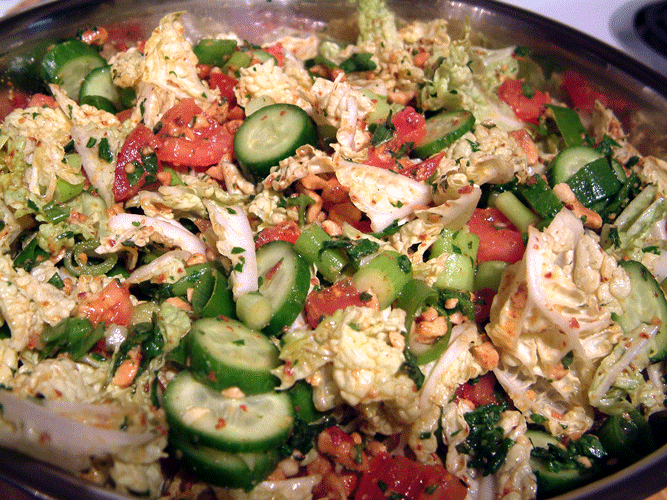 Memories of Myanmar: Olive's Spicy Tomato Cabbage Salad
Serves 6-8
This is the kind of salad that you'll want to make when you are not in a rush, perhaps on a lazy Saturday afternoon when you have a hankering for something spicy to liven up your Saturday night dinner. We think it's refreshing and exotic, even if it's not an authentic recipe.
Naomi Duguid's book, Burma: Rivers of Flavor, includes an authentic recipe for Burmese Tea-Leaf Salad, the type of salad which inspired my recipe. Yes, the authentic recipe calls for fermented tea leaves (unlike my recipe). Ms. Duguid describes it as a dazzling salad and Burma's national dish. She included it in her book as "an act of optimism, in the hope that fermented tea leaves will soon become more widely available". I'm on the hunt! I've asked at T&T Supermarket and my little local Indian grocery store and so far, have come up empty-handed. I sent an e-mail to the Myanmar Cultural Association of Brampton, hoping that they can lead me in the right direction. If I find some, I am going to try Ms. Duguid's recipe.
Salad Ingredients:
12 cups shredded Napa cabbage (1 medium cabbage)
1 bunch fresh coriander (large stems removed), finely chopped
15 fresh mint leaves, finely chopped in ¼ teaspoon coarse salt
1 bunch green onions, sliced thin
2 cups seeded, finely chopped or julienned fresh tomatoes
6 mini cucumbers, sliced
Crunchy Bits:
1 cup roasted and salted peanuts (I use Spicy Peanuts from the nut counter at Adonis Mississauga to add a little extra heat)
2 tablespoons toasted sesame seeds (olive the Suma brand that is already toasted – see photo below)
Dressing Ingredients:
2 cloves garlic
2 teaspoon ground turmeric
½ teaspoon ground cayenne pepper or homemade red chile powder to taste
2 teaspoon white sugar
½ teaspoon sodium-reduced soy sauce
2 tablespoons rice wine vinegar
Juice of 2 limes
3 tablespoon peanut oil or olive oil
Optional Accompanying Condiments:
Moong Dal (fried salty split green mung bean snack – see photo below)
Extra ground cayenne or homemade red chile powder or your favourite Asian chili garlic sauce.
Extra minced fresh garlic
Directions:
Place salad ingredients in an oversized salad bowl. If you don't have one, divide salad ingredients evenly between two large bowls to give you enough room to toss on the dressing. Once dressed, the salad will fill just one large bowl.
Place peanuts in the bowl of a small food processor; chop by pulsing briefly 3 or 4 times, until you have a mix of chopped nuts and ground nut powder; place in a separate serving bowl and set on table. Place the toasted sesame seeds in a separate serving bowl and set on table.
Without washing out bowl, place first 7 dressing ingredients in the bowl of the same small food processor; process until garlic is finely minced. Add oil and blend thoroughly.
Pour dressing on salad; toss thoroughly. Serve immediately, with bowls of the crunchy bits and optional condiments on the side for guests to add individually, to their own taste.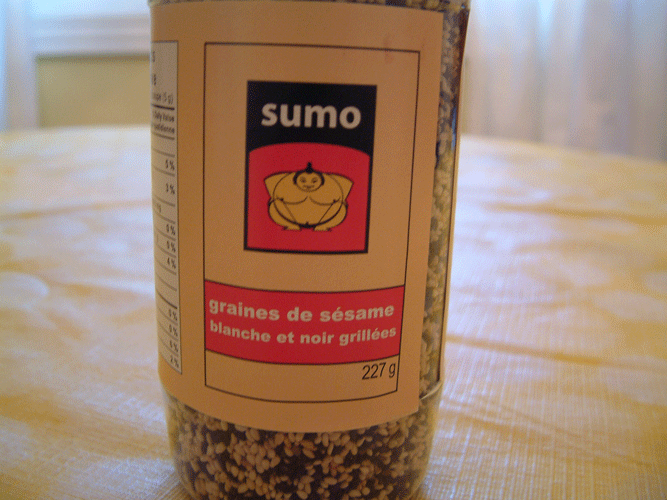 Sumo brand White & Black Toasted Sesame Seeds are widely available and are usually found at grocery store sushi counters.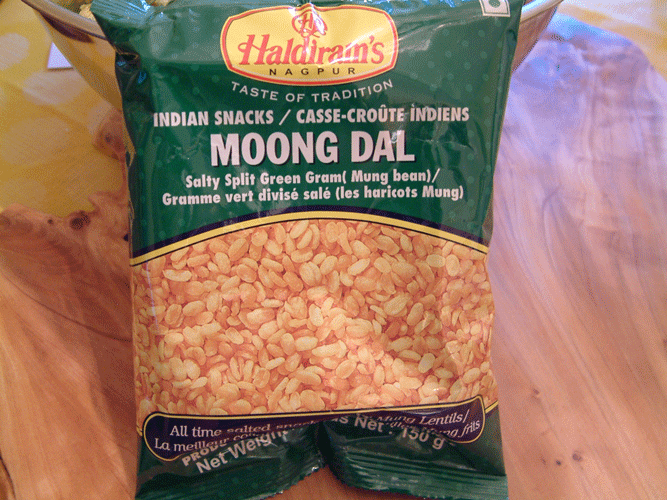 Moong Dal (fried salty split green mung bean snack) is available at Indian grocery stores and Loblaw's).
Read More