Longing to take your taste buds on a culinary adventure? Oakville's Machu Picchu serves delicious Peruvian and Latin fusion cuisine. Don't let the industrial strip of Speers Road mislead you – discovering the food at Machu Picchu may be as delightful as discovering the cloud-shrouded, ancient Incan, mountaintop city it is named after. My Peruvian friend, Pilar, recently took us on an expedition there for a fun girls' night out – and since then, we haven't stopped talking about how good the food was.
Frothy and tangy Pisco Sours (Peruvian brandy, lime juice, simple syrup, egg white, and bitters) and other Latin cocktails are a great way to start off the evening. Toasted Peruvian corn, "cancha", is a complimentary crunchy nibble served with drinks.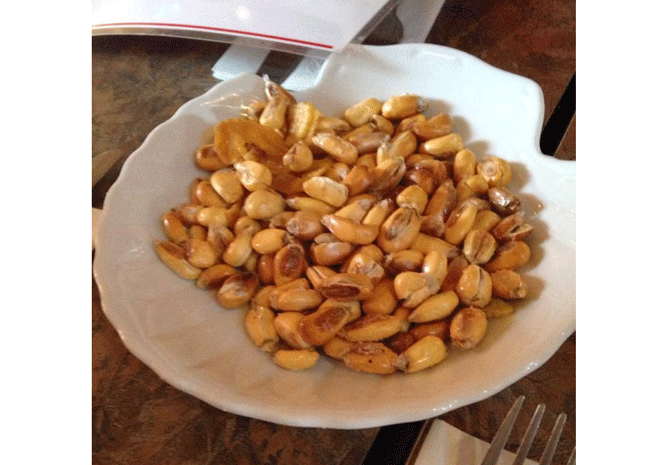 Peruvian cuisine has an Incan base, fused with Spanish, Basque, African, Japanese, Chinese, and Italian influences. Peru's signature dish is ceviche. Machu Picchu offers several ceviches on their menu.
Machu Picchu's Ceviche Mixto is utterly delectable: tender chunks of fresh shrimp, calamari, squid strips, and diced white fish cured in lime juice and Peruvian peppers and marinated in a sparkling dressing that is a delicious balance of tangy, spicy, and slightly sweet flavours with hits of fresh cilantro. Mouth-watering! Served with Peruvian corn (larger kernels), thinly sliced purple onion, luscious chunks of yam, and banana chips.
The aromas of the meat dishes passing by our table were so enticing that we shared Ceviche Mixto as a starter and ordered meat as an entrée. Seco de Carne is a slow-simmered stew with big chunks of fork-tender, full-flavoured beef in traditional Peruvian gravy laced with cilantro and beer. It's served with nicely seasoned rice and delicious stewed beans.
There is so much to choose from on Machu Picchu's extensive menu. Perhaps the Lomito Saltado (marinated filet mignon sautéed with onions and peppers) that my friend said was really good? Or the beautiful Arroz con Mariscos (Peruvian-style seafood rice dish prepared with a mixture of Peruvian peppers) that Pilar enjoyed?
Or Papa a la Huancaína (a traditional appetizer of sliced cold potatoes covered in a spicy cheese sauce)? Chupe de Camarones (shrimp chowder, only available Wednesdays through Sundays)? Or Chifa (Peruvian Chinese food served every Wednesday, starting July 16th)?
Go with an appetite for good food and fun: English and Latin karaoke on Friday nights, starting at 8:00 p.m. Live Latin music starts at 8:00 p.m. on Saturday nights.
There aren't any Peruvian cookbooks on the shelves at my Indigo, which astonishes me because it is such a flavourful cuisine created by a culture that loves food and cooks from scratch. I have just started to follow a blog on Pinterest, Peru Delights; the recipes look so good. Can't wait to try the Seco de Carne recipe. The authors (Morena Cuadra and Morena Escardo) have written a cookbook, The Everything Peruvian Cookbook, which is available on-line at Indigo and Amazon but I haven't seen a hard copy yet. Check out my Grocery/Gourmet Store Directory under Grocery/Gourmet Markets/Ethnic/Latin American for a listing of Latin American markets in our region. Don't be shy to ask questions; the owners would be more than happy to share their cooking tips. Of course, the best way to learn about Peruvian food is to make a Peruvian friend – they'll enrich your life and your cooking!
Machu Picchu
1272 Speers Rd. Oakville, ON L6L 2X4  
Telephone:
(905) 847-2228  
Website
:
http://www.machupicchucuisineofoakville.com/
Facebook:

https://www.facebook.com/MachuPicchuRestaurantOfOakville
  Check website for business hours.      
Read More