Kick off summer with a Canada Day celebration featuring Olive's finger lickin' Kansas City-style Barbeque Chicken. We used to steer away from barbeque sauce and chicken – a combo that left the poor bird burnt on the outside and flavourless on the inside. But over the years I have researched, tested tips, tweaked my method, and ended up with a recipe that we love (scroll to the bottom).  Hope you will too.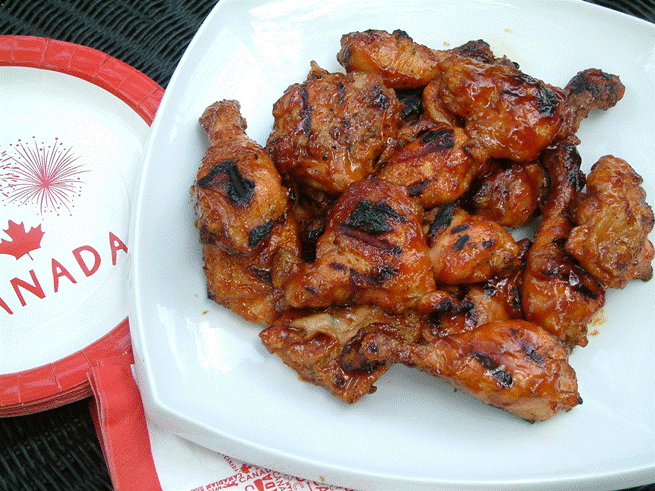 Finish off your barbeque with the quintessential Canadian dessert: the all-Canadian butter tart. I overheard some American tourists wondering why we Canadians love these gooey, runny tarts so much (they don't have them in the US). I suggested they head straight to Kate's Town Talk Bakery for the answer. Small batch, baked from scratch, using a tried and true recipe passed down from Kate's Grandma Doris. A tasty crust that doesn't collapse and spill filling all over you. Filling that isn't all drippy nor cloyingly sweet, but caramelizes around the edges into chewy, toffee bliss. Now that's my idea of a great butter tart! Available plain or with raisins or pecans; mini or regular sized.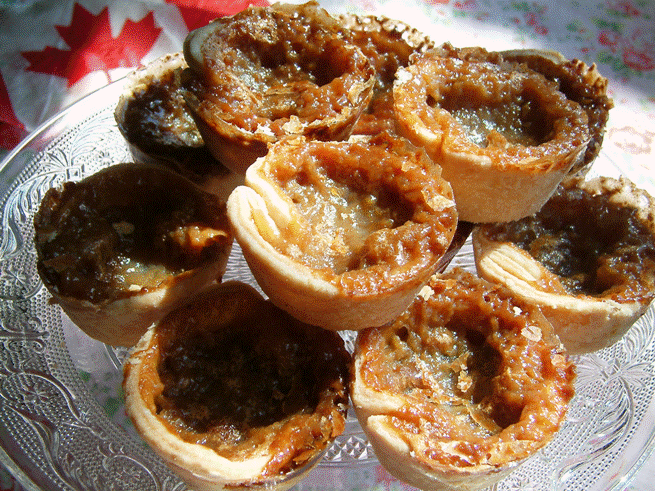 Olive's Kansas City-style Barbeque Chicken
Serves 4 (2 small pieces of chicken each – recipe easily doubled)
Part of my method comes from a recipe clipping that I think appeared in one of my favourite cooking magazines, Cuisine At Home, a few years ago (Root Beer Barbeque Chicken). The chicken is fully roasted in the oven first and then dipped in the barbeque sauce to absorb the flavours, and then grilled immediately.
I pour my Kansas City-style Barbeque Sauce recipe over the hot roasted chicken, put it in the fridge for several hours to marinate and chill the meat, then grill it cold out of the fridge, dipping it back into the sauce each time I turn it on the grill, building up a caramelized crust while I warm the meat. Most of the work is done ahead; it just takes a few minutes on the grill. The end result is flavourful meat with a lovely caramelized crust. The perfect barbeque party chicken.
If you want to serve my Kansas City-style Barbeque Chicken with my Kansas City-style Barbeque Ribs, make my Big Batch Kansas City-style Barbeque Sauce and prepare the ribs in the oven the day before. The next morning roast the chicken and chill it in the sauce. Just before serving, take the ribs and chicken out of the fridge and put them straight on the grill for a few moments, as directed.
Ingredients:
4-5 chicken drumsticks (bone-in, skin-on)
4 chicken thighs (bone-in, skin-on)
1 tablespoon olive oil
Coarse salt
Freshly ground black pepper
2 cups Olive's Big Batch Kansas City-style Barbeque Sauce (see August 2013 post)
Directions:
Two to six hours before grilling:
Preheat oven to 375°F. Arrange chicken pieces on a parchment-lined, rimmed baking sheet. Brush oil on chicken to coat evenly. Season well with coarse salt and freshly ground black pepper. Roast chicken at 375°F until juices run clear and skin is golden brown, about 40 minutes.
Meanwhile, in a medium saucepan over low heat, heat the barbeque sauce gently, stirring occasionally.
As soon as chicken is cooked, put the hot chicken in a heat-proof casserole dish; immediately pour warm barbeque sauce over hot chicken to coat evenly (use all of the sauce). Cover. Chill in the refrigerator for at least 2 hours but preferably up to 6 hours.
Just before serving:
Preheat grill to medium-high. When ready to grill, place chicken in sauce next to grill. Remove each piece with tongs, let excess sauce drip off, and place directly on a clean, well-oiled grill (keep tray of sauce beside grill to dip again). Grill for a few minutes.
Remove each piece from grill and dip in sauce again. Return chicken to grill, turn over, and grill for a few minutes. Grill just until sauce has caramelized, skin is slightly charred, and chicken is hot throughout, about 5 to 10 minutes (dip chicken back into sauce each time you turn it on grill). Serve immediately.
Kate's Town Talk Bakery
206C Queen Street South
Streetsville, ON
L5M 1L3  
Telephone:
905-821-1166
Website:
http://www.katestowntalk.ca/
Read More