For the past three years, Streetsville United Church Sunday School has served a cup of kindness to our treasured seniors at our annual Seniors' Tea. With the help of the children and their wonderfully supportive parents and teachers, we pull together a free lunch of tea sandwiches, dainty desserts, hot tea, and lemonade.  Here is how we do it:
Make cups of kindness cards (download paper teacup pattern here) using pretty patterned paper (cardstock purchased at Walmart), an x-acto knife, and glue. Fill each cup with a couple of paper hearts decorated by the children and one tea bag. Make one cup for each place setting.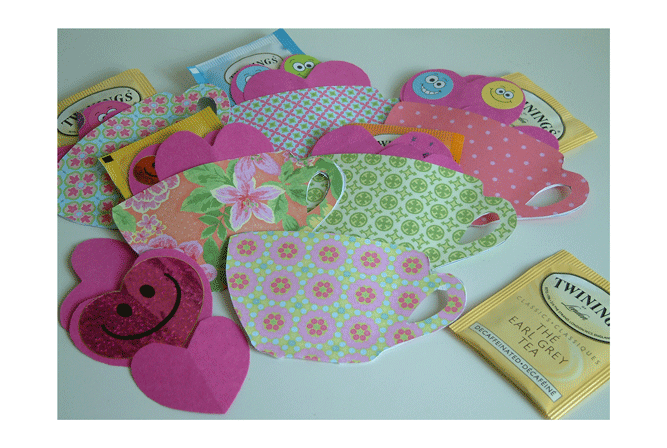 Gather up the children. Have fun creating beautiful tissue paper flowers (instructions here – no need to snip the ends to make a petal shape). Don't they look like they belong in Monet's garden?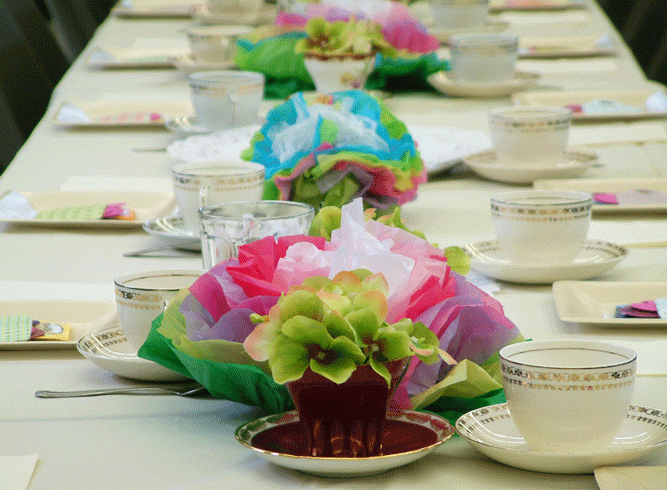 Put out a plea to the congregation for donations of unwanted, pretty, fine china teacups. If you like, glue the bottom of the cup to the saucer using a hot glue gun.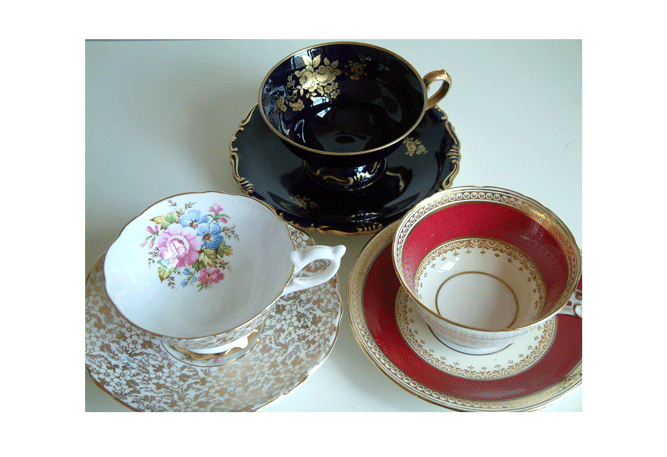 Place a cheap but cheerful dollar store flower blossom in each cup (Dollarama is a good source). Offer them to the seniors as take-away gifts; take out the flower and use the cup as a jewelry holder or candy dish.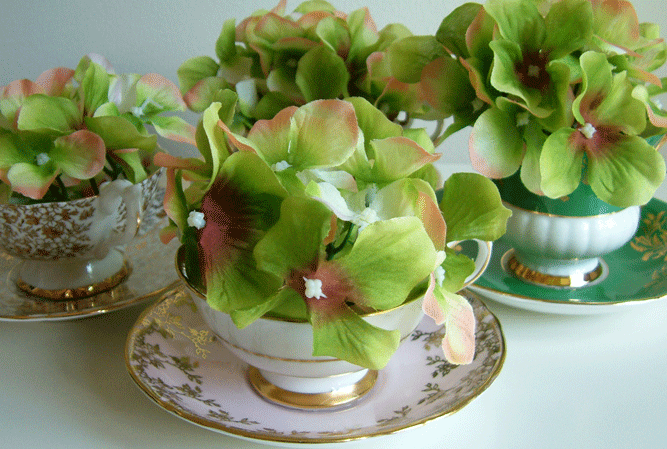 Set tables in cream-coloured tablecloths, plates, napkins, and tea cups (tablecloth, plates, and  napkins found at Party City). Place one cup of kindness card at each place setting. Evenly space flower-filled china teacups down the centre of the tables. Add bursts of colour with tissue paper flowers. Leave enough space for serving platters and tea pots. Don't forget teaspoons, milk, and sugar.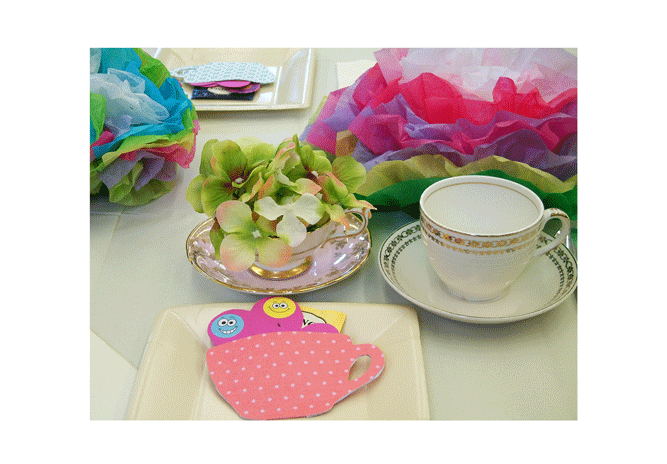 Ask the Sunday School parents to contribute homemade tea sandwiches, cookies, and squares. Scroll to the bottom for instructions on making and cutting tea sandwiches. Cookies and squares should be delivered already cut in small sizes; make enough for each person to have a total of three or four pieces. Arrange assortments of sandwiches and an assortment of desserts on large platters to pass around during the tea. Make sure your platters are light enough for children to carry and line them with paper doilies (Party City is a good source for both). Ask someone to bring raw veggies (cut in small pieces) and someone else to bring tea, milk, sugar, and lemonade for the kids.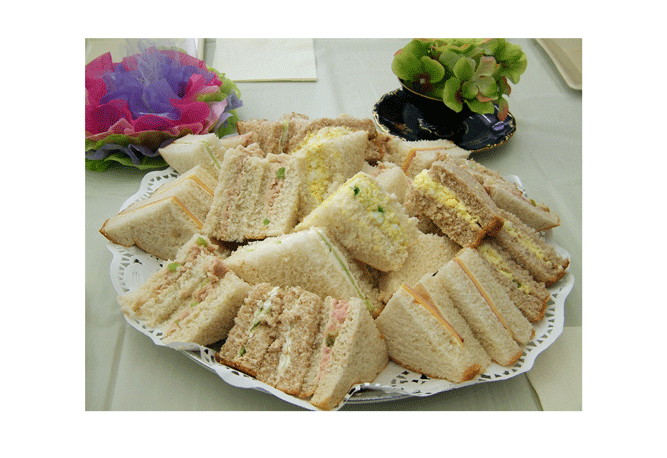 Round up some parents to help cut the sandwiches and arrange the platters just before the tea begins (you may need them to bring cutting boards and knives). Ask the kids and parents to help serve at the tea and help clean up after too.
Make an announcement several weeks in advance, inviting the seniors of your congregation to join you for tea; ask them to sign-up in advance so you can get a good idea of the numbers. On the day of the event, greet them with smiles. Pour them a cup of kindness. Sit and enjoy the luncheon together. Your friendships will blossom and I bet that it will turn out to be just as heartwarming an experience for you as it is for the seniors.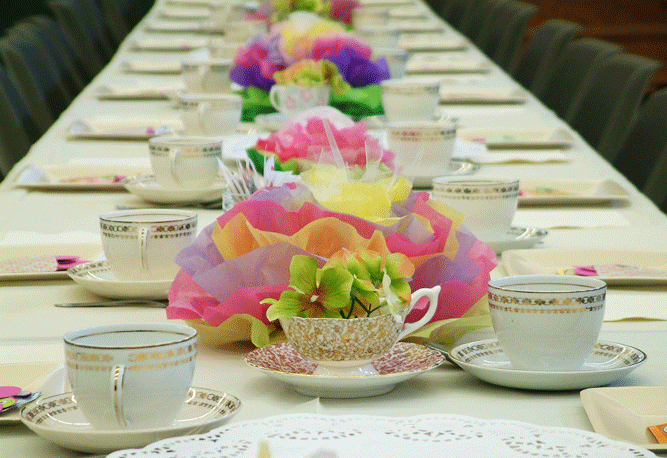 Simple Tea Sandwich Instructions
The Streetsville UCW taught me how to keep the sandwich making simple and fuss-free while keeping the sandwiches as fresh as possible (they have lots of experience serving luncheons to large groups at funerals). Be sure to scroll to the bottom for important How to Make the Sandwiches and How to Cut the Sandwiches instructions, as well as useful Sandwich Calculations.
Keep the fillings traditional and not too adventurous so that both old and young will enjoy. We make egg salad, ham salad, tuna salad, cream cheese and cucumber. Lettuce will wilt and get mushy and other toppings will make the sandwiches gloppy and soggy, so don't add them. I've included my Mom's super easy recipe for Ham Salad Sandwiches.
Ham Salad Sandwiches
I loved opening up my school lunch bag to find one of my Mom's ham salad sandwiches. This recipe makes enough filling for one loaf of sandwiches.
Ingredients:
2 tins (156 g each) Maple Leaf Flakes of Ham
1/3 cup (scant) real mayonnaise
1/3 cup (scant) sweet green relish
1/4 cup butter, softened to room temperature
1 loaf of thinly sliced sandwich bread
Instructions:
Open, drain, and discard liquid from cans of ham. Add ham to a medium bowl; mash with a fork to break into flakes.
Add mayonnaise and relish; mix thoroughly.
How to Make the Sandwiches:
Save the plastic bread bag and tie. Do not cut the crusts off the bread; leave the crusts on. Remove and discard outer ends of loaf.
Spread butter lightly and evenly over one side of each remaining slice (spread to edge of the crust). Spread sandwich filling evenly over half of the slices. Top with 2nd half of buttered slices. Press down lightly.
Do not cut the crusts off the bread. Do not cut the sandwiches. Assemble the whole sandwiches back into a loaf and place the whole loaf back in the plastic bread bag and seal it tightly closed. Refrigerate for at least one hour, until ready to serve. Can be made the night before.
How to Cut the Sandwiches Just Before Serving:
Just before serving, cut each whole sandwich into 4 triangle-shaped sandwiches. We leave the crusts on to avoid wastage.
Arrange an assortment of sandwiches on platters with pointed ends visible.
As each platter is filled, cover it completely with lightly dampened, clean J-Cloths and then seal with a covering of plastic wrap to prevent the sandwiches from drying out.
Once all of your platters are ready, remove the J-Cloths and plastic wrap and serve immediately.
Sandwich Calculations:
We allow 6 small tea sandwiches per person (which equates to 1½ full-sized sandwiches cut into 6 tea sandwich triangles, using 3 whole slices of bread). We always have some leftover but like to have extra in case any seniors, who haven't signed up in advance, decide to come at the last-minute; people are more than happy to take home any leftovers. The average loaf has 16 slices of bread (crusts excluded) which will make 8 sandwiches.
# of guests (seniors, children, and adult helpers) × 1.5 tea sandwiches = total # sandwiches
total # sandwiches ÷ 8 sandwiches per loaf = total # loaves required