Milton, you are in for a real treat! Streetsville's gem of a restaurant, Saucy, will open a second location in Milton soon. The launch party is scheduled for Sunday November 2, 2014. Saucy has been our favourite local spot for celebration meals since it first opened its doors in Streetsville in November 2000. Why? The chef's talent for creating brilliant flavour combinations shines through on plate after plate. Here is just a taste: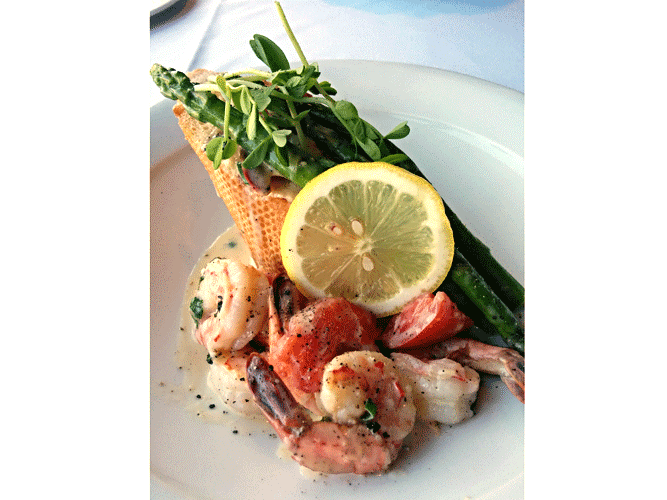 Pernod Prawns: My favourite appetizer at Saucy and quite possibly in my universe. Not on the menu anymore but if you ask, the chef will graciously make it for you bang on perfect every time. A beautifully composed plate of plump shrimp in a sublime, creamy Pernod sauce with a hint of anise, accented with soft chunks of tomato and chopped chive. Spooned over a soft but wonderfully chewy, grilled garlic baguette – perfect for mopping up the sauce. Garnished with tender-crisp asparagus, lemon, and fresh pea shoots. It just doesn't get any better than this.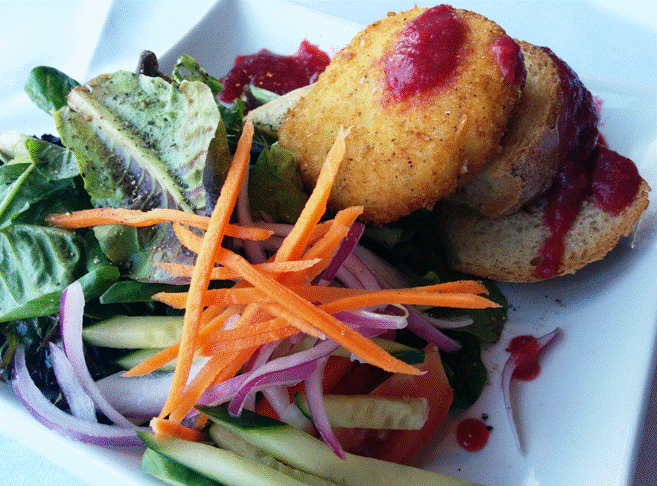 Crispy Goat Cheese: A swoon-provoking, generous pillow of warm, panko-crusted, creamy chèvre. Garnished with a dollop of sweet raspberry compote. Crostini and balsamic-dressed mixed baby greens on the side.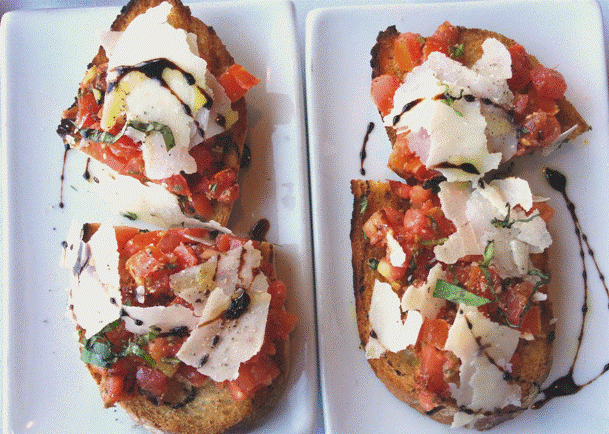 Bruschetta: Juicy, marinated Roma tomatoes on two pieces of creamy garlic toast, topped with plenty of paper-thin, shaved parmesan. Garnished with fresh basil chiffonade. Drizzled with balsamic glaze for a touch of sweetness.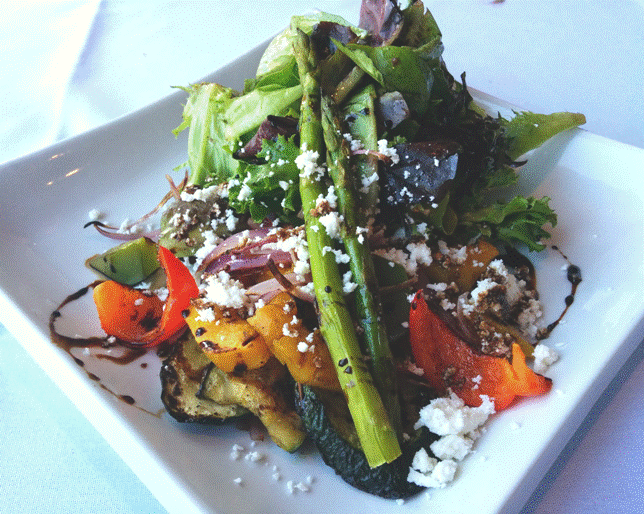 Roasted Veggie Salad: A colourful medley of roasted butternut squash, asparagus, red onion, zucchini and sweet peppers with baby greens, dressed in a well-balanced vinaigrette. Sprinkled with crumbled feta cheese and drizzled with balsamic glaze.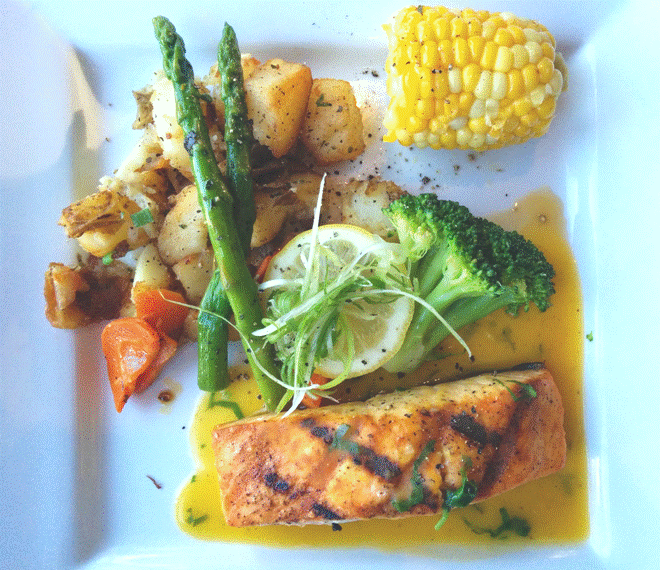 Grilled Salmon: Nicely grilled and finished with a velvety sauce of puréed butternut squash, sweet maple, and ginger. Roasted garlic potatoes have a delicious crispiness on the outside. Flavourful seasonal vegetables are perfectly cooked.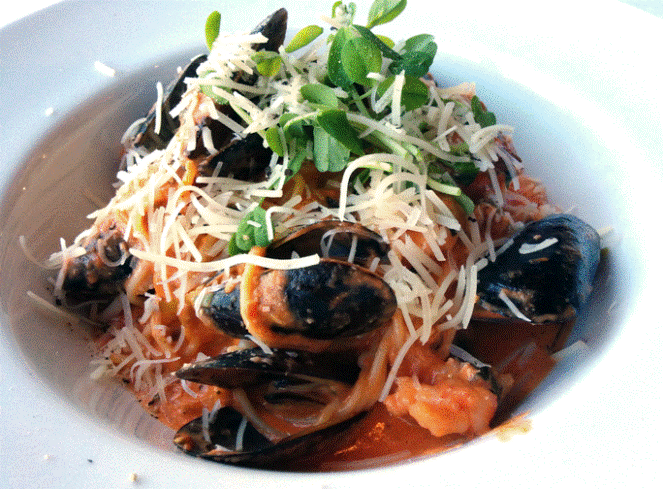 Seafood Pasta: Seared shrimp, PEI mussels, and clams over spaghetinni and spinach, tossed in a dreamy goat cheese and basil rosé sauce. Garnished with fresh pea shoots.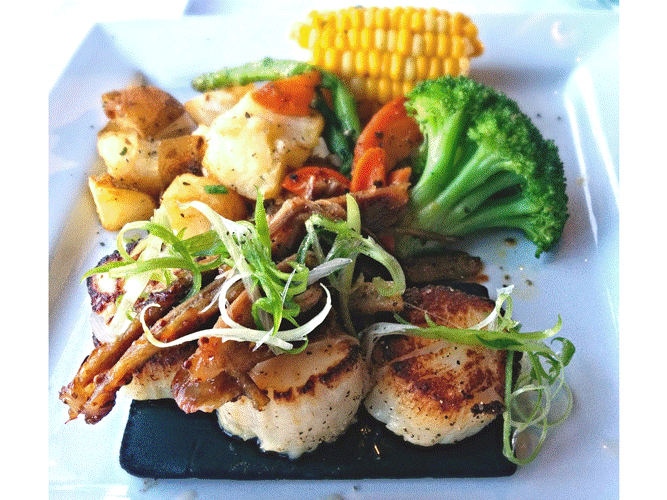 Cedar Plank Scallops: Billowing scallops seared to absolute perfection, caramelized on the outside, tender on the inside; the focus simply on their buttery, nutty sweetness. Big, clean flavour that try as I might, I just can't stop thinking about. Garnished with sweet shards of honey Dijon pork shoulder, rosemary mirin vinaigrette, and curly green onion.  My son kept begging for my pork but I didn't mind because the scallops on their own had swept me away.
Recently renovated dining room decor is simply-stated casual elegance – perfect for a business lunch or a special night out. Better acoustics now with modern lux fabric panels and rich drapery. Wrap around floor-to-ceiling windows with nice view of treed park. Late night casual lounge. Summertime sidewalk patio.
Visit Saucy's website for locations, hours, and menus.
Website: www.saucyinstreetsville.ca
Facebook: www.facebook.com/SaucyInStreetsville
Twitter: https://twitter.com/SaucyGrill
Read More