UPDATE: Crawford's Village Bakery is closing November 30, 2014.

Happy Easter! This week, I've got notes on my ham and tips on potatoes and homemade desserts for your Easter feast, including a treasured heirloom recipe I served at our family Easter last weekend. Please scroll to the bottom for the recipe.
But first, here are some ways to put a little spring in your step this Easter. Easter is in full bloom at Terra Greenhouses – just look at the sea of gorgeous pink or blue hydrangea blooms.

And of course, there's no place like Springridge Farm for Easter fun. Click here for what you need to know before heading out to Springridge Farm's Easter Festival, held on Good Friday April 18, Saturday April 19 and Sunday April 20, 2014: www.springridgefarm.com/easter-egg-hunt.htm (be sure to check out the video link). Say hello to the baby chicks.
Every Easter, Starsky Fine Foods sells these adorable baked lambs that make a sweet table decoration.  And look at the colourful Easter palms.

You can find pussy willows at Herridge's Farm Fresh Market, which opened yesterday.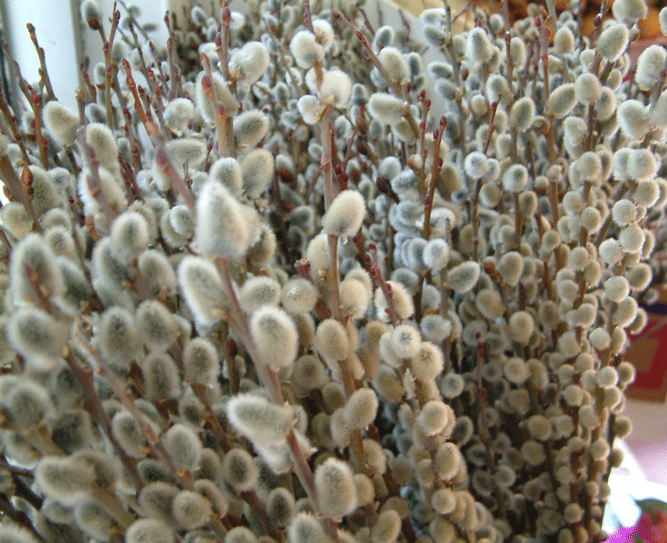 By the way, the quiches we ordered last week from Crawford's Village Bakery were as delectable as their pies: Crawford's famous pie crust filled to the brim with a generous, flavourful custard that wasn't too rich.
The Country Ham that I ordered from Heatherlea Farm Market was easy to prepare and I was pleased with the results. Basically, I just removed the skin, trimmed the fat and scored it, then placed the ham cut-side down in the slow cooker, added a bit of water, and let it slow cook until the fat rendered and the meat reached a safe temperature. After I let it rest, I glazed it according to the recipe (see Easter Feast: Part One), let the glaze rest, and then carved it. I have never smelled a more aromatic ham. It was so succulent and tasty straight out of the slow cooker. If you are planning on making this recipe, be aware that the six pound ham just fit in my oval seven quart slow cooker and served sixteen people with leftovers.
What goes better with ham than scalloped potatoes? If you are craving a casserole of thickly sliced potatoes in a rich and creamy sauce with lots of sharp cheddar cheese, I really like Chef Michael Smith's recipe: Potato Cheddar Casserole.
Herridge's Farm Fresh Market has Ontario greenhouse rhubarb, a harbinger of spring. Click here for an easy Rhubarb Torte recipe that will make a confident baker out of an apprehensive one and a rhubarb lover out of anyone: www.olivetoeat.com.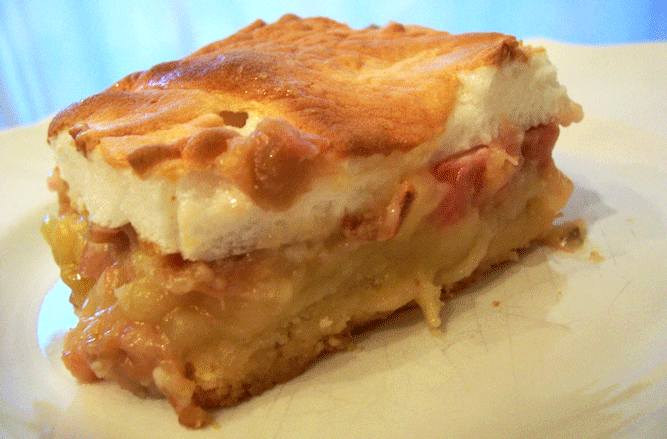 On her blog Cook Me Quick, my friend Carol posted the original recipe for the heavenly carrot cake that the Cheeseboard Café used to serve. Oh, I've got lots of good memories of waitressing with friends at the Cheeseboard during my school years; the food was so good that it sparked an interest in cooking in me. The Cheeseboard Cafe's Carrot Cake recipe can be found here: http://cookmequick.com/2013/10/02/cheeseboard-cafe-carrot-cake/
Here is what I made for our feast: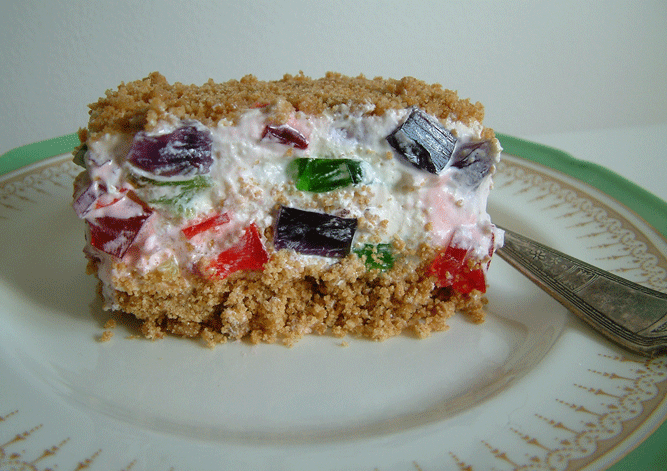 Grandma Brown's Broken Window Glass Cake
Makes one 9" x 13" pan, serving 16 +
I treasure my grandmother's handwritten recipe for this family favourite we used to serve every holiday. It's a ridiculously retro dessert but it's light, refreshing, and appealing to all ages. The colourful cubes of Jell-O look like a church stained glass window. I am reviving this cheery cake to our annual Easter feast with a tip of my Easter bonnet to Grandma Brown.
Grandma Brown preferred strawberry, cherry, and lime Jell-O for the cubes; I like to replace one red coloured Jell-O with grape if I can find it (Walmart) or orange. Make the Jell-O cubes early in the morning on the day before you plan to serve the dessert; they need to chill until firm before you fold them into the filling. Defrost the Cool Whip in the fridge while preparing the Jell-O. Later that day, finish the dessert and let it chill overnight.
Special Equipment:
3 (8") square pans
1 (9" x 13") rectangular pan
Ingredients:
Jell-O Cubes:
1 pkg. 3 oz. (85 g) grape or orange Jell-O
1 pkg. 3 oz. (85 g) cherry or strawberry or raspberry Jell-O
1 pkg. 3 oz. (85 g) lime Jell-O
Filling:
1 cup canned pineapple juice
½ cup white sugar
1 pkg. 3 oz. (85 g) lemon Jell-O
1 container (1 litre) frozen Cool Whip whipped topping, thawed or 2 cups whipped cream
Crust:
2 ½ cups Graham cracker crumbs
¾ cup (scant) brown sugar
½ cup melted butter
Butter for greasing pan
Directions:
Place the frozen Cool Whip in the fridge to thaw for 4 to 5 hours while the Jell-O sets.
Jell-O Cubes: Prepare the grape, cherry, and lime Jell-O separately; empty each flavour into three separate 8-inch square pans. Add 1 cup of boiling water to each pan; stir well to scrape gelatin granules from bottom of pan and dissolve thoroughly. Add ½ cup of cold water; stir thoroughly. Cover with plastic wrap; chill in fridge until firm, at least 3 hours. When firm, cut into 1/2-inch cubes (but leave in pan) and proceed with next steps.
Filling: Empty 1 package of lemon Jell-O in a large bowl; set aside. Place 1 cup pineapple juice with ½ cup sugar in a small pot and bring it just to the boil, stirring frequently; watch carefully and remove it from the heat as soon as the first bubble appears. Pour hot pineapple mixture over Jell-O and stir thoroughly until dissolved completely.  Add ½ cup cold water. Mix well. Chill in fridge to partially set (set your timer for every 15 minutes to stir and check for readiness); it should be partially thickened and cool but still in liquid state.
Crust: Meanwhile, mix crumbs with butter, and sugar; stir well. Set aside about 1 cup for garnish. Pat remaining crumb mixture firmly and evenly over the bottom of greased 9×13-inch cake pan to make a crust; cover with plastic wrap and refrigerate.
Fold Cool Whip into partially set lemon Jell-O. Gently fold in Jell-O cubes. Pour into graham cracker crust. Sprinkle reserved 1 cup of crumb topping over top. Cover with plastic wrap and chill until firm, at least 6 hours or overnight. Serve chilled the next day.