Unearthed at Streetsville Farmers' Market: local strawberries (oops I got so excited I forgot to take the photo), asparagus and garlic scapes,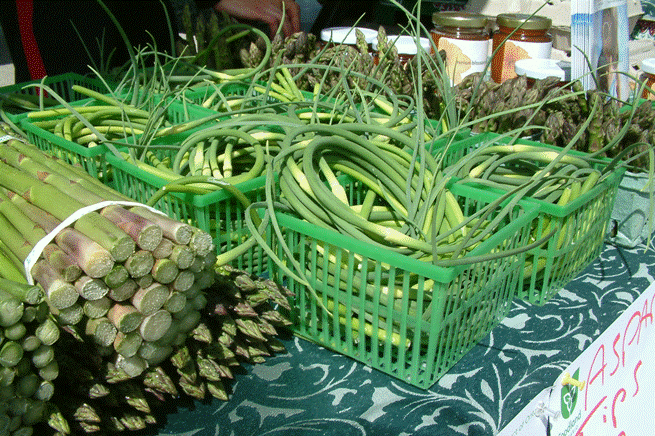 and – drumroll please – fruit strudel from local legend The Strudel Lady!! My friend has been raving about these strudels for ages.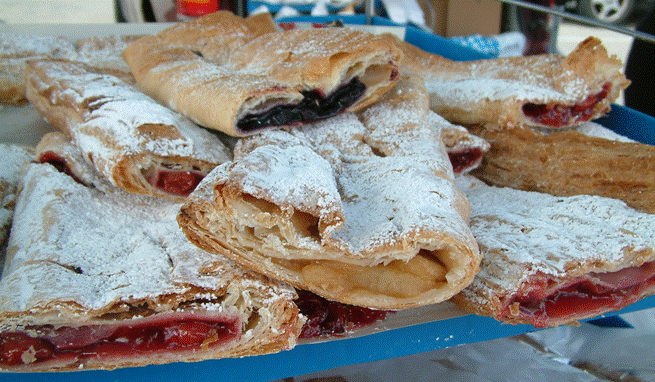 What makes The Strudel Lady's strudels so special? Fran's Mom's recipe, a special oven, and lots of homemade fruit filling using wild blueberries from Muskoka, or apples and cherries from Niagara.
Thanks to help from Fran's siblings and their children, The Strudel Lady strudels can be found at Aberfoyle, Georgetown, Milton, Mississauga Central, and Streetsville Farmers' Markets (check my Farmers' Market Directory for locations). If you don't see Fran's face at the market, just ask for The Strudel Lady.
Once the farmers' market season is over, The Strudel Lady sells at a few local craft shows, like Iroquois Ridge High School Annual Holiday Marketplace (Saturday November 1st, 2014). Loyal customers arrive in droves to pick up strudel to freeze for Christmas or winter enjoyment. Fran says it is a beautiful, juried craft show.
The Strudel Lady strudels are dairy-free, dye-free, and preservative-free. They will last about two days (including market day) on the counter or four to five days in the fridge. If well wrapped, they should last up to six months in the freezer. When ready to eat, warm the strudel for a few moments in a preheated 325ºF oven if you have stored them in the fridge or 4 to 5 minutes if they are frozen; it will crisp up the pastry nicely.
Streetsville Lions Friends' and Farmers' Market has moved to Centre Plaza (downtown Streetsville across from Shoppers Drug Mart). Thanks to the work of Christine Simundson, the market offers a good selection of seasonal fruit and vegetables, farm fresh eggs, baked goods, antibiotic/hormone-free meats, sausages (including bbq lunch), as well as dried seasonings, gluten-free goodies, jams, vintage treasures, handcrafted lip balm (olive the almond flavour), and the nicest Avon lady you'll ever meet. And more, including weekly special guests.
Streetsville Lions Friends' and Farmers' Market
Centre Plaza (same plaza as Shoppers Drug Mart in village of Streetsville)
128 Queen Street South
Streetsville, Ontario  
Website:
http://www.streetsvillelionsclub.ca/FarmersMarket.htm
Facebook:
https://www.facebook.com/pages/Streetsville-Lions-Friends-and-Farmers-Market