What is it about the scent of an orange that buckles me under with happy gratitude? Inspired by my favourite fragrance, Aqua Allegoria Mandarine Basilic by Guerlain, my Honeyed Oranges with Basil recipe is sparkling and fragrant. The spicy licorice note of fresh basil flirts with the sweet and juicy citrus; a luxurious drizzle of golden honey brings it over the top. What a cheery way to end a winter's meal when winter's end seems elusive. Don't get caught licking your plate!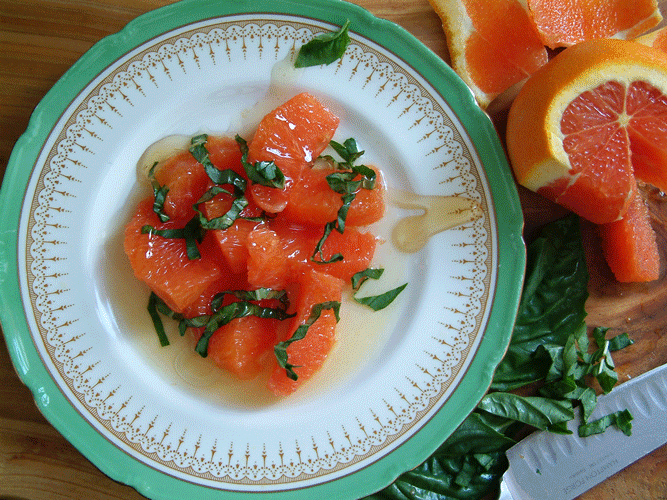 Honeyed Oranges with Basil
Serves 1 (easily multiplied)
Cara Cara oranges are an exceptional navel orange – so sweet and flavourful, they barely need any honey. President's Choice has a new Orange Blossom Honey that works wonderfully here; mellow with a light citrusy flavour, it's worth seeking out.
Ingredients:
1 Cara Cara navel orange (seedless)
1 large basil leaf
President's Choice Orange Blossom Honey or your favourite mild honey
Directions:
Cut top and bottom off of orange, slicing just deep enough to expose fruit. Slice off peel, cutting from top to bottom, removing white pith but leaving as much fruit behind as possible; work your way around the orange until all peel and pith have been removed (reserve peel). Run a sharp paring knife along each side of the membrane between each orange segment; remove segments and reserve.
Arrange segments on a pretty serving plate or glass cup. Squeeze peels over segments to extract juice from any fruit attached to peel.
Just before serving, roll basil leaf from edge to edge to form a tight roll; slice thinly, across the roll, into a fine chiffonade. Sprinkle basil over orange. Drizzle segments with a touch of your favourite honey. Serve immediately as a refreshing finish to a meal; or add a few walnuts and serve as a snack.