Put on some perky Edith Piaf tunes, quick up your heels, and throw open the windows while you clear out the cobwebs and welcome spring, even if it doesn't quite feel like spring yet.
Celebrate spring with an easy and healthy purée of sweet green peas, tangy lime, and fresh mint. A quick swipe on grilled baguette makes a fast lunch when you are busy with spring chores. A dollop on crisp cucumber makes a pretty spring hors d'oeuvre. Oh, Spring how we've longed for you. Happy, happy spring everyone!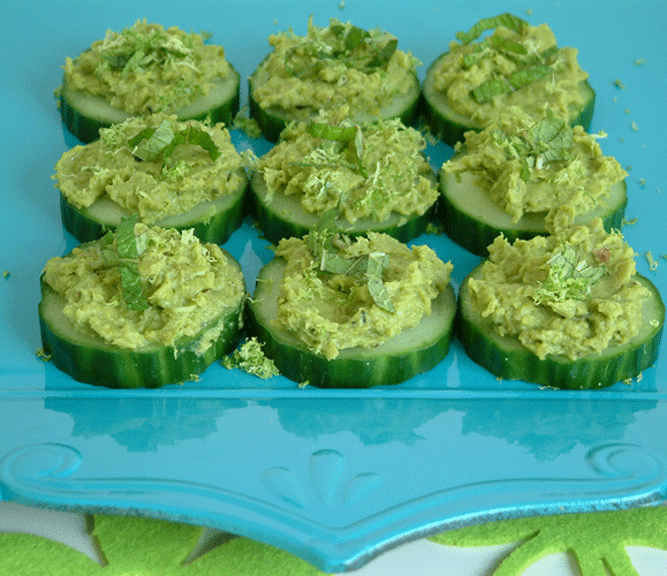 Lime Mint Pea Purée
Makes about 1½ cups
Make this delicious purée in advance and serve it chilled. The flavours will be brightest the day you make it but it will keep nicely in the refrigerator longer. Don't defrost the peas before you sauté them; take them straight from the freezer to the sauté pan.
Ingredients:
3 tablespoons olive oil (divided into 1 and 2)
2 shallots, minced
1 garlic clove, minced
1 package 340g / 12 oz. (3 scant cups) frozen green peas
1 teaspoon salt
Freshly ground black pepper, to taste
10 fresh mint leaves, chopped
1 lime (finely grated zest and juice)
Accompaniment:
1 English cucumber, thickly sliced
or
1 baguette, sliced and toasted
Garnish:
8 fresh mint leaves, julienned
Directions:
Heat 1 tablespoon of olive oil in a large non-stick skillet over medium heat. Add shallots; sauté until tender, stirring frequently, about 3 minutes. Add garlic; sauté for 15 seconds, stirring constantly. Add the frozen peas; sauté until peas are very tender, stirring frequently, about 6 minutes. Remove from heat.
Transfer mixture to a food processor. Add salt, pepper, chopped mint leaves, lime juice, lime zest, and 2 tablespoons of olive oil; purée until smooth.
Transfer to a covered, airtight container. Chill until ready to serve. Serve chilled, spread on toasted baguette or cucumber slices. Garnish with julienned mint leaves.