My BFF washed away my winter blues recently when she treated me to an afternoon at Hockley Valley Resort, a hidden gem tucked in the scenic Hills of Headwaters near Orangeville, Ontario. The kids skied to their hearts' delight while she taught me how to knit. The best part of the afternoon was the unexpected pleasures we enjoyed while lunching in Babbo – the wine and cheese tasting lounge in this elegant resort's lobby.
Babbo's décor is chic modern: an under-lit white stone bar draws your eye to the floor-to-ceiling glass doors of the impressive wine cellar, pretty lighting accents like jewelry, and an atrium of windows facing the hill brings in natural light. Come off the hill into a relaxed atmosphere, thanks to the friendly staff.
The wine list features wines from around the world, focussing on Niagara and Prince Edward County. It won the 2010 VQA Restaurant Award of Excellence. Babbo's wine list is about to become even more local: Executive Chef John Paul Adamo (president and owner of Hockley Valley Resort) has planted a vineyard on top of the hill and expects to add first wines to the list soon.
The resort boasts a two-acre fruit and vegetable garden, which supplies ninety percent of the seasonal produce served at Hockley. Preserves and quality ingredients from the best local farmers and suppliers contribute to a farm-to-table experience.
Chef Renato Ciani treated us to tastings from the resort's open concept restaurant, cabin, which serves a full farm-to-table lunch and dinner menu (changing weekly) and is named after the first building built on the property in 1865. House-made focaccia is flavourful and chewy, strewn with caramelized onions, and served with a luxurious mascarpone butter seasoned with sea salt and chives.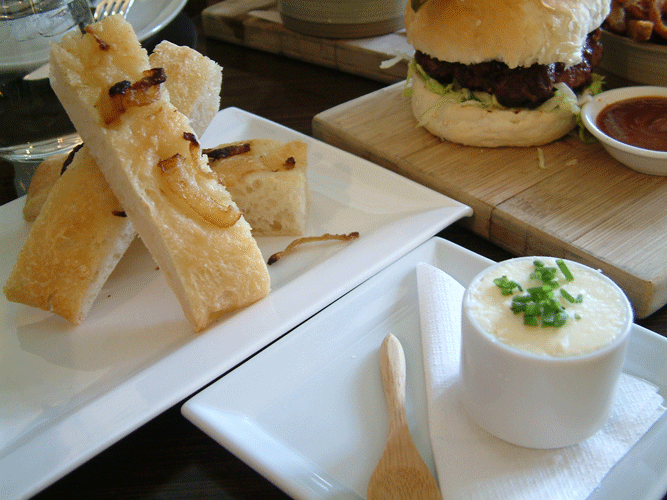 The handmade tortellini is stuffed with ricotta, parmesan and a mascarpone, cauliflower purée that oozes out into the butter sauce; salty house-cured speck and peppery arugula contrast beautifully in this memorable, #lickyourplate dish.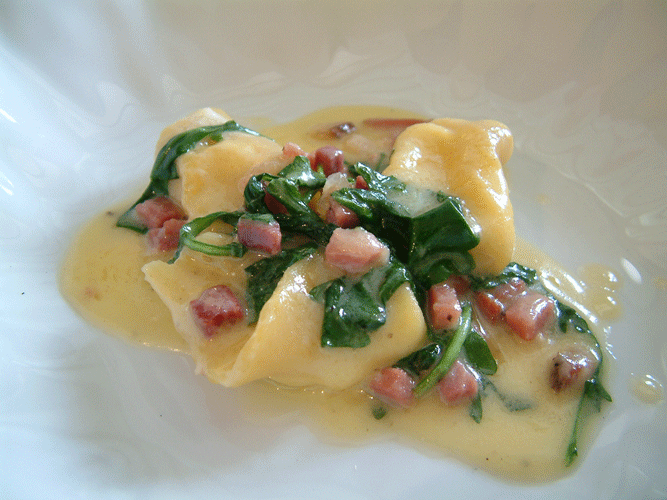 Babbo offers a small lunch menu, including cheese and house-made charcuterie. A medley of Cerignola, Barese, Kalamata, and Colossal Green olives are marinated overnight with bay leaves, chili, and garlic and rewarmed with rosemary and citrus zest. White bean hummus is dusted with smoked paprika. Crostini is handcrafted by local 100-Acre Bakery.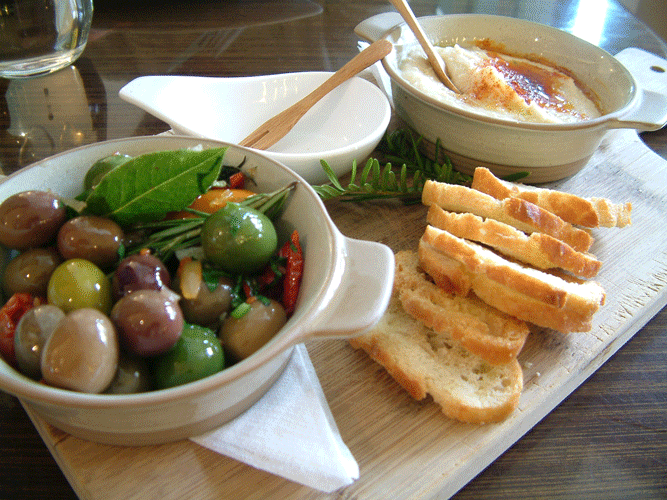 The dough for the house-made Catalan flatbread – coca, Spanish-style pizza – is faintly sweetened with honey and milk, rolled out thin and crisp, and topped with a peperonata of roasted peppers and onions, house-made chorizo sausage, fresh arugula, sweet Saba balsamic reduction, and grated Manchego Reserva cheese. A lovely balance of flavours and textures.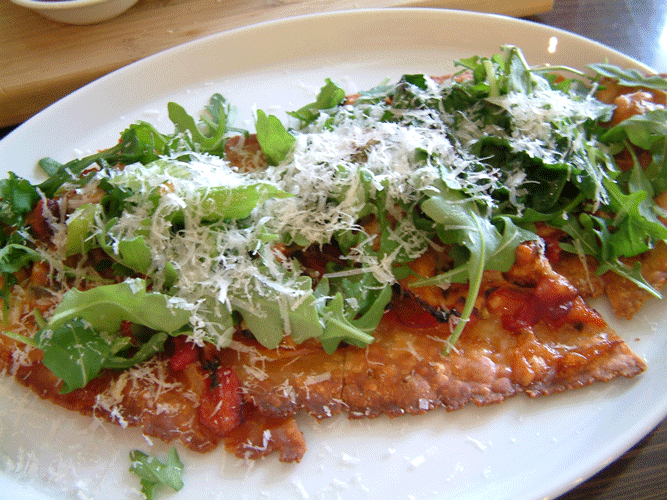 The cabin burger is pure beef flavour of 100% pure house-ground Ontario artisan chuck, salt, and pepper (no fillers, antibiotics, or hormones). It's topped with smoked and braised short ribs, cured tomato marmellata, oven-roasted tomato, coleslaw, house-made pickles, on a 100-Acre brioche bun. Served with Chef Renato's house-made ketchup (containing at least nineteen ingredients) and house-cut fries. If you've been staving off a burger craving, give into this one.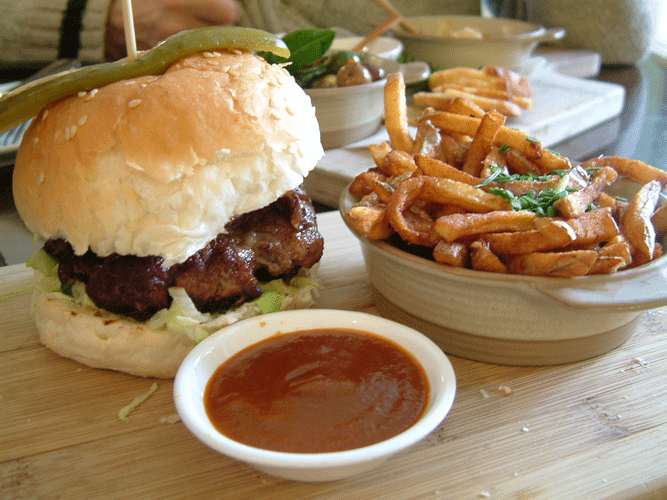 Even the ski cafeteria is inspired by Executive Chef John Paul Adamo's vision. The Dirty Turco is two house-made artisan burgers topped with house-smoked pulled pork, vintage cheddar, caramelized onion, Walnut Hill bacon, guacamole, and house-made barbeque sauce. Poutine offerings include house-cut Yukon Gold fries with vintage cheddar, Walnut Hill bacon, and house-made gravy or with house-smoked pulled pork, scallions, sour cream, and house-made barbeque sauce. That's a long way from the ski cafeterias of my youth.
Hockley Valley Resort is a year-round full-service hotel, ski, golf, and special event destination. It's close enough to the GTA West to scoot up for a special meal but once there you'll want to stay longer and enjoy all that the resort and the region have to offer, in any season. I haven't stayed overnight but am dreaming of a romantic get-away with my husband. Honey, are you listening? Honey?
Hockley Valley Resort
793522 3rd Line EHS
Mono, ON L9W 5X7  
Telephone
: 519-942-0754
Toll Free:
1-866-HOCKLEY (462-5539)
Twitter:
https://twitter.com/HockleyVResort
Facebook:
https://www.facebook.com/HockleyValleyResort
Website:

www.hockley.com
Directions:

http://www.hockley.com/Contact#directions