Behold Streetsville's newest legend: Burger Legend. I haven't been this excited about a burger joint since Streetsville's first take-out (the now long gone Terry's Burger House) first moved to town.
What makes Burger Legend burgers, well…legendary? Start with a trip to the butcher every single morning to buy fresh, whole AAA Canadian beef chuck; additive-free, preservative free, ground fresh daily by Burger Legend. Yes fresh beef, never frozen (they don't even own a freezer). Add real (not processed), aged Canadian cheddar cheese. Top with huge strips of thick-cut, smoky/sweet, maple smoked bacon so flavourful that you have to fight off sneaky fingers. Put it on a lightly grilled, freshly baked sesame seed bun. Finally, a burger we can feel good about sinking our teeth into.
Behold the Classic Burger: 100 grams of 100% pure beef (no fillers), juicy and flavourful, spiced just right, nestled on a bed of mixed baby greens, blanketed with melted cheddar, topped with thickly sliced tomato, and Bawss sauce (a delicious mayonnaise-based crossover somewhere between Thousand Island dressing and barbeque sauce).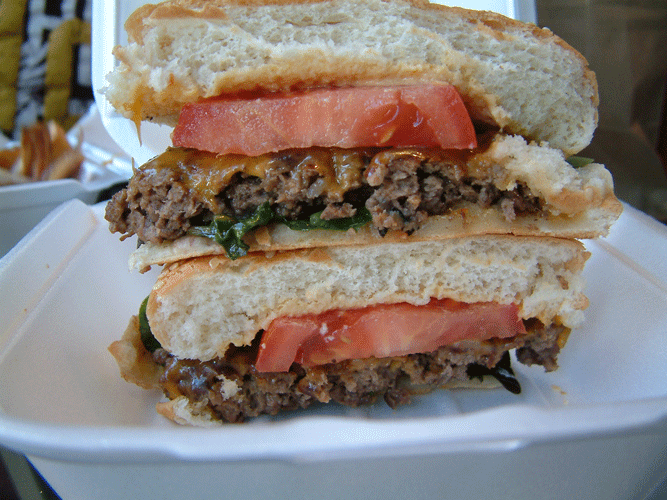 And this beauty, the Veggie Burger: a huge panko-crusted portobello mushroom, crispy on the outside and juicy on the inside, stuffed with cheddar cheese, on mixed baby greens, topped with more aged Canadian cheddar cheese, thickly sliced tomato, and Bawss sauce. Oh yeah, come home to Mama.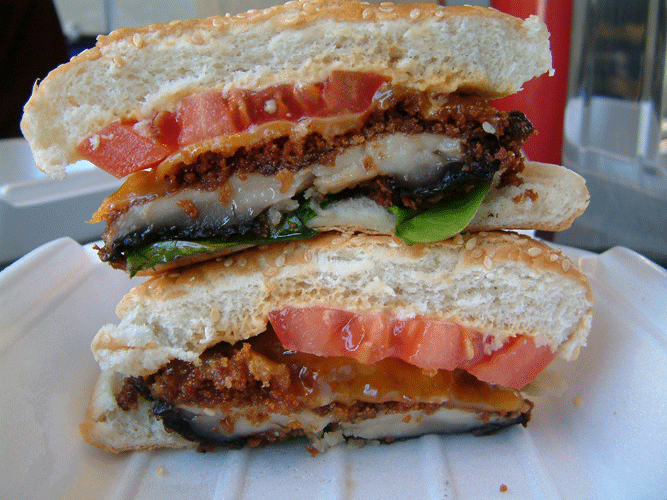 How to decide between the Classic and the Veggie? Order the Fusion Burger to get both on the same bun. Man, that's gotta be good!
There are ten burgers on the menu, including the Poutine Burger, the North Beach (with guacamole) and the All Day Burger (with fried egg and maple smoked bacon). But your first visit should be all about the Great One (named after another legend, Wayne Gretzky): with aged Canadian cheddar, maple smoked bacon, mixed greens, tomatoes, and Bawss sauce.
Fries are freshly cut (remember they don't own a freezer) Canadian russet potatoes, double-fried in peanut oil; available with gravy or as poutine. It's going to take all my strength to try to resist the Maple Bacon Poutine.
Burger Legend started out as a gourmet food truck and has now laid roots in our village (aren't we the lucky ones). Kiss the drive-thru junk burgers good-bye and say hello to real, fresh flavour. Welcome to the village Burger Legend!
Take-out or casual, quick bite, eat-in. Last time I was there, they were still waiting for their interac to be hooked up so bring cash just in case.
Burger Legend
236 Queen Street South
Streetsville, ON L5M 1L5
Twitter: https://twitter.com/BurgerLegendFT
Facebook: https://www.facebook.com/BurgerLegend