When in Montreal, we love to gather with family at Restaurant Solémer & Poissonnerie. An abundance of meze dishes get passed around our table (small servings of Lebanese appetizers, salads, and seafood) and wine flows freely. We work our way toward grilled meats or grilled or fried fish that we choose from the wide selection of fresh fish available in the attached fish market. Often the restaurant treats our family to sweet, juicy watermelon to finish our meal (we are regulars here).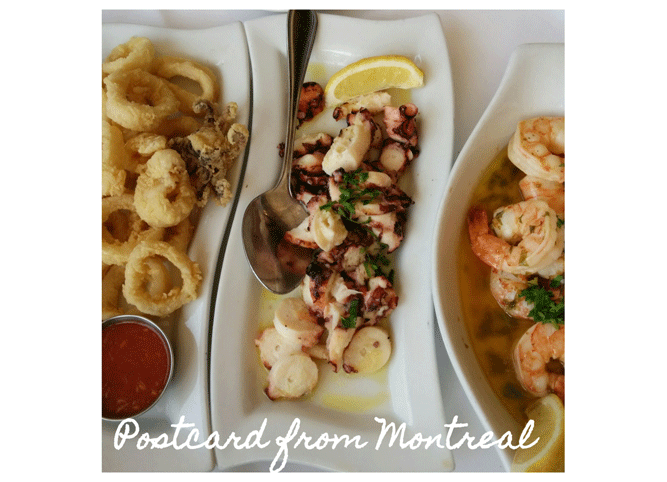 Treasures from the sea, prepared Mediterranean-style: Calamari, deep-fried, light and crispy. Smoky-sweet Grilled Octopus, dressed in lemon, garlic, oregano, and olive oil. Shrimps Provencal (lemon, garlic butter, and coriander).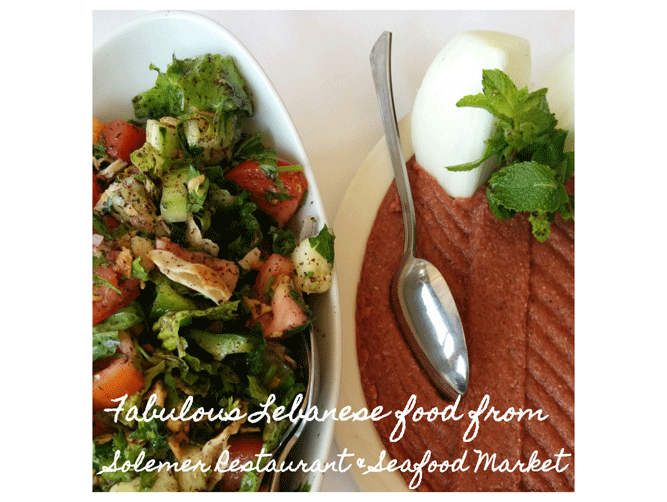 Best Fattouche I have ever had: fresh, crisp vegetables, ripe tomato, and crunchy pita, dressed in a well-balanced vinaigrette brightened with lemon, sumac, and a punch of garlic. They've got my number. My son's favourite, Kebbe Nayeh: Lebanese-style Steak Tartare (fresh, minced raw beef mixed with bulgur, puréed onion, and a touch of spice) served with fresh mint, olive oil, and raw onion for scooping. My husband says it puts Steak Tartare to shame.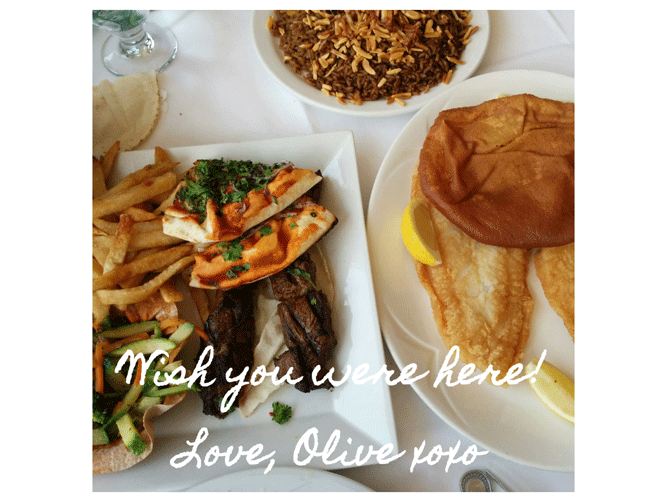 Grilled Shish Kebab: tender yet oh so flavourful, marinated filet mignon. Served with really good fries, julienned vegetables, and tomato-brushed pita. Flavourful Brown Rice with Nuts. Fried Basa personally selected from the fish market: delicately flavoured white fish in light, crispy coating. Served with deep-fried pita.
Don't forget the Tarator Sauce (ground sesame seed sauce, also known as Tahina), Hummus (puréed chickpeas, sesame paste, lemon, garlic) and Baba Ghannouj (smoky, grilled eggplant mashed with sesame paste, lemon, garlic).
Restaurant Solémer & Poissonnerie
1805, Sauvé Ouest, Suite 101 (corner of l'Acadie)
Montréal (Québec) H4N 3B8  
Telephone:
  (514) 332-2255
Website:

http://solemer.ca/en/