All winter long, we pine for a little bit of summer in Muskoka. Of course, the natural beauty of Muskoka is enough of a draw on its own. But Muskoka's Dorset, Ontario boasts an extra special piece of heaven, or pizza heaven – officially called Pizza on Earth.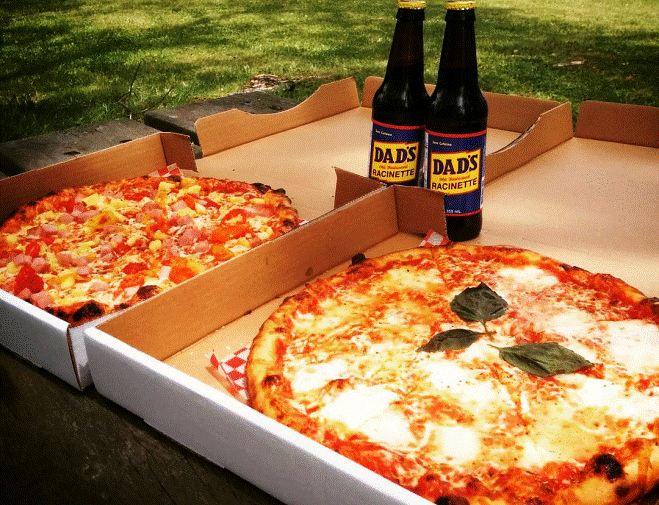 About five years ago, an enterprising university student, Sarah Jane (Johnson) Gibbs, and her parents built an outdoor wood-burning oven on their commercial property. Since then, Sara has turned out fabulous, wood-fired gourmet pizza that knocks the flip flops off local cottagers. Thin, crisp but chewy crust cooked to perfection. Flavourful sauce. Gourmet toppings. And that smoky, wood-fired taste. This is the stuff to hold out for – here is why: https://www.youtube.com/watch?v=fhD4x16nbck
Pizza on Earth is only open in the summer, which makes Sarah's pizza all that much more appreciated. The rest of the year, Sarah is at university studying the cello. Gosh, she's inspiring. You go girl. I bet you play the cello as beautifully as you make pizza.
Pizza on Earth is very popular in this neck of the woods. Call ahead to place your order; if you show up at the last minute, chances are you will wait a long while. Take it away or eat there on the outdoor picnic tables. Better yet, take a short trip across the Dorset bridge to the park at Little Trading Bay. Our boys like to Huck Finn it and swim out to the raft in the bay. The beauty of Muskoka, Dad's Root Beer, and Pizza on Earth. Heaven on earth.
Pizza on Earth
1009 Clan McKay Drive
Dorset, Ontario
P0A 1E0
(just south of Dorset, Ontario on the east side of Highway 35, just south of the Dorset bridge)
Phone: 705-349-8827
Website: http://www.mypizzaonearth.com/