This story is as much about the experience surrounding the food as it is about the food – both are utterly impressive.
The setting is a picturesque 100-acre farm spread out on the crest of a hill with a breathtaking view of the Credit River where it meanders through Huttonville, a farming community in Brampton, Ontario.
Let me introduce you to the farmers – Mark and Laura – who are kind-spirited, exceptionally creative, and phenomenal gourmet cooks. Mark finds joy in bringing people back to the natural source of their food.
Laura's heart is touched by the families who come to share the magic of the orchard that the Laidlaw family is so fortunate to call both their home and their life's work.  Laura offers a warm farm greeting to all of the farm's guests.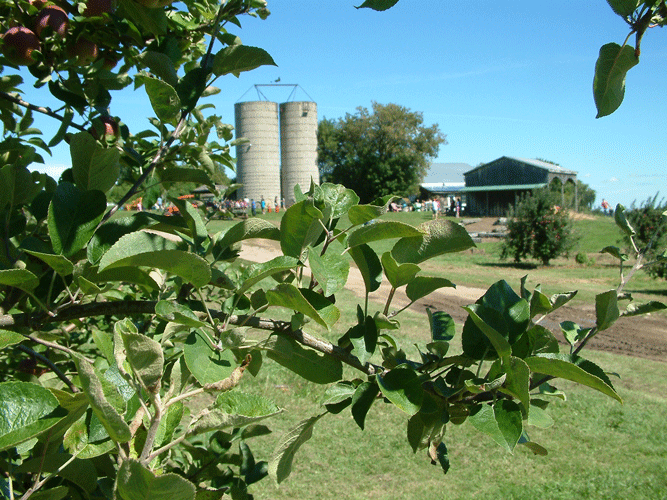 Just as Mark's parents – Carl & Gwyn Laidlaw – did before them, Mark and Laura work hard to keep the family farm thriving. The old adage, 'the apple doesn't fall far from the tree' couldn't be more applicable. As the seventh generation on the farm, Mark and Laura's son and daughter, Spencer and Margo, pitch in to help tend the land that their great-great-great-great-great-grandpa Aaron started to farm back in 1852. (Margo and friend Brooke below).
The Laidlaws have always grown some fruit trees on their farm but after planting more orchards in the late 1960s, they started a pick-your-own business in the 1970s which has blossomed ever since. They grow a few varieties of pears and over 20 varieties of apples – more than you will find in the supermarkets!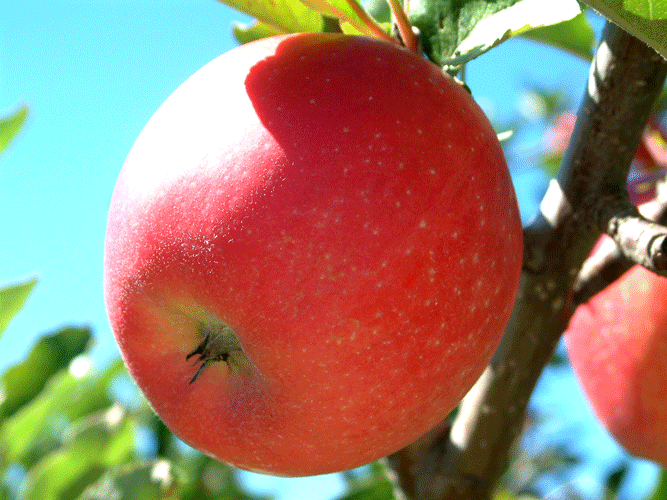 There are wonderful heirloom varieties, such as Tolman Sweet (planted by Aaron Laidlaw in the mid-1800s – now that's what I call heritage food!), Cortland (developed in the 1890s), McIntosh (1811), Gravenstein (17th century) and what Mark calls the mystery apple: Ginger Gold. Here's a link to a nice story in the Washington Post explaining how Ginger Gold was created by accident among the replantings of Clyde Harvey's orchard, after Hurricane Camille ripped out the trees in Virginia in 1969.
These are some of the many varieties grown at Carl Laidlaw Orchards.
















Laura said the spring blossoms have never been more beautiful; it's going to be a great harvest this year. Laura is such a talented photographer!.
Before heading into the orchard, visit the sample wagon to taste the fruit that is ready for picking. Spencer taught me the nuanced differences in taste when comparing apples to apples.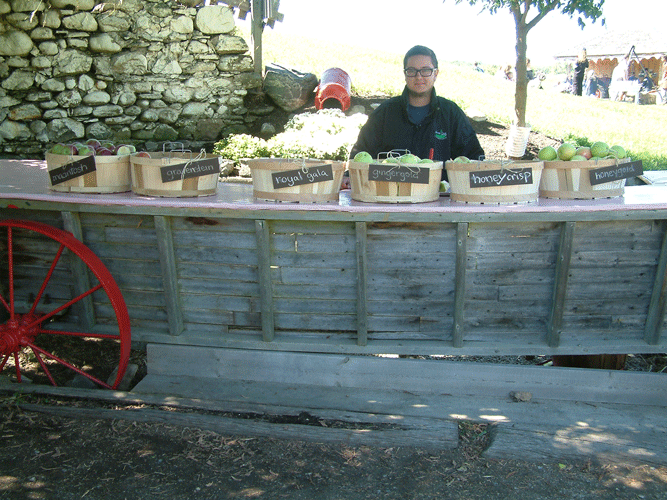 Here's where you will learn what apples are best for the school lunch-box (something small enough to finish in a hurry, like Royal Gala) and which apples are best for eating out-of-hand or for cooking (which varies depending on how you are cooking them). Once you are armed with that knowledge, take a wagon ride out into the orchard – the driver will show you which trees are ready for picking your favourites. I chose Gravenstein apples for my pies because they hold their shape well. I love Ginger Gold for eating out-of-hand; crisp, light, sweet yet mildly tart, this apple has the added bonus of browning less quickly than other apples.
I want to visit the orchard often this fall; as the season progresses other varieties will be become available. You can visit the farm's website for a comprehensive list of the varieties grown at Carl Laidlaw Orchards and when they expect each variety to be ready; plus there are some handy tips on how to best store your fruit at home.
But a trip to Carl Laidlaw Orchards is about much more than picking apples. It's an opportunity to have some old-fashioned family fun in an absolutely charming vintage country farm setting.
There a plenty of whimsical surprises throughout the farm evoking happy recollections of simpler times.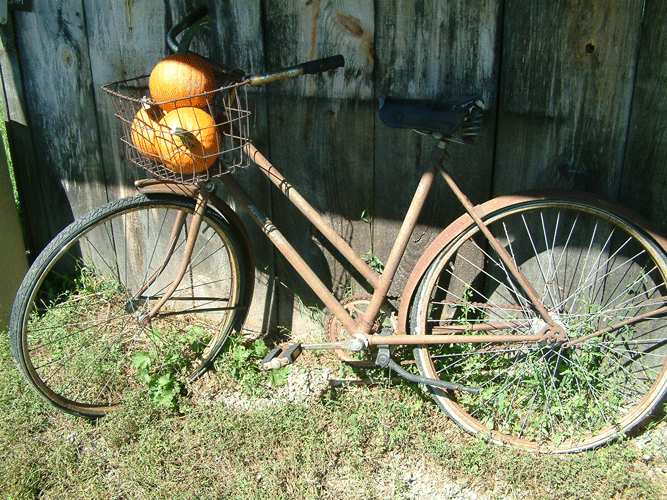 Evidence of Laura's nostalgic creativity pop up all around the farm, from the scarecrows dressed in retro fashions…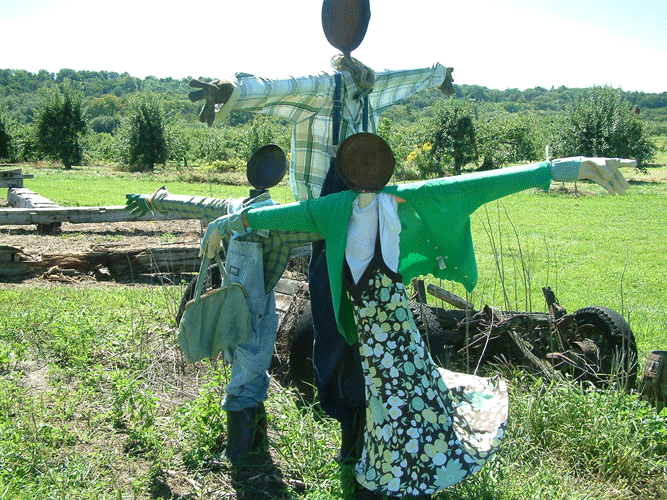 …to darling teacup chandeliers crafted by Laura…
…to old doll carriages filled with fall flowers. Every corner is a still-life photograph.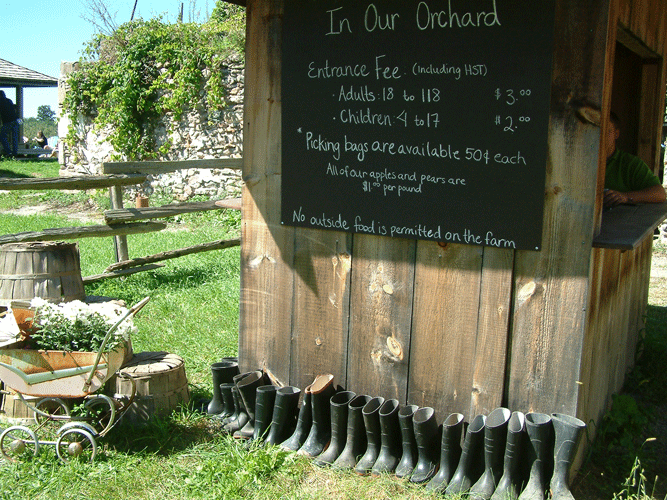 A visit to Carl Laidlaw Orchards has always been a well-loved family tradition for us on Thanksgiving weekend. We gather our clan and head to the farm to load up our car with sweet crisp apples. We stroll through the orchards, while enjoying the fresh air and the vista of trees dotted with ruby red apples, set against a backdrop of blue skies and fall colours.
Kids love riding in the wagon, jumping in the hay barn, playing with the toy trucks in the granary, and tumbling in the corn-kernel-filled gazebo.
On weekends, you can roast your own hot dog or sausage (and garnish it with a variety of gourmet toppings) or indulge in a cob of sweet, tender corn dipped in buttery goodness. Olive that part too!
The quaint barn market offers the already-picked, fresh bounty of Carl Laidlaw Orchards, as well as local produce brought in from other nearby farms, such as squash and garlic from Sunny Acres Farm.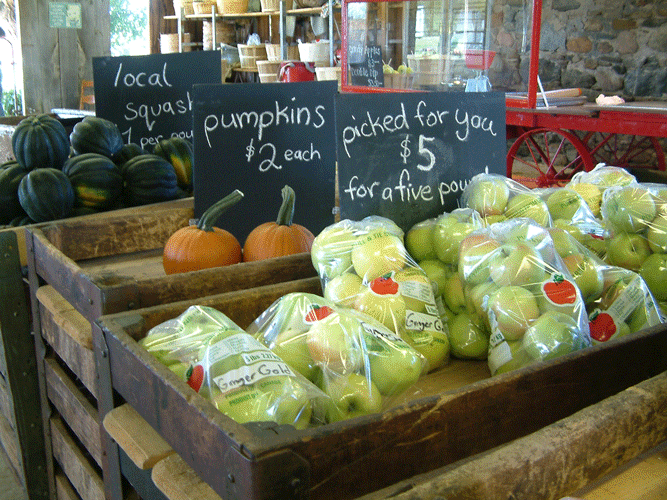 The Laidlaws also sell Ontario honey but in the next few weeks, something extra sweet is in store for their guests – honey from the Laidlaw's very own hives!
Jams and preserves are made by Mark's cousins. Often, Laura dreams up the prettiest hue of blue to dip her candy apples in. She also makes caramel apples and traditional red candy apples. Oh to be a kid again!
Gorgeous handmade flatbread pizzas from Blossom Bakery will be available at the farm again this year: on Fridays, Saturdays and Sundays. They are hand-crafted – using gourmet cheese and fresh toppings – by Laura's friend Jackie, on her family farm in Jordan, Ontario.
This year, Laura brought in a book made by artist Nikki McClure; all of the artwork was done with an xacto knife, using a single piece of paper. Laura is also excited about a kids' temporary tattoo that she asked a children's book illustrator to design; they are meant to be a little thank you for farm guests. They will be available starting September 16th, while supplies last.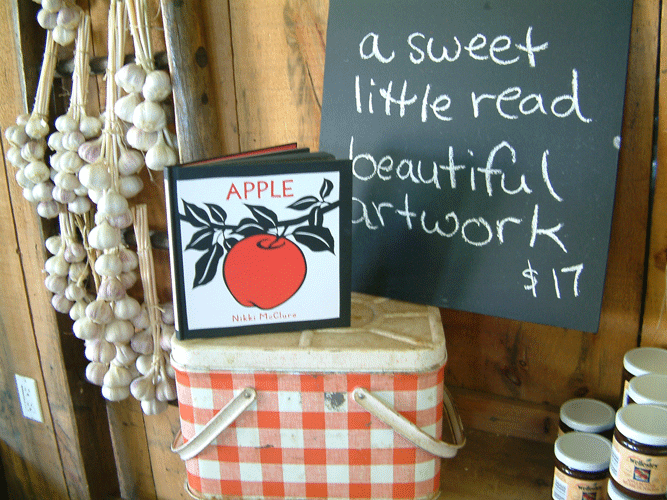 The aroma of freshly baked, cinnamon-scented apple pie will draw you into the pie-making room, aptly named "Easy as Pie" – a big hit with kids and novice bakers.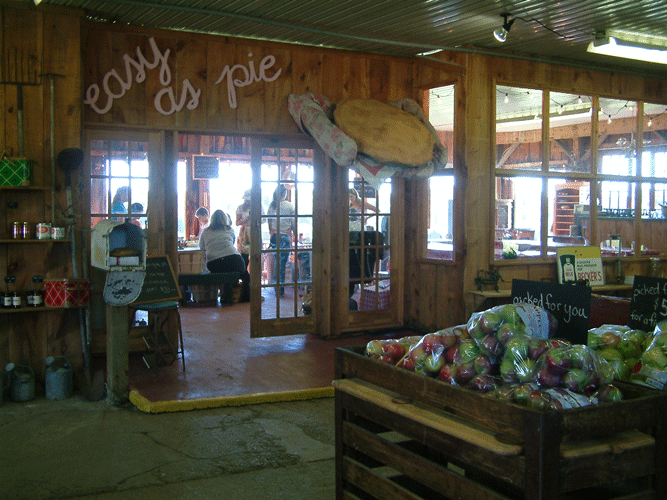 Under the watchful eye of their parents, kids can use an old-fashion apple peeler to peel their own apples, load them in a pre-made crust, sprinkle on some cinnamon sugar, seal the top crust, and adorn it with their very own proud initial.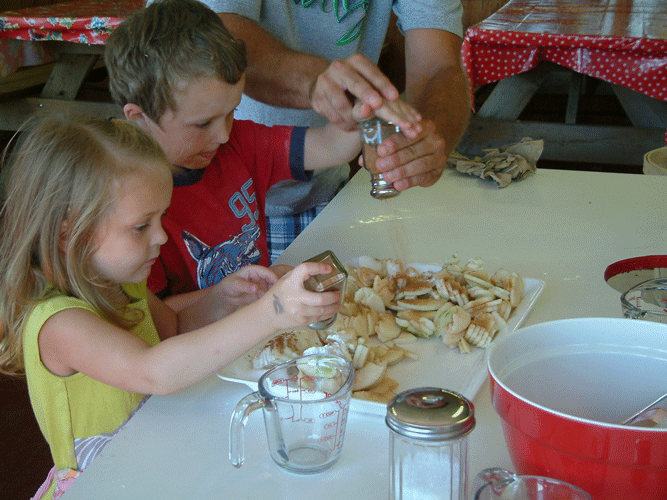 It's a sweet memory for parents to keep tucked in their hearts. Kids grow up in the blink of an eye – remember to slow down and smell the apple pie!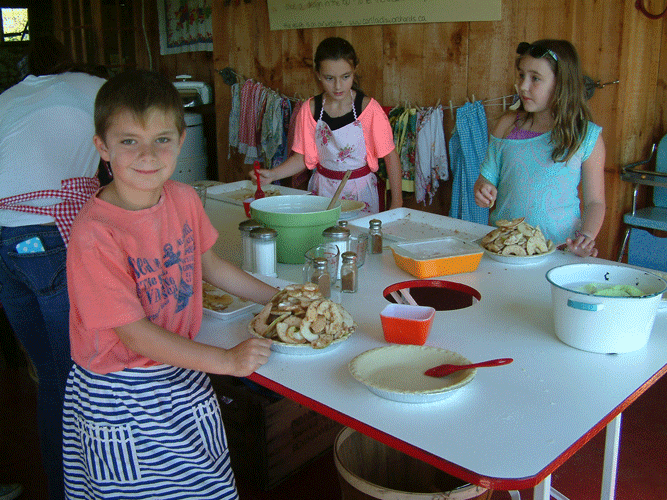 I have shared many special moments with my own son on this beautiful farm, laughing under the apple boughs, delighting in a big, crunchy bite of a juicy apple picked fresh from the tree, jumping for glee in the hay barn, and making pie together.
I wish I could pluck up every kid and plop them for a few moments here – give them the chance to experience what being a kid should be all about.
Carl Laidlaw Orchards is just a short drive from Streetsville. On the way you will notice our urban sprawl encroaching further and further on precious farm land. Thank you, Carl Laidlaw Orchards, for working so hard to share your lovely farm with all of us.
Please click here for information you should know before visiting the orchard.  If you scroll down a little further in this post, you will find some of Laura's delicious recipes using freshly picked apples from Carl Laidlaw Orchards.
Carl Laidlaw Orchards
9496 Heritage Road Brampton, Ontario
L6X 0A1  
Telephone:
905-456-2095
Open: daily from 9:00 a.m. to 5:00 p.m. during September and October, possibly into November depending on Mother Nature.
Blossom Bakery is a small wholesale bakery located on a family fruit farm in Jordan Station, Ontario. Everything is homemade from scratch using local Niagara produce, when possible. Blossom Bakery also sells veggie tarts, fresh fruit salsas, and a variety of baked goods.
You can find Blossom Bakery's artisanal flatbread pizzas during the summer at Burlington's Centro Farmers' Market and in the fall at Carl Laidlaw Orchards. In Hamilton, you can find their products at Punchbowl Market and the Cheese Shoppe on Locke. In Niagara you will find them in farm stands, gourmet shops, and farmers markets, including the Wednesday night Supper Market in Niagara-on-the-Lake. Also available at the Grimsby Market.
Blossom Bakery
Jackie Troup
2323 Honsberger Avenue Jordan, Ontario Telephone: 905-562-0108  
Laura's family has been dear to my heart since I became fast forever friends with her sister, Cathy, in grade school.  When you are a good friend of one of the Kelly family, you are a friend of all. From Beryl's traditional Christmas Eve Oysters Rockefeller to Cathy's Phyllo Orange Chicken, they have nurtured my soul.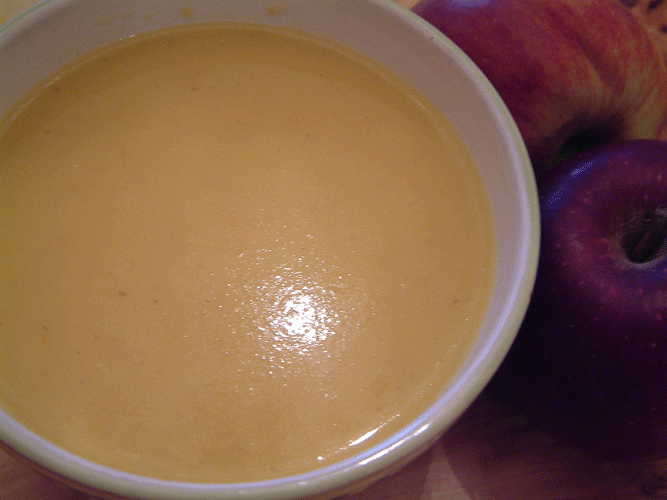 Laura's Farmhouse-Fusion Apple Squash Soup
Serves 4
One December afternoon when my son was a wee boy and the farm had closed for the season, Laura entertained us in the barn which she decorated for Christmas with a darling teacup and sugar cube garland she had made. We made a pie, strung popcorn, cut paper snowflakes, and gazed out through the snowflakes falling softly in the waning December light to try to catch a glimpse of deer grazing by the river. My son roasted a hot dog in the belly of the old wood stove and Laura served me a bowl of this delicious soup – a velvety-smooth squash soup, sweetened by apples and accented with gentle undertones of curry and creamy coconut. Laura describes it as both exotic and familiar. I say it's proof of her exceptional gourmet talents.  This is at the top of the list of my favourite soup recipes.
Ingredients:
1 tablespoon butter
1 yellow cooking onion, finely chopped
4 apples, peeled, cored, and diced
1 ½ teaspoons ground cumin
½ teaspoon ground coriander
½ teaspoon ground ginger
¼ teaspoon green curry paste
3 cups cubed buttercup (kobacha) squash (from about a 2 lb whole squash)
2 cups water
2 cups chicken stock
1 cup canned coconut milk, well-shaken
salt to taste
Optional garnish: coriander springs and lime wedges
Directions:
In a large saucepan, heat butter over medium low-heat and sauté onion and apples until soft, about 15 minutes.
Add all of the spices; sauté for two minutes, stirring frequently.
Add squash, water and chicken stock; bring to a boil, reduce heat to medium-low and simmer, stirring occasionally until squash is tender, about 25 minutes.
Remove from heat and let cool slightly. Transfer to a blender or food processor; purée until smooth. Return to pan; stir in coconut milk and heat gently. Taste and add salt, if necessary.
Nancy's Fall Fair No-Fail Pastry
Makes enough pastry for 2 pies.
Laura's sister, Nancy, won a ribbon at a fair for this pie crust. Laura says it's a no-fail recipe – and she would know since she bakes lots of pies. I have never had luck at rolled pie crust recipes – until now. Well, roll me out and win me over – this pie crust has turned an apprehensive pastry maker into an accomplished apple pie baker! Thank you Nancy!!
Lard makes the pie crust flaky from top crust to bottom crust – no more soggy bottoms…I hate soggy pie bottoms! I don't eat pie often so a little lard once in a harvest moon is okay with me.
Ingredients:
5 cups all-purpose flour
4 tablespoons brown sugar, lightly packed
½ teaspoon baking soda
dash of table salt
1 pound lard
1 large egg
1 tablespoon white vinegar
water
Directions:
Combine the flour, sugar, baking soda, and salt in a large bowl.
Using a pastry blender or two knives, cut the lard into flour mixture only until it looks like coarse oatmeal with a few larger pieces.
Crack the egg into a 1-cup measuring cup; beat, then add water to make ¾ cup. Add the vinegar; stir well.
Using a fork, gradually stir egg mixture into flour mixture; then knead a little. Gently gather dough up and divide into four equal balls (two tops and two bottoms); flatten slightly to form disks and wrap in plastic wrap. Chill for at least 1 hour before rolling out for pie.
Mark's Apple Orchard Pie
Makes 1 pie.
This is Mark and Laura's apple pie recipe. According to Laura, Mark still asks for apple pie instead of birthday cake and he still eats pie for breakfast. Bake this delicious pie for the apple of your eye and fill your kitchen with the heavenly scent of apples and cinnamon. Serve warm with cinnamon whipped cream, vanilla ice cream, or a slice of old cheddar cheese.
Decide on whether you like a filling of apple slices that  hold their shape or one that is softer, and then ask a farmer what available apple is most suitable.
Ingredients:
2 disks of Nancy's Fall Fair No-Fail Pastry, well-chilled
5 large apples (Mutsu, Golden Delicious, Ida Red) or 7 medium apples (Cortland, Gravenstein, Spartan, McIntosh)
1 tablespoon fresh lemon juice
¼ cup brown sugar, lightly packed
1 teaspoon ground cinnamon
¼ teaspoon ground nutmeg
2 tablespoons flour
Directions:
Preheat oven to 450°F. Place a cookie sheet in the middle of your oven.
Roll out one of the chilled disks between 2 sheets of waxed paper to 1/8" thickness, forming a circle. Carefully transfer rolled dough to a 9" tin pie plate (remove the paper); gently line the pie plate with the rolled dough, then place pie plate in the fridge.
Roll out the second disk to the same thickness, forming a circle. Place in the fridge.
Place the lemon juice, sugar, and spices, in a large bowl; whisk.
Peel, core and thinly slice the apples, adding them to the bowl of spices and tossing occasionally to prevent browning. Add the flour; toss well.
Tip the mixture into the prepared pie shell. Top with remaining pastry, trim and crimp edges together. Cut a few slices in the top to let the steam escape.
Place the pie on the cookie sheet; bake for 10 minutes, then immediately reduce the temperature to 350°F and bake for another 40 to 50 minutes, until the pastry is golden brown.
Read More