Dazzle your dinner guests with my delicious, and definitely festive, Chestnut Stuffed Veal Marsala. The sweet vanilla notes from the chestnuts in the stuffing marry beautifully with the added hint of vanilla in the Marsala wine sauce (which is a breeze to make).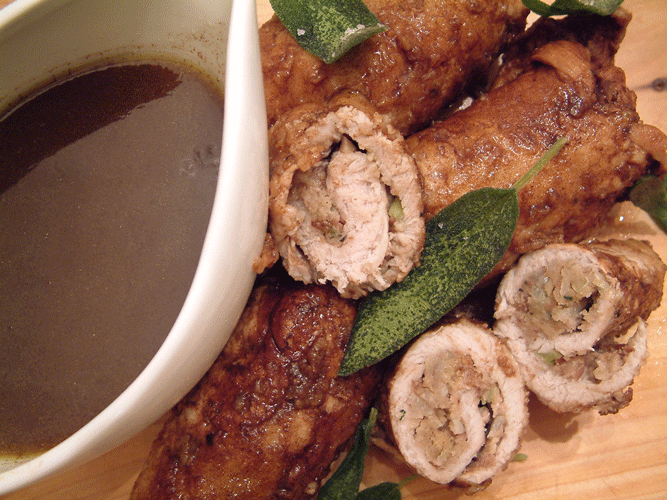 Chestnut Stuffed Veal Marsala with Crisp Sage Leaves
Serves 4 (6 veal rolls – 1 ½ rolls per person)
The stuffing can be made ahead and freezes well. However, if you are making the stuffing on the same day you are serving the veal, treat your guests to crisp sage leaves – a great way to use up the rest of the sage.
Crisp Sage Leaves (optional garnish)
Be sure to set aside 8 sage leaves to use in the stuffing, before you fry up the remaining leaves. Fry just before you prepare the veal, then set aside at room temperature.
Ingredients:
¼ cup olive oil
1 bunch fresh sage, large stems discarded, leaves dried thoroughly (save 8 sage leaves to use in stuffing)
Sea salt to taste
Directions:
In a small sauté pan over medium heat, heat oil until hot but not smoking. Carefully add leaves to pan, one at a time to make a single layer (you will have to fry leaves in at least two batches); fry for 5 to 7 seconds – leaves will crisp up as they cool; immediately remove leaves from pan with a slotted metal spatula to a paper towel-lined plate.
Repeat with remaining leaves. Season with sea salt. Serve at room temperature.
Chestnut Stuffing
This stuffing can be made a day ahead or even frozen for up to 2 weeks; defrost completely, in the refrigerator overnight, before stuffing veal. Look for peeled, ready-to-eat chestnuts in packages in the produce or international section of your local grocery store. Here is a link to the brand I've been using, which is available at Loblaws and Longo's: www.dan-d-pak.com/products/chestnuts-2/
Ingredients:
3 tablespoons unsalted butter
½ small yellow onion, finely chopped
1 celery stalk, finely chopped
8 sage leaves, finely chopped
1 clove garlic, minced
1 package (100g) peeled, ready to eat chestnuts
⅓ cup panko bread crumbs – whole wheat or white
½ teaspoon coarse salt
Freshly ground black pepper
Directions:
Melt butter in a large non-stick skillet over medium heat; add onion and celery and sauté, stirring frequently, until soft, about 5 minutes. Add sage and garlic; sauté, stirring constantly, for 1 minute. Remove pan from heat.
Finely chop chestnuts in small food processor; add to onion mixture in pan. Add bread crumbs, salt, and pepper. Stir well then remove to medium-sized bowl.
Let cool before stuffing veal. Stuffing can be made ahead and stored in an airtight container, in the refrigerator overnight or frozen up to 2 weeks. Defrost thoroughly in refrigerator overnight and bring to room temperature before stuffing veal.
Veal:
If you've made the stuffing ahead, all that is left to do is to stuff, roll, and cook the veal and sauce –which should be done just before serving. Give yourself enough time to roll the veal. It's easy to do if you are not panicked. I don't fuss with string (but feel free if you like); and toothpicks would prevent the rolls from being properly seared. To keep the rolls from opening, roll the veal up tightly, tucking the sides in while rolling and pulling the end snug around the roll; then be sure to sear seam side down first and handle gently with tongs. If your veal is long and narrow and you cannot tuck the sides in as you roll, don't fret; if you handle the veal rolls gently, an insignificant amount of stuffing may fall out into the pan while searing – just be sure to scrape it out when you drain the fat out of the pan.
This recipe calls for dry (not sweet) Marsala, which is a fortified wine. Sperone Fine I.P. Dry Marsala from Italy (available at LCBO) works well in this recipe and is nice to sip on. Campbell's has added a No Salt Added broth to their line of ready-made, tetra pack chicken and beef broths. Be sure to use it or homemade chicken stock for this recipe; reducing the sauce intensifies its saltiness; low sodium and regular ready-made broths are too salty. The amount of Marsala and broth will seem like a lot but the sauce reduces down to ⅔ cup, which is just enough.
Ingredients:
6 veal scaloppini, ¼" thick and ideally wider rather than long and narrow
Coarse salt and freshly ground black pepper to taste
3 tablespoons all-purpose flour
1 tablespoon olive oil (you can use the same oil you cooked the sage in)
1 tablespoon butter
Sauce:
2 cups dry Marsala wine (not sweet)
1 cup no salt added chicken broth or homemade broth
½ teaspoon vanilla
Final Touches:
1 teaspoon lemon juice
1 tablespoon butter, optional
Directions:
Season one side of veal with salt and pepper. Place about 3 tablespoons of stuffing in the centre of the one scaloppini; spread out evenly to within ¼" of edges; roll up tightly, tucking sides in as you roll if you can, and pulling end snugly around roll. Repeat with remaining rolls. Dredge rolls lightly in flour.
Heat oil and butter in a large non-stick skillet over medium heat. When the foaming butter begins to settle down, shake off excess flour and place veal rolls in skillet seam side down and sear just until golden brown, about 30 seconds; using tongs carefully flip to the other side and sear until golden about 30 seconds more; repeat with remaining 2 sides. Remove veal to a plate; cover with foil to keep warm.
Carefully drain fat from pan. Return pan to medium heat; add sauce ingredients; adjust heat to a low simmer. Return veal to pan; cover and simmer gently until cooked through, about 6 minutes, turning gently with tongs every 2 minutes. Leave sauce in pan but remove veal to a plate and cover with foil to keep warm.
Increase heat to medium high, bring sauce to a boil; boil rapidly, stirring frequently, until reduced and thickened, about 15 minutes; skim out any bits with skimmer. Remove from heat and stir in final touches. Return veal to pan briefly, just to roll in sauce to evenly coat and to warm through.
Place 1 veal roll on each dinner plate; carefully slice the remaining two rolls diagonally in half; place ½ roll on each dinner plate. Strain sauce and pour into a small (1 cup) pitcher to serve on the side. Serve immediately with Crisp Sage Leaf garnish and instruct guests to drizzle sauce over veal.
Read More