Pane Fresco is an Italian bakery and café in downtown Burlington, owned and operated by artisanal baker Marc Albanese and his wife, Felicia. It's my sister's favourite local spot for breakfast or lunch. She took my dad to Pane Fresco recently. After he told me that the Slow Braised Beef Brisket Panini was the best sandwich he has ever had, I knew I had to check it out.
So, I treated my sister to a birthday lunch at Pane Fresco. It was a little early for her birthday but because the Toronto International Film Festival was in full swing, I thought perhaps we might spot George Clooney amongst the baguettes. A girl can dream! During the 2009 TIFF, Pane Fresco was asked to prepare lunch for George Clooney to eat on his jet trip back to Los Angeles.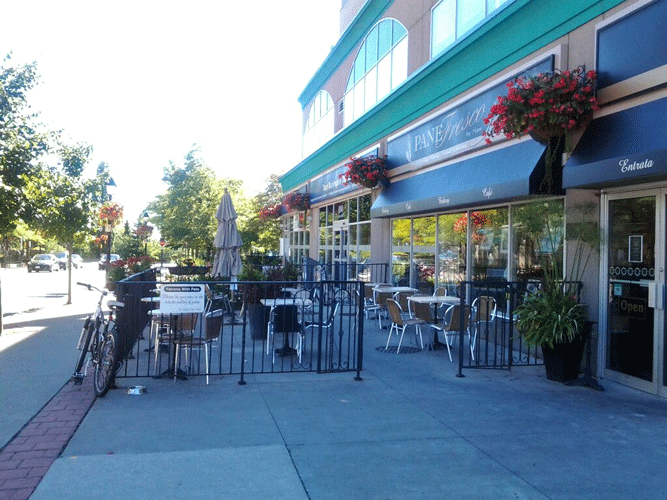 Pane Fresco's spacious outdoor patio offers a pretty view of Lake Ontario at the end of Locust Street. The interior of Pane Fresco is tiny but charming. Its black and white tiled floor and dark wood paneling reminds my sister and me of the little French bistros or breakfast cafés we love to frequent when we're in Montreal. There is additional seating in the lobby of the adjoining office tower (though not quite as charming).
And here is my lovely and charming sister.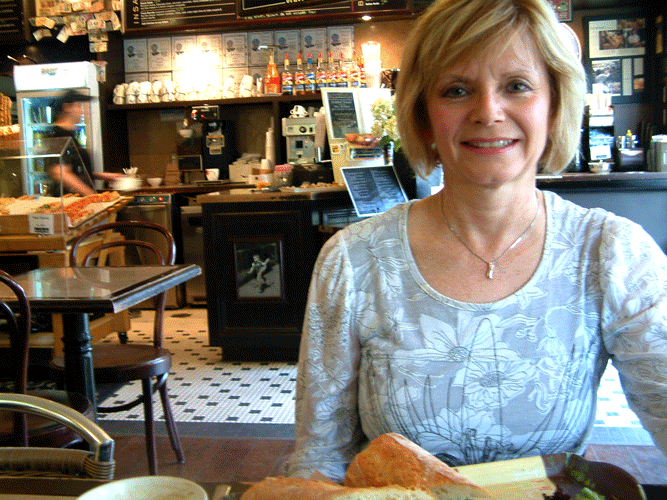 While ordering at the cash, you will be enticed by the myriad of pleasures that Pane Fresco has to offer: the aroma of fresh bread baking in the oven or the daily special (such as weekday Daily Quiche, Slow Roasted Prime Rib on Saturdays, or Chicken Parmigiana on Wednesdays). Freshly baked pizza in a variety of irresistible flavours is carried out of the oven on wood paddles and laid out beside you. Biscotti and baked treats line the counter. The chalkboard menu is full of temptations.
Pane Fresco offers traditional favourites, as well as a variety of interesting artisanal breads, such as 9-Grain Loaf, Guinness Beer Sour Dough Rye and Fig, Raisin & Walnut Filone. Dough is made from preservative-free, natural ingredients, shaped and molded by hand using old world techniques, and then baked in a European oven, right in front of you.
My sister's favourite sandwich is the Francese: a generous sandwich of shaved Virginia ham piled high on rustic baguette, spread with Dijon mustard and mayonnaise, and topped with brie cheese and baby greens.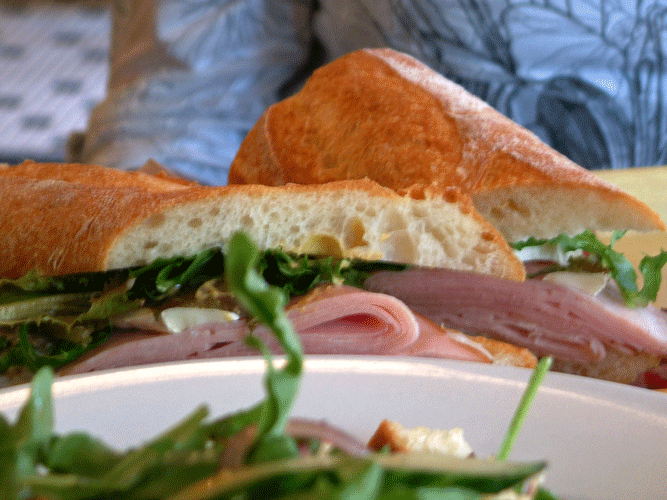 I ordered the Slow Braised Beef Brisket Panini that my father raved about. The chef's focus on flavour and quality ingredients makes the Slow Braised Beef Brisket a showstopper. Chewy, rustic baguette with a pleasing mouth-feel is loaded with thinly shaved, tender beef moistened with a flavourful jus and then topped with crispy onions, brie cheese, horseradish aioli, and baby greens.  It's definitely the most delectable shaved beef sandwich I have ever had!
It looked so good when it was delivered to my table that I rushed to take the photos, anxious to take the first bite – and I blew the photos. So here is a cell-phone photo I took of a second Slow Braised Beef Brisket Panini that, on another day, I ordered to-go for my son and his monster-sized after-school appetite. What I may be lacking in photography skills, I make up for in the mom department. Ah, but think of the hungry boys we left drooling in our dust at the kiss'n'ride. Sorry guys!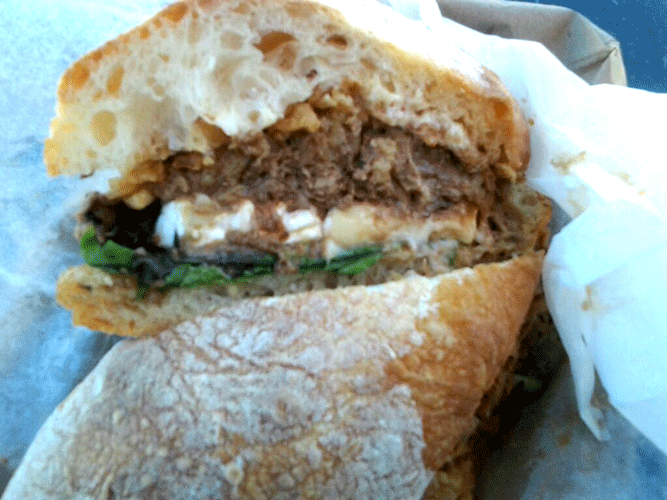 But I digress, back to the birthday lunch. My sister and I also shared the seasonally available Panzanella Salad. Beautiful heirloom tomatoes (red, yellow, and green) were perfectly ripe, sweet, and juicy. Light and crunchy garlic parmesan croutons, crisp cucumbers, red onion, and baby arugula were dressed in a well-balanced vinaigrette. It is a sparkling salad.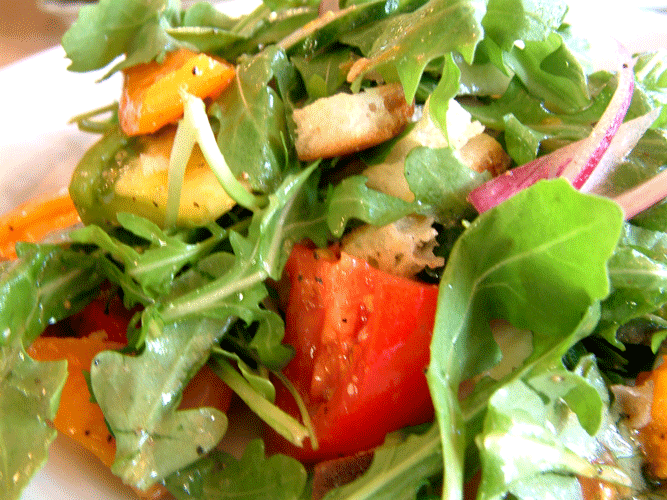 Mr. Albanese's artisanal-bread-making talent shines through again in his pizzas. Varieties range from traditional to innovative. In the Brie and Prosciutto pizza, the salty prosciutto plays against the sweetness of the fig jam, caramelized onions, and light balsamic glaze. Baby arugula adds a punch of pepper. Just a touch of mozzarella and brie cheese keeps things light so that the crust can play the lead role: a crunchy outer layer, sprinkled lightly with a touch of sea salt, sets the stage for the chewy, flavourful interior.
Breakfast is served seven days a week. Oh, wouldn't I love to spread out a newspaper, sip an Italian coffee, and enjoy a leisurely breakfast of two fresh eggs, extra-thick maple bacon, roasted asparagus, chef's home fries, toasted baguette, and a fresh fruit garnish that is plated up when you order The Classic. Pain Perdu is the breakfast special on Saturdays. Belgian Waffles with mixed berries, real whipped cream and maple syrup are served on Sundays.
It's the perfect spot for a quiet breakfast on your own or a nice lunch with someone you care about. I think I may need to celebrate my sister's birthday more often, say once a month? George, olive ya' but it's Pane Fresco's star-quality Italian home cooking that will keep me coming back for more.
Pane Fresco
414 Locust Street Burlington, Ontario L7S 2J1  
Telephone:
  (905) 333-3388
Open:
Monday to Thursday from 8:00 a.m. to 6:00 p.m.
Friday from 8:00 a.m. to 7:00 p.m.
Saturday from 8:00 a.m. to 7:00 p.m.
Sunday from 8:00 a.m. to 4:00 p.m.