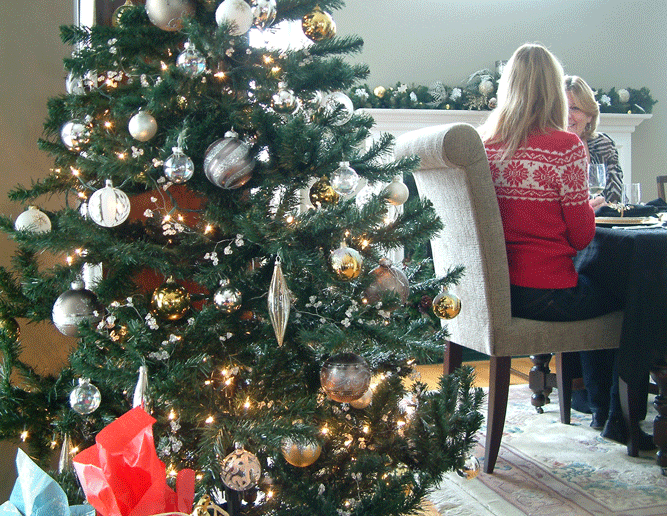 My friends and I have gathered together for Christmas brunch every single year since record albums were the coolest Christmas gifts.  This year, I decided to treat them to Christmas in Paris – one of my friends opened up her lovely Georgetown home and I threw together an easy, chic brunch with a French twist. I gathered ready-made gourmet treats from local artisans, made a couple of recipes ahead of time (inspired by a famous Parisian pastry chef and a French cookbook writer), and prepared two showstopper, easy-assemble salads. Throw on a scratchy recording of Edith Piaf's La Vie en Rose et voilà, it's Christmas in Paris through rose-coloured glasses.

Wild Hibiscus Flowers in Rose Syrup served in Champagne: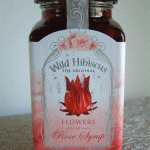 When you combine Christmas and cherished friends at the same table, it's time to pull out all the stops. I served some extra special treats to nibble and sip on as hors d'oeuvres. Rose syrup is the flavour du jour in Paris and this jar of Wild Hibiscus Flowers in Rose Syrup contains 15 handpicked wild hibiscus flowers packed in syrup made from the natural essence of two dozen Bulgarian roses. Place one flower in the bottom of a champagne flute, add some rose syrup, pour in the champagne and watch the bubbles unfurl the flower – it reminds me of the skirts flying at Le Moulin Rouge. Available as a limited edition production from Crafted Décor in Streetsville and Florence Meats in Oakville.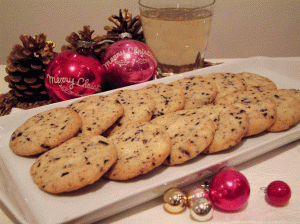 Pierre Hermé's Olive Sablés served with White Wine or Champagne:
These aren't just any savoury cookie – they are an utterly surprising savoury French shortbread that will have your guests shocked by the initial sweetness (from the icing sugar), enamoured by the incredible tenderness (from the potato starch and grated egg yolk) and then, when the salty and fruity notes (from the oil-cured black olives and olive oil) hit the stage, you just may hear gasps followed by utterances of ooh la la…as if you were watching the latest Parisian haute couture creation walk down the runway in the city's top fashion house. In fact, the recipe comes from famous French Pastry Chef Pierre Hermé, who is widely acclaimed as the "Couturier of Haute Pâtisserie".
I made the dough well in advance and rolled it into logs, then froze them. When ready to bake, I took one log out at a time a few moments before baking, then sliced from frozen and baked. The recipe turned out beautifully – you simply must have it in your repertoire. How does a local gal comme moi get her hands on Pierre Hermé's recipe? I found it in Dorie Greenspan's charmingly chic cookbook, Around My French Table, which is available to borrow from the Mississauga Library or to buy from www.chapters.indigo.ca  It's on my Christmas wish list – I hope my husband is reading my blog posts!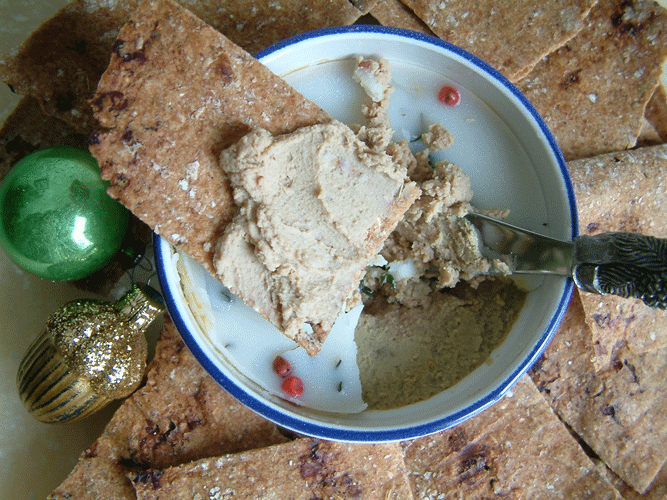 Spirit Tree Estate Cidery Pâté with Ice Cider & Shallots and Evelyn's Currant in the Rye Crackers served with Sparkling Pear Cider:
Spirit Tree Estate Cidery Pâté with Ice Cider & Shallots is a superb pâté. Luxuriously smooth and creamy, it's packed with the flavour of all natural ingredients: chicken livers, clarified butter, shallots, port, brandy, ice cider, Calvados, apple syrup, eggs, and spices. It's frozen in adorable little 165g ceramic pots. I picked it up from Spirit Tree Estate Cidery a while back and stored it in my freezer, ready for Christmas entertaining. Just defrost overnight in your fridge.
Evelyn's Currant in the Rye Crackers are the perfect match for this pâté: a hearty yet delicate cracker made with preservative-free, all natural ingredients including dried currants, fennel, anise, and caraway seeds and best of all, 100% heritage organic rye grown and milled by Ontario farmers. Evelyn's Crackers are made by "cracker heroes" Dawn and Ed – find out what makes them heroes here: www.fiestafarms.ca/heroes.  Available at Whole Foods. For other locations throughout Ontario, click here: http://evelynscrackers.wordpress.com/wheretobuy/.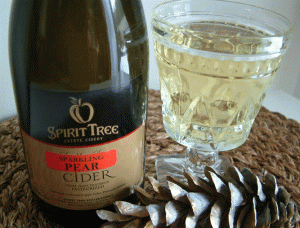 Spirit Tree Estate Cidery Sparkling Pear Cider is a refreshing choice for those who are looking for something non-alcoholic: fresh pear, just a hint of sweetness, bubbly, and light.  It's perfect for special celebrations.  Also available in Sparkling Sweet Apple Cider. Spirit Tree's Mulled Apple Cider containing chopped fruit and spices would be another great choice and very festive. If you would like to learn a little bit more about Spirit Tree, read my full post here: Spirit Tree Estate Cidery: Savour the Quality.
For the main meal, I laid out an impressive line-up of store-bought gourmet goodies and two easily prepared dishes I made myself that just needed just some minor last minute preparations.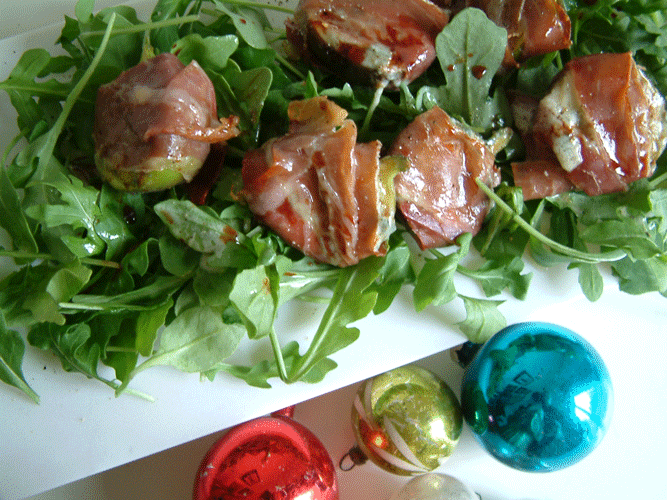 Prosciutto Wrapped Fresh Figs Stuffed with Cheese on Arugula
Serves 6
This showstopper, palate-pleasing salad is a cinch to assemble à la minute. The sweetness of the figs and vinegar plays against the salty prosciutto, creamy tang of the blue cheese, and peppery punch of the arugula. If you don't like blue cheese, feel free to use brie or chèvre instead. I used a beautiful combination of Date Crème Vinegar and Hazelnut Oil that I picked up at Crescendo World of Oils Vinegars and Spices in Toronto's Distillery district – but extra virgin olive oil and balsamic glaze are also terrific.
Ingredients:
6 fresh figs, sliced in half from stem end to blossom end, keeping stem halves intact
1/3 cup your favourite creamy mild blue such as St. Agur or Devil's Rock (or chèvre)
6 slices prosciutto, cut in half lengthwise
6 handfuls of baby arugula (or your favourite greens)
Hazelnut oil or extra virgin olive oil
Date Crème Vinegar or balsamic glaze
Sea salt
Freshly ground black pepper
Directions:
Preheat oven to 425°F. Smear cheese on cut side of each fig half. Wrap each half with prosciutto. Store in an air-tight container in the refrigerator up to 4 hours before serving or bake immediately, according to the following instructions.
Arrange cheese side up on a parchment-lined baking sheet. Bake in 425°F oven until prosciutto is crisp and cheese has melted, about 5 minutes.
In a large bowl, toss the greens with some salt, pepper, and oil; spread greens out on a pretty platter; place figs on top and drizzle figs and salad with vinegar. Serve warm.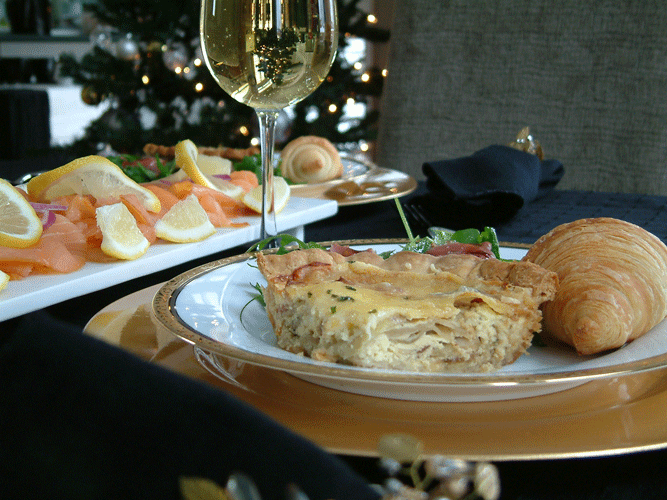 Spirit Tree Estate Cidery Quiche:
Make sure you search out the very best handcrafted quiche you can find. Spirit Tree Estate Cidery makes delicious quiche. The Quiche Lorraine is full of hearty flavour from bacon, potato, thyme, and swiss cheese. The Tomato & Spinach quiche has intensely flavoured wood-oven-dried tomatoes, sautéed spinach, thyme, and clumps of soft chèvre, all suspended in a lovely egg custard. I purchased both quiches frozen, stored them in my freezer, and baked them from frozen on the day of the brunch. I haven't tried their Mushroom & Potato or Cauliflower quiche yet but they sound tempting.
If you can't make it out to Spirit Tree, good quality quiche can also be found at The Hot Oven in Etobicoke, Cousin's Gourmet Market in Port Credit, Black Forest Pastry Shop in Oakville, and Kate's Town Talk Bakery in Streetsville (Kate also sells a really tasty Spinach & Cheese pie – another one of my favourites). Wherever you choose to purchase your quiche, be sure to call ahead to place an order in advance.
Vodka Infused Smoked Salmon:
Drape some luxurious smoked salmon on a pretty platter and garnish with lemon wedges and perhaps, capers, sliced onion, and a drizzle of olive oil. My absolute favourite is a locally produced Vodka Infused Smoked Salmon that I buy from Cousin's Gourmet Market in Port Credit and have also found it at Domenic's in the St. Lawrence Market. It is so tender, that it almost melts in your mouth.
Artisanal Croissants:
What would Christmas in Paris be like without really good croissants? I picked up frozen chocolate and butter croissants handcrafted at Patisserie D'Or in Oakville, stashed them in my freezer, took them out to rise overnight, then baked fresh the morning of the brunch –you can't get easier or more delicious than that. Boy did my kitchen smell heavenly! These croissants have a buttery flavour and a nice mouthfeel.
And now for the grande finale…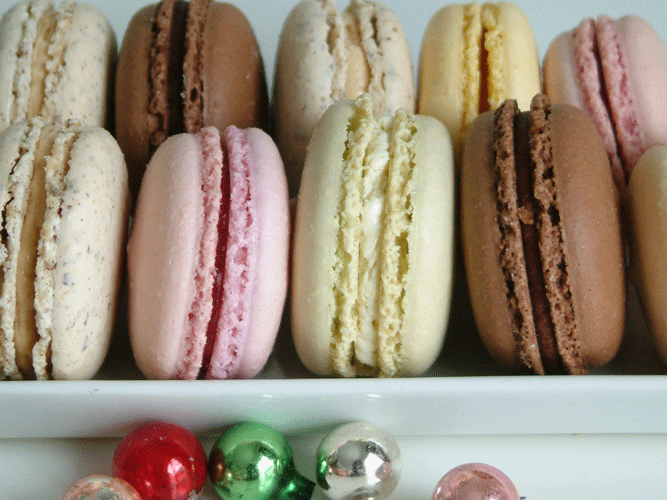 French Macarons:
Buy a colourful assortment of the very best French macarons you can find. I picked up these little beauties from Whole Foods, made by La Fournette Bakery: mango, passion fruit, vanilla, raspberry, pumpkin, chocolate, pistachio, and my favourite – hazelnut.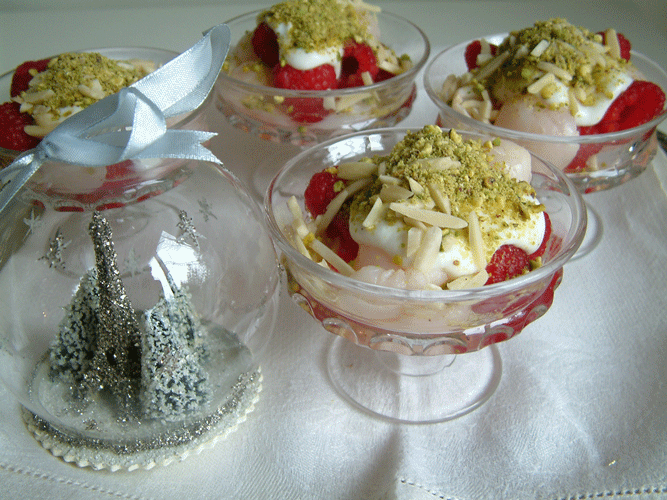 Ispahan Parfait
Serves 6
This showstopper fruit salad was inspired by the beautiful flavour combination of raspberries, lychee and rose, created by famous French Pastry Chef, Pierre Hermé, as a macaron flavour, and now all the rage in Paris. You won't really notice the rose syrup in this gorgeous and healthy parfait – just a hint of je ne sais quois. Make both the rose syrup and the pistachio dust in advance (you can even freeze them if you need to). Combine the raspberries and lychees with the syrup at the last minute, or earlier on the day of serving, if necessary. Spoon into pretty glasses and top with yogurt, almonds, and pistachio dust just before serving. Feminine, festive, and fusion-French, it's perfect for my girlfriends' Christmas brunch.
If you don't want to make your own rose syrup, you can order an exquisite Wild Rose Petal Syrup from Forbes Wild Foods, a Canadian company that supplies sustainably-harvested wild foods from the Canadian wilderness to restaurants, hotels, stores, and on-line customers. To order on-line click here:  http://store.wildfoods.ca/syrups/.
Oh to be in Pierre Hermé Paris at Christmas time.
Ingredients:
1 can (560mL) whole lychees in light syrup
1 package (6 oz/170g) fresh raspberries
¼ cup reserved lychee syrup from above can
5 teaspoons Rose Syrup (see recipe below)
½ cup vanilla yogurt – such as Sheldon Creek Dairy's Greek-style Yogurt (see note below)
6 teaspoons raw slivered almonds
3 tablespoons Pistachio Dust (see recipe below)
Directions:
Drain lychees into strainer set over a medium bowl to reserve lychees and lychee syrup; slice lychees in half. Place lychees in a second medium size bowl. Add raspberries to lychee fruit.
In a small bowl, combine ¼ cup lychee syrup and 5 teaspoons rose syrup; add to lychees and raspberries and toss gently. Divide fruit evenly amongst 6 small pretty cups; spoon in a little syrup.
Place 1 spoonful of yogurt on top of each cup. Top each with 1 teaspoon of slivered almonds and then 1/2 tablespoon pistachio dust. Serve immediately.
Rose Syrup:
Makes just over 1/3 cup.
You'll need rosewater, which you can find in Middle Eastern grocery stores such as Adonis. Store your rosewater and rose syrup in the fridge.
Ingredients:
1 cup water
½ cup granulated white sugar
1 tablespoon lemon juice
1 teaspoon rosewater
Directions:
Combine water and sugar in a small saucepan; bring to a boil, simmer rapidly, stirring occasionally, until mixture has reduced and become syrupy, about 10 minutes. Remove from heat; stir in lemon juice and rosewater. Let cool completely.
Store in a covered container in refrigerator for a few days or freeze in an airtight container for longer storage. Defrost in fridge before using.
Pistachio Dust:
So pretty sprinkled on fruit salad, especially on raspberries or strawberries at Christmas time.
Ingredients:
1 cup shelled raw pistachios
Directions:
Using a mini processor, grind pistachios into a fine dust. Store in an airtight container in freezer until ready to use.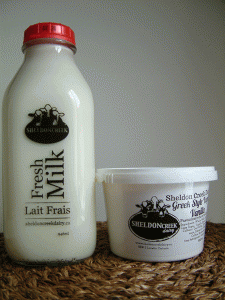 A little decadence is called for here, so look for the richest yogurt you can find. Spirit Tree Estate Cidery sells a luxuriously creamy Greek Style Vanilla Yogurt from Sheldon Creek Dairy, made with pasteurized whole milk, light brown cane sugar, vanilla extract, and bacterial culture – and nothing else! Sheldon Creek Dairy's pasteurized Cream Top Whole Non-Homogenized Milk is nutrient-rich, all natural, and has cream that rises to the top of the bottle and separates (how milk was made before we homogenized it): shake it in the bottle for creamier milk or spoon out to add to your coffee.  Sheldon Creek Dairy is owned and operated by the den Haan family whose herd of cows graze the pastures of the Sheldon Valley, in Loretto, Ontario. Click here for other retail locations: http://sheldoncreekdairy.ca/about.php.
For further details and locations of suppliers featured in this post, check my Grocery Store Directory or Farmers' Market Directory.
To further enhance the mood, you may wish to play the following music suggestions:
White Christmas Michael Buble & Shy'm https://itunes.apple.com/gb/album/white-christmas-duet-shym/id472520445
Noel Blanc Coeur de Pirate https://itunes.apple.com/ca/artist/c-ur-de-pirate/id290621195