If you don't know about Bistro Narra, you should. It is a gem of a restaurant in the Churchill Meadows community of Mississauga. Olive it because the chef's classic European training shines through in the consistently delicious food. Olive it because I can enjoy this lovely dining experience at very reasonable prices. Owned and operated by Austrian-trained chef Franz Hochholdinger and his wife, Esther, it opened in December 2010 as a sister restaurant to the Apricot Tree Café.  I have been lucky enough to dine at Bistro Narra on several occasions recently.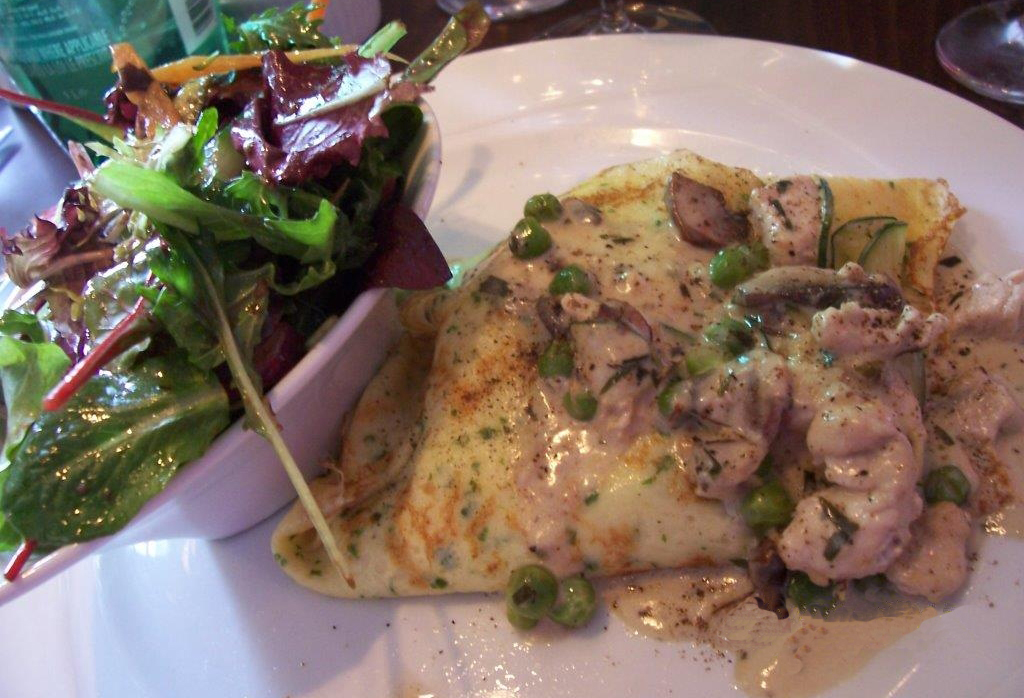 The Chicken Crêpe (available at both restaurants) has long been a favourite of mine. Plump morsels of juicy chicken breasts, mushrooms, tender zucchini, and sweet peas in an exquisite cream sauce (subtly laced with tarragon) are wrapped up in a dainty crêpe and served with a mixed greens salad. Perfectly portioned and pleasingly priced at $11.00 at brunch.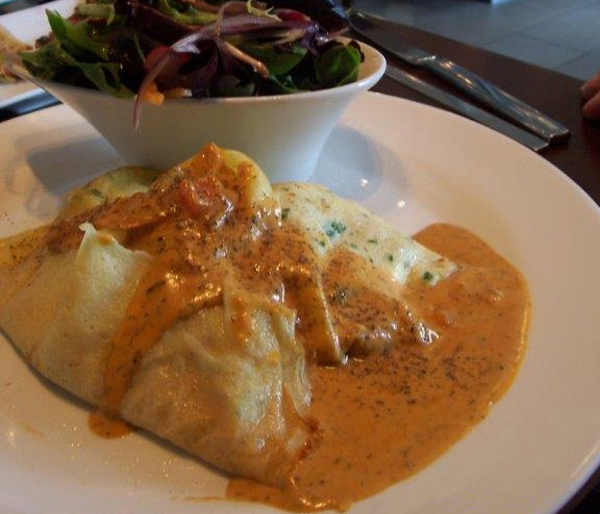 My father said that his Norwegian Crêpe was excellent. Smoked Norwegian salmon, bocconcini cheese, purple onion and roasted peppers are wrapped in a crêpe and blanketed with a rosé dill sauce. $12 at brunch.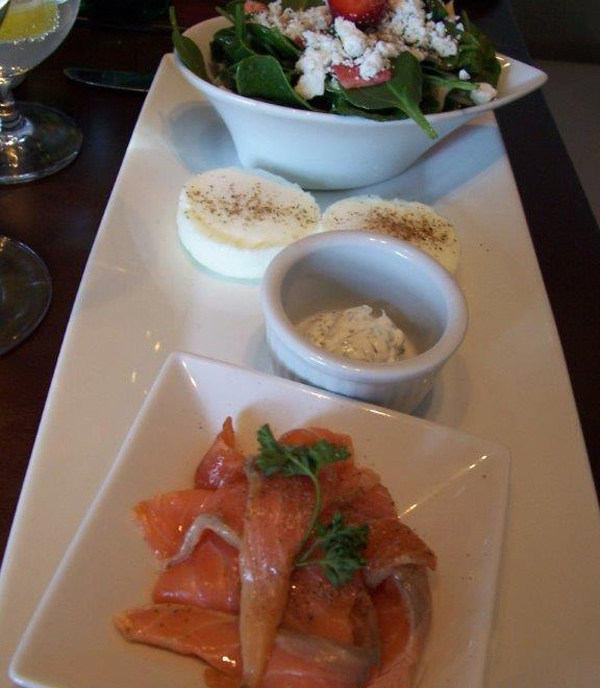 Our friend enjoyed the Narra Breakfast which was an elegantly plated healthy breakfast of delicious Gravad Lax (dill-cured salmon), poached eggs, citrus dressed spinach salad with strawberries, feta and almonds and toast at $8.50.
On another occasion, when I dug my fork into the two poached eggs that were perched atop peameal bacon and  English muffin halves, their sunny yokes spilled out happily over my plate and ran into the homemade Béarnaise sauce in a delicious embrace. The al dente asparagus and house frites were the perfect vehicle to deliver the yummy sauce to my lips. At $8.50 I would have to say the Narra Benedict is the one of the most delightful versions of Eggs Benedict in my little corner of the world.  Oh, and there was fresh fruit on the plate.
My son swooned when he ate his plate of flat iron steak cooked to perfection, bright green asparagus, homemade Hollandaise sauce and house frites all for the incredible price of $12 (sadly, it's no longer on the menu). I love to see my son swoon.
Even the regular coffee comes to the table with a bit of a creamy head on it – a small detail that is enough to keep a coffee lovin' gal coming back for more. A couple of my friends decided Bistro Narra was the perfect spot to commit to a monthly girlfriends' brunch date. Bravo Chefs Franz and Esther Hochholdinger!
Bistro Narra
3030 Thomas Street, Unit A404 Mississauga, ON L5M 0R4 Tel: 905 567 8555   Hours: Monday: Closed (except for special occasions) Tuesday: 11:00am – 10:00pm Wednesday: 11:00am – 10:00pm Thursday: 11:00am – 10:00pm Friday: 11:00am – 10:00pm Saturday: 9:30am – 10:00pm Sunday: 9:30am – 10:00pm
Bistro Narra is the sister restaurant of the Apricot Tree (opened in 1993).  The Apricot Tree is a casual café that serves European pastries, as well as delicious breakfast, lunch and dinner. Most people who have dined at the Apricot Tree quickly become loyal customers, including me!
The Apricot Tree Café
Sherwood Forrest Village 1900 Dundas Street West Mississauga, ON   L5K 1P9 Tel: 905 855 1470   Hours: Monday: 10:00 am – 9:00 pm
Tuesday-Thursday: 10:00 am – 10:00 pm
Friday: 10:00 am – 10:00 pm
Saturday: 9:00 am – 10:00 pm
Check their website for details on giveaways and special offers throughout the year, in celebration of its 20th anniversary.