A tip from a reader has helped me unearth a real gem in Port Credit – The Danish Pastry House, home of a wide variety of beautifully handcrafted, authentic Danish pastries and desserts.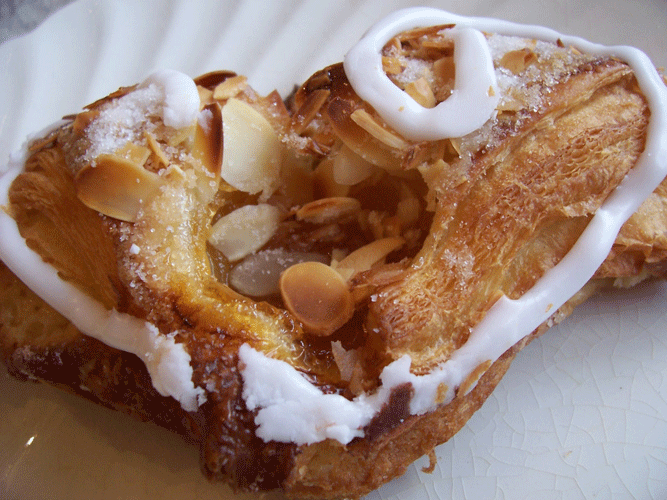 Throw out your disappointing grocery store danish. It isn't worth the calories. Head on over to The Danish Pastry House and experience quality that is far superior.
I am so hungry right now that I can smell the cinnamon wafting up from this photo of a Snegl (Danish for "snail" but what we think of as "danish").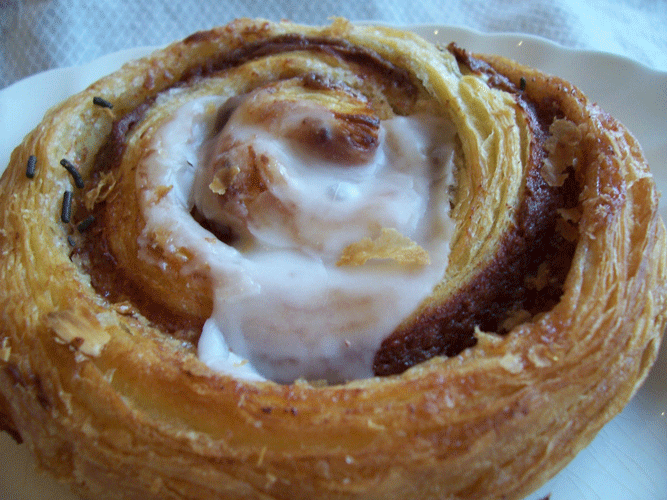 The Danish Pastry House honours traditional recipes and uses fresh, pure ingredients like imported Danish marzipan and almond paste. Preservative and additive free, pastries are baked fresh daily and never sold as day-olds.
Though I visited The Danish Pastry House a few weeks ago, I am still pining over the pastry I ate. The Chocolate Snegl is my absolute favourite. The chocolate, cinnamon, and remonce (butter and sugar mixture) caramelizes in spots at the edges into chewy decadence. The pastry is flaky and flavoursome and the centre is a soft and luxurious pool of chocolate glaze – waiting for you to dive right in. Olive it!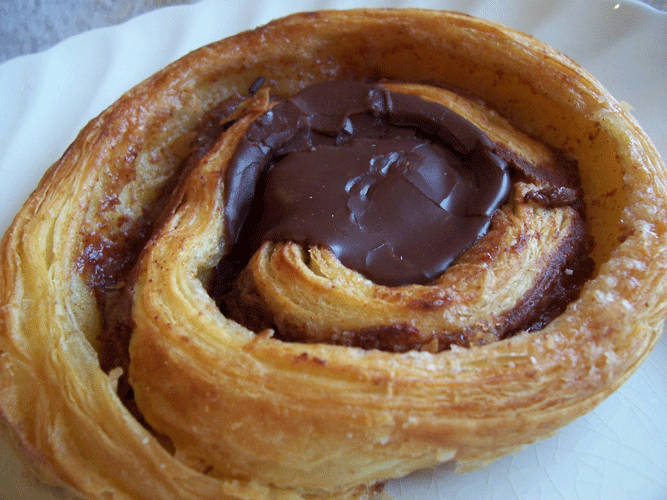 Just look at the light and flaky layers of pastry, baked from fresh Danish dough with no less than 27 layers. Behold the Apricot Spandauer, filled with almond paste and apricot spread. I love the combination of almonds and apricots.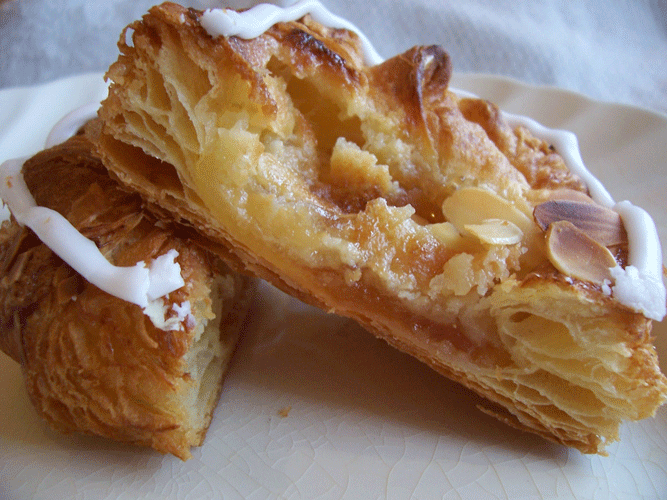 Unfortunately, one or two of the pastries I bought didn't make it home for the photo shoot – blame me and my son. Ohhh, they were so good! My photos just don't do them justice and the pastries got hungry-boy-handled a bit on the way home. Please visit their comprehensive website for great photos of an extensive product line at www.danishpastryhouse.ca  (not to be confused with the Danish Pastry House in Medford, Massachusetts on the .com site).
I had the pleasure of meeting the sunny-souled and highly accomplished 2013 Head Pastry Chef, Thea Reinholdt Hansen, who trained in Denmark and graduated with a distinguished Pastry Chef certification. Ms. Reinholdt Hansen has joined The Danish Pastry House for one year, while Owner/President Anita Lauritsen prepares to open their first retail bakery in 2013. What great news for Mississauga!
If I can have only one decadent treat a week, let an exquisite artisanal pastry from The Danish Pastry House be it. Well worth a week of hard training, I'd drive from anywhere in our region to get one. Opening hours are limited so check first before you go.
Update: The Danish Pastry House has moved to Oakville.

Check my Grocery/Gourmet Store/Bakeries Directory for location details.